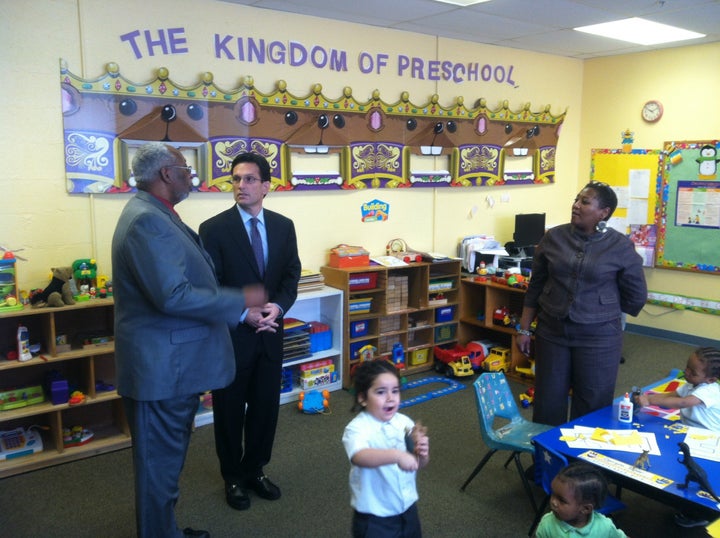 WASHINGTON -- As House Majority Leader Eric Cantor (R-Va.) entered the 10th-grade classroom at a private school in the Petworth neighborhood of the nation's capital on Monday morning, he walked past a poster of President Barack Obama, the first lady and their two daughters on the day of Obama's first inaugural in 2009.
"We create a new tomorrow by what we dream today," said the poster, which showed the president smiling, his left hand on a Bible held by Michelle Obama, his right hand raised as he took the oath of office.
This was not the type of school -- urban, majority African-American -- that normally receives visits from conservative white politicians. Cantor was at the Preparatory School of D.C. because he says he wants to change that. In a scheduled Tuesday speech at a Washington think tank, he plans to expand on his new theme of connecting conservative ideas with helping real people, not just improving the economy or the budget's bottom line.
Perhaps Cantor's visit to the home of the Prep Panthers -- a school of 90 students spread across K-12, where the basketball team tapes their numbers to the backs of their jerseys -- will turn out to be another short-lived attempt at "outreach" by Republicans to minority voters. But it was something that Cantor was there and trying, even if sometimes awkwardly, to interact with the kids.
"Now I understand why you think boys are stupid," he told four eighth-grade girls as they described the story they were reading, in which boys treated their gender unkindly.
The girls giggled nervously, aware of the two photographers -- one from a major American magazine currently working on a profile of Cantor, and one from his office -- stalking around the edge of the room with their lenses up.
Cantor stayed for about 90 minutes, visiting classrooms on three floors and then meeting with principal Betty North, vice principal Richard Reavis, Joe Kelly, a father with three girls at the school, and a few others in the sparsely furnished basement.
The Virginia lawmaker later told The Huffington Post, in a phone interview, that his priority to help schools like Prep is to expand the city's voucher efforts under the D.C. Opportunity Scholarship Program.
"Look, you've got to let the federal money follow the student," Cantor said.
On Tuesday, Cantor will give what his office has billed as a major address at the American Enterprise Institute, in which he'll describe wanting to "move heaven and earth to fix our education system for the most vulnerable," according to excerpts of his prepared remarks.
His intent is to push the GOP beyond a just-the-numbers approach to political discourse, which has done little to help Republicans win over voters beyond their core base.
"My purpose is to talk about why we're doing what we're doing. It is to help people," Cantor told HuffPost.
"We talked a lot in the last election about the need for a growing economy. We talked a lot about the need for managing down the debt and deficit," he said. "But there's a reason why we're advocating those things. We're advocating those things because we want to help people."
Cantor has his eye on a real problem. To many Americans, it's unclear what the GOP wants from its policies, beyond greater freedoms and increased profits. Republicans have not often or effectively enough answered the question that comes after they say they want liberty and economic growth: "To what end?"
And the 49-year-old Cantor admitted as much.
"We have our principles and we have our proposals that somehow have gotten lost without a context," he said. "And I'm trying to make sure that we can demonstrate that we do understand. We're for these things because they can help people."
Cantor's speech will also touch on the cost of health care for "working mom[s]," the problem of regulations that trip up employers trying to give employees flexible schedules so they can attend events at their child's school, the burden placed on workers by the complexity of the tax code, and the need to balance the rule of law with a caring approach to undocumented immigrants.
It's quite a switch in style for the number two House Republican, who has been one of the president's staunchest opponents and who in 2011 held a hard line during the debt ceiling showdown while Speaker John Boehner (R-Ohio) offered concessions to the White House.
Cantor, who represents parts of Richmond and several counties north of the city, said that he has not wavered in his commitment to fiscal restraint, but that he is adjusting to a new political reality following Obama's 2012 win.
"I still believe that there are things that need to take place in fixing the big, macro fiscal problems of this country. I'm not backing off that at all," he said. "But what I can see is this president won reelection. It is going to be tough in dealing with him on those issues."
"Maybe if we can do some things that can help people right away ... that we can talk about health care, we can talk about education -- those are the kinds of things that I would think [Obama] could join us in trying to do, if he doesn't agree with us that managing down the debt and deficit and dealing with the fiscal question could help people too," Cantor continued.
He even joked with North, the Prep principal, that he would take her to Capitol Hill to teach Congress how to do its job.
North, discussing her school's limited budget, had told Cantor with a laugh, "I make every dollar holla."
Cantor chuckled and responded, "Can you come to the Capitol and talk to my colleagues? Because we need to make every dollar holla."

Before You Go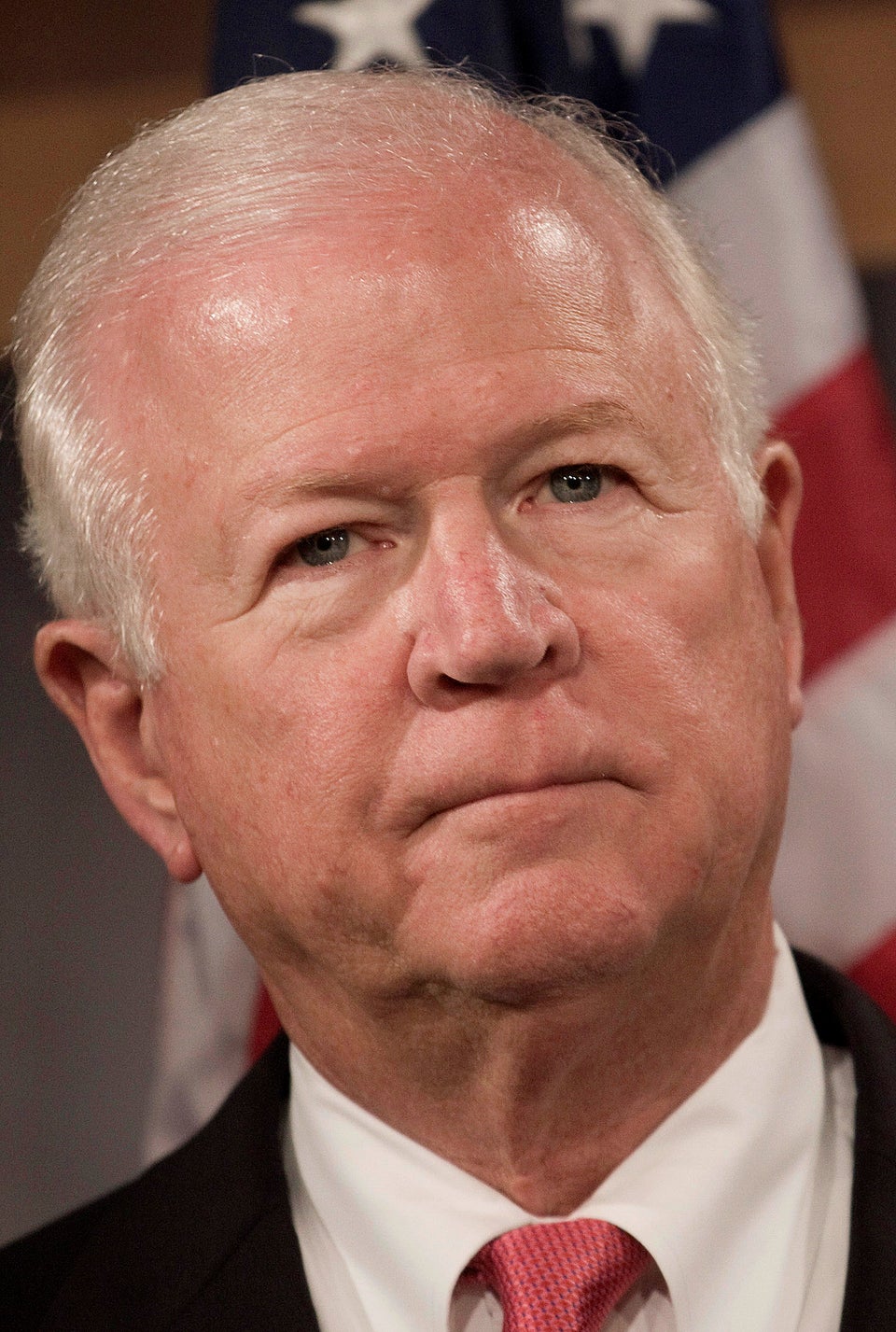 GOP Lawmakers Run Away From Grover
Popular in the Community