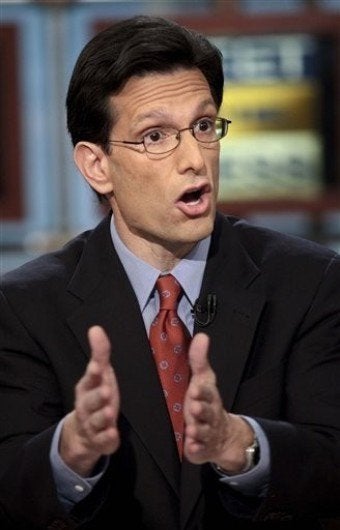 While the stimulus was being debated in January, House Minority Whip Eric Cantor called a group of reporters into his office to outline the GOP's objections. As we filed in, we walked past a giant poster ridiculing Senate Majority Leader Harry Reid (D-Nev.) for allegedly pushing for high-speed rail connecting Disneyland and Las Vegas.
On NBC's "Meet the Press," Cantor called that project an example of "waste and pork-barrel spending."
Yet one man's pork is another man's prudent investment in transit -- and sometimes the same man's.
Asked about high-speed rail at a recent local event in Virginia, Cantor was all thumbs up. "If there is one thing that I think all of us here on both sides of the political aisle from all parts of the region agree with, it's that we need to do all we can to promote jobs here in the Richmond area," Cantor said of the high-speed rail.
The Richmond Times-Dispatch goes on to report that Cantor "said bringing high-speed rail to the region could further spur economic development, creating as many as 185,000 jobs and bringing $21.2 billion to a region already home to about a half-dozen Fortune 500 companies and 20,000 small businesses."
For Cantor, however, not all high-speed rail is equal, and the Richmond-D.C. project is distinct from Reid's because it is on a list of Department of Transportation-planned corridor projects.
"I'm shocked that that the DNC Chairman, Governor Tim Kaine, would order or tolerate these kind of attacks against the Virginia high speed rail and Democrat Bobby Scott. This is the same old Washington that people have grown sick of and the President campaigned against," said Cantor spokesman Brad Dayspring.
He offered the map below of proposed high-speed rail lines to make the case. The map was produced during the stimulus debate by the White House to back up its push for high-speed rail.
Popular in the Community