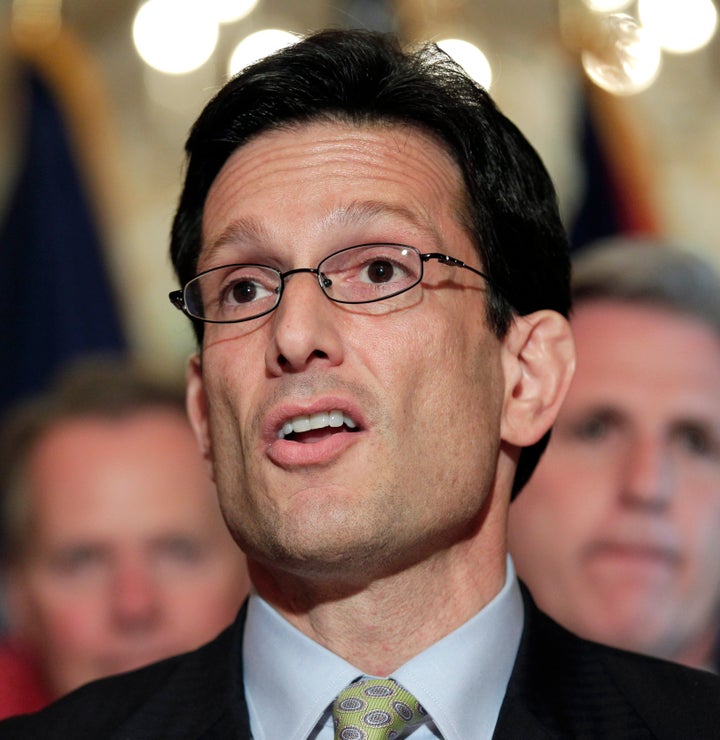 WASHINGTON -- House Majority Leader Eric Cantor's (R-Va.) office sharply disputed on Wednesday night a report that GOP leaders are abandoning an attempt to dramatically overhaul Medicare as a part of budget negotiations.
On the eve of bipartisan, bicameral debt and deficit reduction talks with the White House, the Washington Post reported that Republican leadership is ready to give up on House Budget Committee Chairman Paul Ryan's (R-Wis.) plan to gradually turn Medicare into a voucher program.
Not true, said Cantor's chief spokesman, Brad Dayspring. "Eric made very clear that our position is the Ryan budget which -- as you know -- assumes a debt limit increase and includes Medicare, Medicaid and $715 billion in mandatory savings," Dayspring said. "Whether the Democrats will agree to the proposals we've outlined is yet to be seen, but that is our starting point so we don't continue to kick the can down the road and make real cuts and real reforms this year."
Asked whether that meant Republicans were sticking with Ryan's version of Medicare reform once talks began at the Blair House with Vice President Joseph Biden on Thursday, Dayspring replied: "The starting point is the Ryan budget, period."
The Post seemed to get the memo, as well. Shortly after the story went up, the title was corrected from "Medicare dropped from GOP budget proposal" to "Republican leaders seeking compromise in deficit talks." A note was appended to the piece explaining that, "The headline on an earlier alert incorrectly described the GOP position in deficit talks."
Parts of the story remained, however, including one potentially critical element: that in seeking to lower the deficit, Republican leadership would look first to low-hanging fruit:
That search should start, Cantor said, with a list of GOP proposals that would save $715 billion over the next decade by ending payments to wealthy farmers, limiting lawsuits against doctors, and expanding government auctions of broadcast spectrum to telecommunications companies, among other items.

Democrats said they were encouraged by the move, which could smooth the way to a compromise allowing Congress to raise the legal limit on government borrowing and avoid a national default.

"There's common ground there," said Rep. Chris Van Hollen (Md.), the senior Democrat on the House Budget Committee, who is representing House Democrats in the Biden talks.
For Cantor's critics, the forceful denial of the original Post story may be a plus. In the brief time before the story was corrected, Democratic activists and health care reform proponents had already begun churning out statements demanding that Republicans still be held accountable for voting in favor of Ryan's budget even if its most controversial provision was dropped.
"Obviously Cantor is scared out of his mind by angry seniors at their town halls, but, there are no backsies in Congress. They already voted to end Medicare," Eddie Vale, a spokesman for the new pro-reform outlets Know Your Care and Protect Your Care, emailed before the Post toned down its headline.
Such complaints would have lost much of their bite had the provision indeed been abandoned. Now, however, protests over Ryan's Medicare changes appear likely to continue at full throttle, at least in the early stages of the next round of deficit reduction talks.

Popular in the Community