WASHINGTON -- In any house of power, there is an order of succession. In Congress, the humming beehive of 435 representatives has operated for some time on the assumption that one particular man would ascend to power when House Speaker John Boehner (R-Ohio) retired.
Eric Cantor, the Virginia Republican and House majority leader, spent years oiling the gears of power: doling out favors, raising money for other members and securing promises of support for when his day would come. "Not a day went by in the last several years where I did not have a conversation that started with, 'When Cantor is speaker,'" said a longtime aide to a member of the House Republican leadership.
Suddenly this month, everything changed. Cantor is no longer part of that leadership, having announced his imminent retirement from the No. 2 position in the lower chamber of Congress soon after his stunning primary defeat to a previously unknown challenger. The 233 Republicans in the House, already riven with divisions over the past several years, will vote Thursday on who will replace him as majority leader.
Amid the chaos of the last week, and the jockeying for position among those trying to quickly take Cantor's place, the question of who will eventually succeed Boehner has received less attention. That contest is wide open. And with Boehner's retirement expected as soon as the next year or two, it is a pressing question.
"I don't think there is an obvious heir apparent to John Boehner right now. There was, but I don't think there is today," said Rep. Tom Cole (R-Okla.).
Boehner holds the most powerful Republican leadership spot in the country right now and stands second in line to the presidency. His successor is no small matter. One source close to Boehner indicated that any thoughts the current speaker might have had about retiring after this year have been eliminated by Cantor's sudden departure. Boehner wants to keep the GOP as united as possible and does not want to send his party into a destabilizing fight over the speakership by stepping down before the dust has settled.
"Obviously [Cantor's defeat] changed a lot of career paths already. Nobody [last] Monday night thought we were going to be in this situation today," Cole said. "A lot of individuals' careers are going to change pretty dramatically because of this."
The vote this week will decide some things, but seems unlikely to heal the divisions in the House GOP. The more conservative members are almost guaranteed to be unhappy with the results and will likely try to gather themselves, recalibrate and make another attempt to place one of their own in the leadership after the midterm elections this fall.
But for now, these members are being discussed as maybe, possibly the next speaker of the House:
Kevin McCarthy: He is the majority whip, the third most powerful House Republican, and he is running for majority leader. McCarthy, 49, is favored to win the No. 2 spot, but there are questions about the silver-haired, big-smiling Californian's leadership abilities and whether he is a true believer in conservative politics or more interested in simply accruing power. As majority leader, he would automatically be a top contender for speaker, but with nowhere near the advantages that Cantor had. How he performed as majority leader would determine much about his chances when Boehner decided to retire.
Jeb Hensarling: The 57-year-old Texas lawmaker was the first name that cropped up as a possible challenger to McCarthy for majority leader. But Hensarling sat in repose for the crucial first 24 hours after Cantor's loss, pondering, not acting, while McCarthy began rounding up votes immediately. While Hensarling's decision not to enter the leadership election disappointed and angered many conservatives, his embrace of a populist, anti-cronyism message is attractive to many on the right. Hill insiders say, however, that if Hensarling has any serious ambitions for leadership down the road, he needs to start building a political operation now.
Paul Ryan: The Wisconsin Republican, chairman of the House Budget Committee and 2012 vice presidential nominee made it extremely clear this week that he did not want to be majority leader. He signaled his focus on next year becoming chairman of the House Ways and Means Committee, which has jurisdiction over taxation, and possibly running for president in 2016. Ryan, 44, doesn't want to herd cats or whip votes, it appears. The only wrinkle is that he made a point of telling told the press that Boehner had asked him to run for majority leader. So Ryan isn't likely as the next speaker, but you can't rule him out.
Jim Jordan: The 50-year-old former wrestling star -- a two-time NCAA national champ in college -- was the other formidable conservative Republican, besides Hensarling, who some thought might challenge McCarthy for majority leader but did not. That said, Jordan is just as likely to emerge in the next few months as a conservative alternative for majority leader after the midterms. The Ohio lawmaker is widely respected among House Republicans and outside groups as a strong, thoughtful leader.

Tom Price: The Georgia physician's name was floated 18 months ago as a possible challenger to Boehner for speaker. He was also encouraged to run for one of the current leadership vacancies, but passed so that he can become Budget Committee chairman when Ryan's term expires next year. Price, 59, is a soft-spoken lawmaker who keeps a low profile. But he's considered knowledgeable on issues and passionately conservative. Whether that will translate into any support for a post like speaker is the big question.
Steve Scalise: The 48-year-old Louisiana congressman chairs the Republican Study Committee, which considers itself the voice for conservative positions and ideas within the House GOP. He is considered the favorite for the majority whip job, but is facing a tough fight from Peter Roskam of Illinois and Marlin Stutzman of Indiana. If Scalise wins the whip competition this week, he will immediately vault into a national role that will enhance his chances of vying for future leadership openings.
Peter Roskam: For the last few days, Roskam has looked less than imposing. The media coverage of his race for the majority whip job has given the impression that he's going to lose, putting him out of leadership entirely (he is currently McCarthy's chief deputy whip). But a Roskam victory is still very possible. The 52-year-old, who represents the Chicago suburbs, is smart, ambitious and well-spoken. While he is viewed as part of the establishment by the conservative rank-and-file, put him in the whip's job, see how he handles it, and opinions could change for the better. But also for the worse.
Cathy McMorris Rodgers: As chair of the House Republican Conference, the lawmaker from Washington state is the No. 4 Republican in the lower chamber. But she made no move to run for whip, the next position in line. Rodgers was catapulted to the national stage earlier this year when she was chosen to deliver the official GOP response to the State of the Union address. The 44-year-old lawmaker is not considered a political heavyweight, however, within the House GOP. That could change between now and whenever Boehner retires. It's not likely, but Rodgers' spot in the leadership makes her relevant nonetheless.
Greg Walden: The 57-year-old Oregon lawmaker, whose Wikipedia page says he founded the Small Brewers Caucus in the House, is quiet and low-profile, like Price, but valued for his efficiency and effectiveness. He oversaw the Republicans' transition effort when they retook control of the House in 2010, and he has chaired the National Republican Campaign Committee since 2012. Walden is not on many people's radar now, but he is close with Boehner, and one Hill insider speculated that Walden could inherit the speaker's formidable political operation if Paul Ryan did not run for speaker.
The Insurgent: The list of names here could be long, although Rep. Raul Labrador of Idaho would be near the top, given his willingness to put himself forward to run for majority leader. Of course, if Labrador, 46, somehow defeats McCarthy, he immediately becomes a major contender for speaker. In any case, this slot is reserved for a leader among the newer members of Congress, the tea party caucus, who don't hold much institutional power in the way of committee chairmanships or staff. Most political insiders would laugh at even the mention of those names as a potential next speaker. But Cantor's defeat has sent a shudder through the House GOP. One House leadership aide compared the shock of Cantor's loss to members of the mob watching a family boss get whacked.
The lesson: No one is safe.
CORRECTION: Rep. James Lankford was originally included in this story but was removed because he is resigning from his House seat to run for the U.S. Senate.
Before You Go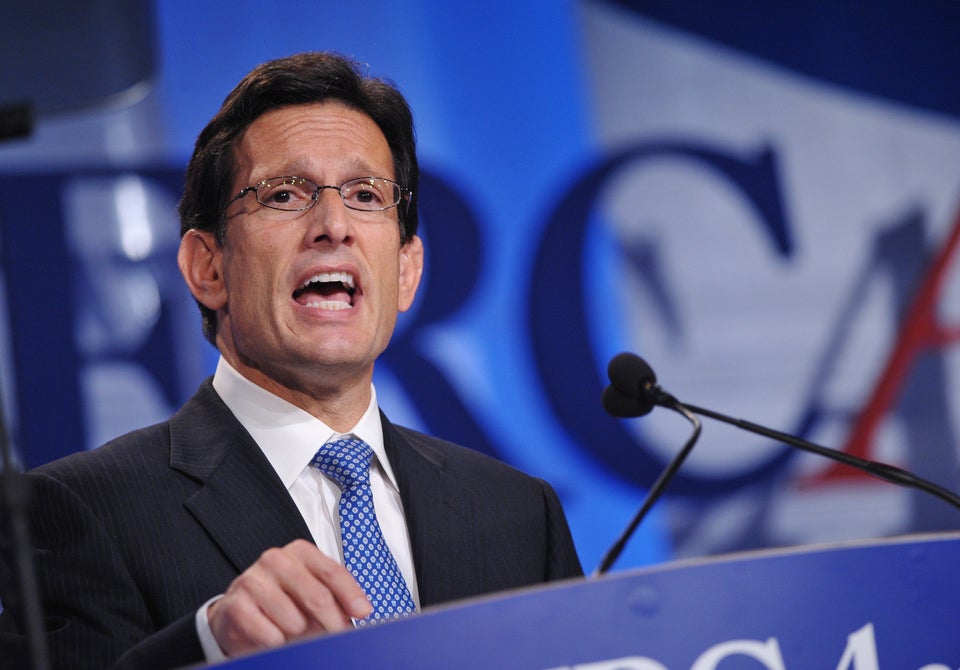 House Majority Leaders Through The Years
Popular in the Community