WASHINGTON -- House Republicans said they're shocked and saddened by Rep. Eric Cantor's (R-Va.) Tuesday night defeat in Virginia's Republican primary race.
But some are nevertheless making a mad dash for his post as majority leader.
Rumors swirled in the halls of Congress all day Wednesday over who might make a bid for the second-most powerful House slot. During an afternoon conference meeting, Republican leaders announced that elections would be held on June 19, though nobody discussed candidates.
By Thursday morning, a clearer picture began emerging. GOP sources told The Huffington Post that Rep. Jeb Hensarling (R-Texas) was telling colleagues he had decided not to run for the No. 2 spot, clearing the way for House Majority Whip Kevin McCarthy (R-Calif.). Hensarling made it official later Thursday.
"Although I am humbled by the calls, emails, and conversations from my colleagues encouraging me to return to leadership for the remainder of the 113th Congress, I will not be a candidate for Majority Leader next week," he said in a statement. "After prayerful reflection, I have come to the conclusion that this is not the right office at the right time for me and my family. I look forward to working with the new Majority Leader to fight for a freer, stronger, more prosperous America as Chairman of the Financial Services Committee and the Representative of the Fifth District of Texas."
Another potential contender, GOP Conference Chair Cathy McMorris Rodgers (R-Wash.), removed herself from the running Wednesday.
McCarthy has quickly racked up a near-majority against Rep. Pete Sessions (Texas), who appears to be McCarthy's lone rival. The vote next week, however, will be by secret ballot, and members of Congress have been known in the past to commit to voting one way and flipping in private.
But McCarthy has already locked in some major endorsements. Rep. Paul Ryan (R-Wis.) announced his support on Thursday, a day after Cantor said he supported McCarthy as well.
"If my dear friend and colleague Kevin McCarthy does decide to run, I think he'd make an outstanding majority leader," Cantor told reporters. "I will be backing him with my full support."
House Speaker John Boehner (R-Ohio) declined to make any endorsements on Thursday, despite being pressed on whether he'd want McCarthy by his side.
"I do think that the members are going to make this decision," Boehner told reporters at his weekly press conference. "I've worked with all 434 other members of Congress before, I can work with whoever gets elected."
The race to fill McCarthy's slot as majority whip looked on Wednesday as though it would be a landslide for Rep. Steve Scalise (R-La.), since even members of the Illinois delegation have been working behind the scenes against his rival, Rep. Peter Roskam (R-Ill.).
That changed on Thursday morning when Rep. Marlin Stutzman (R-Ind.), another House conservative, announced he was running for the post.
"I'm just getting started," Stutzman told the blog Howey Politics Indiana. "I was up really late last night making calls. There will be a lot happening in the next few days."
Stutzman conceded he was a "long shot" candidate, but the entry of another conservative could divide the GOP's right wing and thus benefit the more moderate Roskam.
Several other things are working in Roskam's favor. He has McCarthy's backing, and as chief deputy whip, he has more experience at whipping votes than Scalise, who has been aggressive with the press but is "quite clumsy" in his conversations with members, according to one GOP source close to the process.

"He'll be good," the source predicted of McCarthy's race. "Working on Peter's race now."
Meanwhile, Sessions was confident he could still compete with McCarthy for the majority leader post.

"It's important that the American people understand what our agenda is, and I think I can help clarify that a bit more," Sessions said Wednesday, reminding people that he is chairman of the House Rules Committee and previously led the National Republican Congressional Committee.
"I understood how to build a majority when you're 40 back and brought us net 63," Sessions said, referring to the 2010 midterm elections. "I know how to raise money … I know how to travel hard. I know how to travel smartly. I am going to bring those best practices that I know that people agree with and work with people and want the members to know that they could expect the same energy from me again."
Sessions called it "a terrible, terrible, bitter pill" to see Cantor lose, but said it's time for someone to refocus the party on "winning." And politically, he argued, that means veering further to the right.
"I think our conference does need to move to a more conservative perspective," Sessions said.
The Texas Republican has already been lobbying colleagues for their support, and some have said they could back him in return for certain promises.
Rep. Walter Jones (N.C.), for one, said he told Sessions he would consider voting for him if Sessions vowed to press House Speaker John Boehner (Ohio) for a more "open" process of bringing bills to the floor from committee, rather than leadership just choosing bills to vote on.
"I like Pete," Jones said. "But whoever it is as we move forward … I just want an open process."
Sessions would have faced stiff competition from Hensarling if he decided to make a bid. A fellow Texan and conservative favorite, Hensarling played it coy Wednesday.
"I am humbled by the many people who have approached me about serving our Republican conference in a different capacity in the future," Hensarling said. "There are many ways to advance the causes of freedom and free enterprise, and I am prayerfully considering the best way I can serve in those efforts."
The Texas delegation reportedly met behind closed doors after Wednesday votes to discuss the possibility of two of their members competing for the same leadership role.
Several Republicans have said leadership needed more red state representation. Rep. Lynn Westmoreland (R-La.) said some members felt so strongly about the geographical makeup of leadership that it could be the "determining factor" when the party votes for its next majority leader.
"Put your stars on the map and see where the large percent of this conference is located," Westmoreland said.
That would pose an obstacle for McCarthy, though Westmoreland said it was premature to rule anyone out and lavished praise on the GOP whip.
"I like Kevin McCarthy," Westmoreland said. "He's a good friend and I think he'd make a great majority leader."
McCarthy wasted no time launching his campaign, meeting with about 35 lawmakers Wednesday afternoon to shore up support for his bid.
Several influential committee chairs were among the attendees, such as Appropriations Chairman Harold Rogers (R-Ky.), Energy and Commerce Chairman Fred Upton (R-Mich.), and Ways and Means Chairman Dave Camp (R-Mich.). Rep. Trey Gowdy (R-S.C.), who has been tasked with leading the select committee on Benghazi, was also present.
House Armed Services Chairman Buck McKeon (R-Calif.) was unable to attend, but said he didn't need any convincing to back McCarthy, according to National Journal. Upton also said he supported McCarthy, although it was unclear where the meeting's other attendees stood.
A House GOP leadership aide cautioned against assuming that McCarthy would run away with the job. "Not a chance -- the RSC crowd smells blood," the aide said, referring to the conservative Republican Study Committee.
The RSC huddled on Wednesday for about an hour, but did not appear to coalesce around a single candidate. In addition to Hensarling, the group's members named Rep. Jim Jordan (R-Ohio), a former RSC chairman, and Georgia Reps. Tom Graves and Tom Price as potential contenders for a leadership role.
Price declined to say if he was mulling a run for majority leader or whip as he left the closed door meeting where Cantor had stepped down.
"We just had a family discussion," Price told The Huffington Post. "We'll keep you in the loop."
But on Thursday, Price announced he will not seek any leadership vacancies at this time, and will focus instead on taking over the role of House Budget Committee chair when Rep. Paul Ryan (R-Wis.) relinquishes it, which he is expected to do next year.
"The encouragement I've received from colleagues over these past couple of days has been humbling," Price said in a statement. "My position has always been that I'm ready to serve in whatever capacity might best help unify our team, promote our conservative principles and, above all, pursue positive solutions on behalf of our constituents. To that end, at this time, my focus is on the opportunity to serve as the next chairman of the House Budget Committee."
Rep. John Fleming (R-La.), another member of the House GOP's right flank, said he liked the idea of appointing more conservative lawmakers to leadership. If Cantor's loss could be chalked up in part to frustration with GOP leaders, then someone like McCarthy would have to work hard to distinguish himself, he argued.
"The problem for us in rank-and-file is members at the leadership table pretty much have to go along with what the speaker says, so sometimes you don't know exactly where they are ideologically," Fleming said.
For all the buzz about who may be the frontrunner to replace Cantor, many Republicans acknowledged that the field is far from set, and anything could happen in the next week.
"I think most people feel the way I do and are still shocked," said Rep. Lou Barletta (R-Pa.). "We've got to just wait and see. Give everyone a chance to let this sink in."
Jon Ward and Ryan Grim contributed reporting.
UPDATE: 10:15 p.m. -- Sessions announced late Thursday that he was bowing out of the race for majority leader, making McCarthy's ascension all but certain.
"After thoughtful consideration and discussion with my colleagues, I have made the decision to not continue my run for House Majority Leader," Sessions said in a statement to CQ Roll Call. "Today, it became obvious to me that the measures necessary to run a successful campaign would have created unnecessary and painful division within our party. At this critical time, we must remain unified as a Republican Conference. As always, I stand ready and willing to work with our team to advance the conservative agenda that the American people demand and deserve."

Before You Go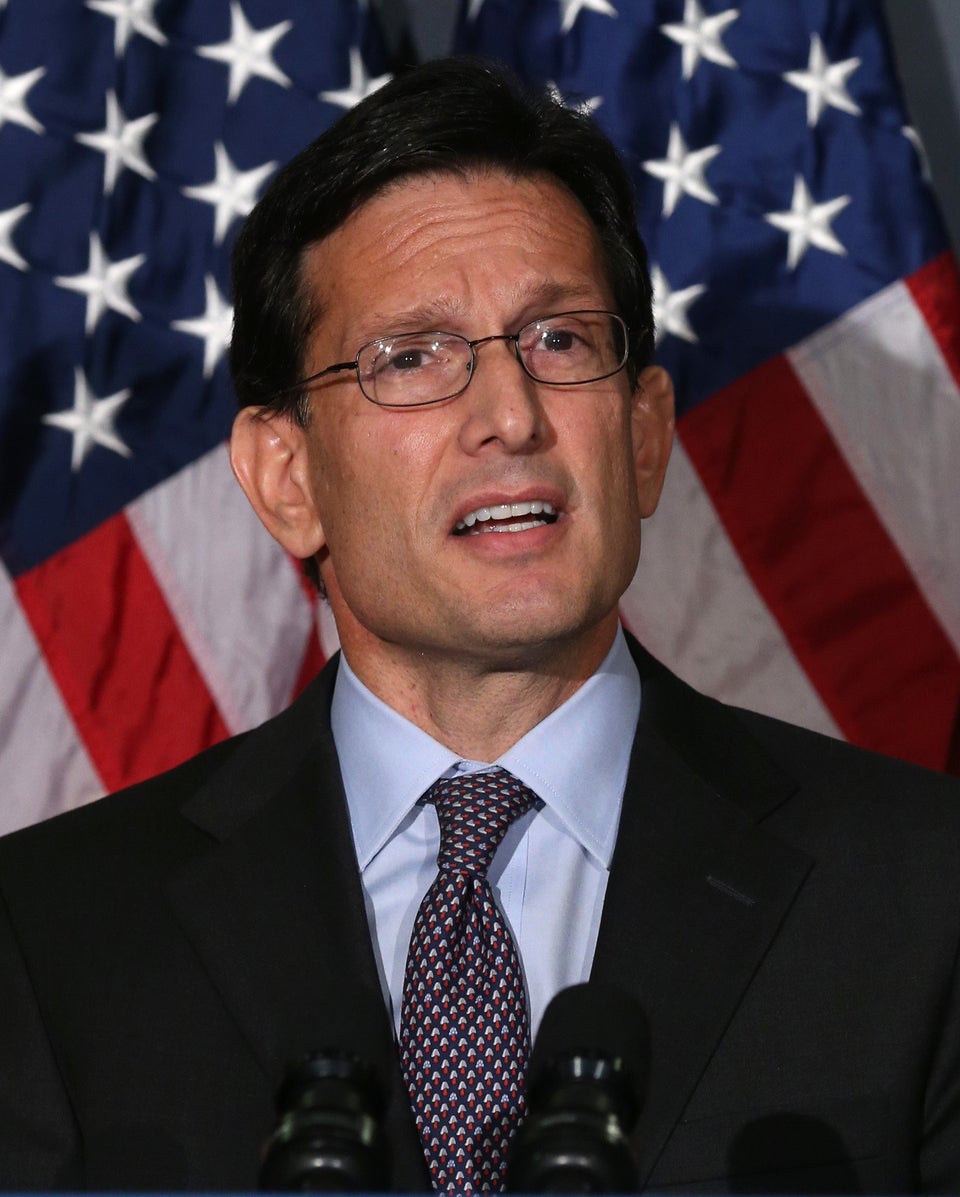 Eric Cantor
Popular in the Community