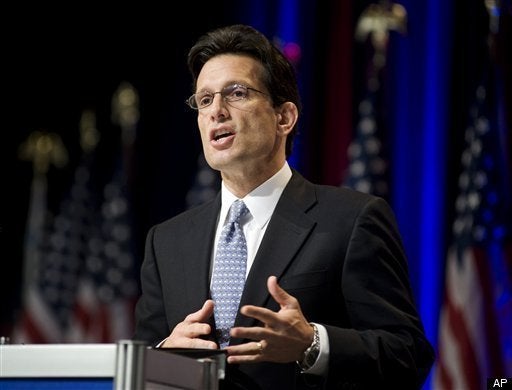 House Minority Whip Eric Cantor (R-Va.) sought on Sunday to quickly and clearly distance the Republican Party from a GOP candidate whose past participation in Nazi re-enactments surfaced this weekend.
In an appearance on "Fox News Sunday," Cantor (the lone Jewish Republican in the House) said he "would absolutely repudiate" Rich Iott, the Republican nominee for Ohio's 9th District who apparently had an affinity for donning a German Waffen SS uniform.
"What we have got now is a new crop of young leaders energized to go to Washington for the right reasons," said Cantor. "Now Debbie [Wasserman Schultz, Cantor's co-panelist] went and launched into her attacks as to some of the reports about candidates that are running, particular the one in Ohio having to do with Nazi re-enactment. She knows that I would absolutely repudiate that and do not support an individual who would do something like that."
At this point Wasserman Schultz urged Cantor to actually articulate his repudiation. "I'm doing it right here," he replied. "I'm doing it right here Debbie. You know good well that I don't support anything like that."
Iott's past involvement in Nazi re-enactments, first reported by The Atlantic, may well constitute the largest discomfiture for the Republican Party in a cycle in which a number of candidates have done or said discomforting things. The Ohio Republican has defended himself by insisting his participation in the events was done for "purely historical interest in World War II." But the defense has done little to assuage GOP leadership. Once listed on the Republican Party's site of "Contenders" (a ranking/prioritization of candidates that was just below the "Young Guns"), Iott's name was removed altogether once the photos of him surfaced.
The Democrat in the race, incumbent Marcy Kaptur, already seemed likely to hold the seat. Iott's quick sink seems likely to seal the deal.
Popular in the Community