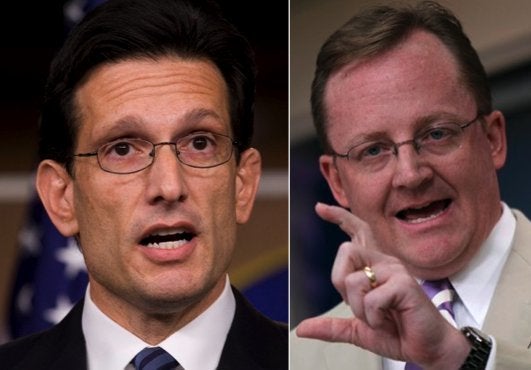 House Minority Whip Eric Cantor (R-Va.) hopped on the GOP-could-take-control-of-the-House bandwagon on Monday -- a prediction offered by none other than White House Press Secretary Robert Gibbs over the weekend.
"I think we're going to retake the House, as Mr. Gibbs suggested yesterday," Cantor said on CNBC's Squawk Box. "That's going to change the dynamic for sure."
"When we regain the House -- because I do think that we'll retake the majority -- the president will have to deal with us," Cantor said, speaking more optimistically about the GOP's political fortunes than his colleagues have in the past.
(On NBC's "Meet The Press" on Sunday Gibbs speculated that there are enough closely-contested House seats in play in November that the Republicans could potentially win the necessary 39 races and take control of the chamber.)
1) Unlike in '94, the Republican Party has a [favorable/unfavorable] score that's no better (and sometimes even worse) than the Dem Party's.
2) Unlike in '94, the GOP isn't necessarily running on new ideas or even with many new faces.
3) The National Republican Congressional Committee has a HUGE financial disadvantage compared with the Democratic Congressional Campaign Committee, and the RNC's political/fundraising troubles won't be able to make up the difference
4) Winning 39 seats is a tall order. After all, when Democrats won back the House in 2006 -- during the height of violence in Iraq and after Hurricane Katrina -- they picked up 30 House seats. The GOP will need almost 10 more than that.
One thing that's truly amazing about this cycle, historically: The fact we're headed for a third-straight cycle where more than 20 seats change hands.
Watch Cantor's appearance on CNBC:
Popular in the Community