WASHINGTON -- Rep. Eric Cantor (R-Va.) announced Wednesday that he is resigning his post as House majority leader in the wake of his stunning defeat in his Republican primary race.
"While I intend to serve out my term as a member of Congress in the 7th District of Virginia, effective July 31, I will be stepping down as majority leader," Cantor told a room packed with Capitol Hill reporters. "It is with great humility that I do so, knowing the tremendous honor it has been to hold this position."
Republican leaders have set June 19 as the date for electing a new majority leader. While a handful of members are in the running, Cantor made it clear who will get his endorsement: House Majority Whip Kevin McCarthy (R-Calif.).
"If my dear friend and colleague Kevin McCarthy does decide to run, I think he'd make an outstanding majority leader," Cantor said. "I will be backing him with my full support."
Throughout the press conference, Cantor stood smiling at the podium and conveyed a sense of optimism for his party and the country, despite the massive upset he endured Tuesday night. He declined to weigh in on why he thinks he lost his race to his tea party opponent Dave Brat, a race by all measures he should have won, saying he wanted to "leave the political analysis to y'all."
Brat picked up 56 percent of the vote to Cantor's 44 percent, a historic result. No sitting House majority leader has lost since 1899. No polls predicted the upset and Cantor had raised about $5.4 million to Brat's $200,000.
Cantor was mum on what's next for him.
"That's between my wife and me," he said.
Cantor talked to the press moments after leaving a meeting with House Republicans, where he announced his plans to step down. Sources in the room described the mood as positive but emotional, with House Speaker John Boehner (R-Ohio) in tears as Cantor talked about a recent encounter with a Holocaust survivor who knocked things into perspective for him.
During their meeting, Boehner quoted Winston Churchill and praised Cantor's run in leadership with a speech he said he "never expected to give."
"Winston Churchill once famously said, 'Success is not final, failure is not fatal: it is the courage to continue that counts,'" Boehner said. "As one who suffered a tough defeat myself in 1998, I can tell you there's plenty of wisdom in that statement. Eric, we salute you."
Boehner told Republicans that now, more than ever, is the time for party unity.
It's time to focus on "the thing we all know to be true," Boehner said. "The failure of Barack Obama's policies and our obligation to show the American people we offer them not just a viable alternative, but a better future."
Republicans trickling out of the meeting were experiencing a range of emotions.
"My heart is broken because I know how hard Eric Cantor works," said a visibly shaken Rep. Renee Ellmers (R-N.C.). "We're all feeling this pain right now, but we're going to come together as a conference and be unified and continue to move forward and answer the issues that the American people have."
Rep. Trent Franks (R-Ariz.) blamed Cantor's defeat on President Barack Obama, saying Americans are fed up with him causing the nation's influence to decline.
"They see the country starting to fray at the seams and they want someone to blame, and unfortunately there's some fratricide in a situation like that," Franks said. "But it's my conviction that frustration the American people feel, in general, will manifest very unfavorably to the Democrats this fall."
Other Republicans suggested Cantor himself may have blown it by spending too much time outside of his district.
"One of the disadvantages of being a leader is you have to travel all over the country," said Rep. Peter King (R-N.Y.). "That can be used against you at home."
Before You Go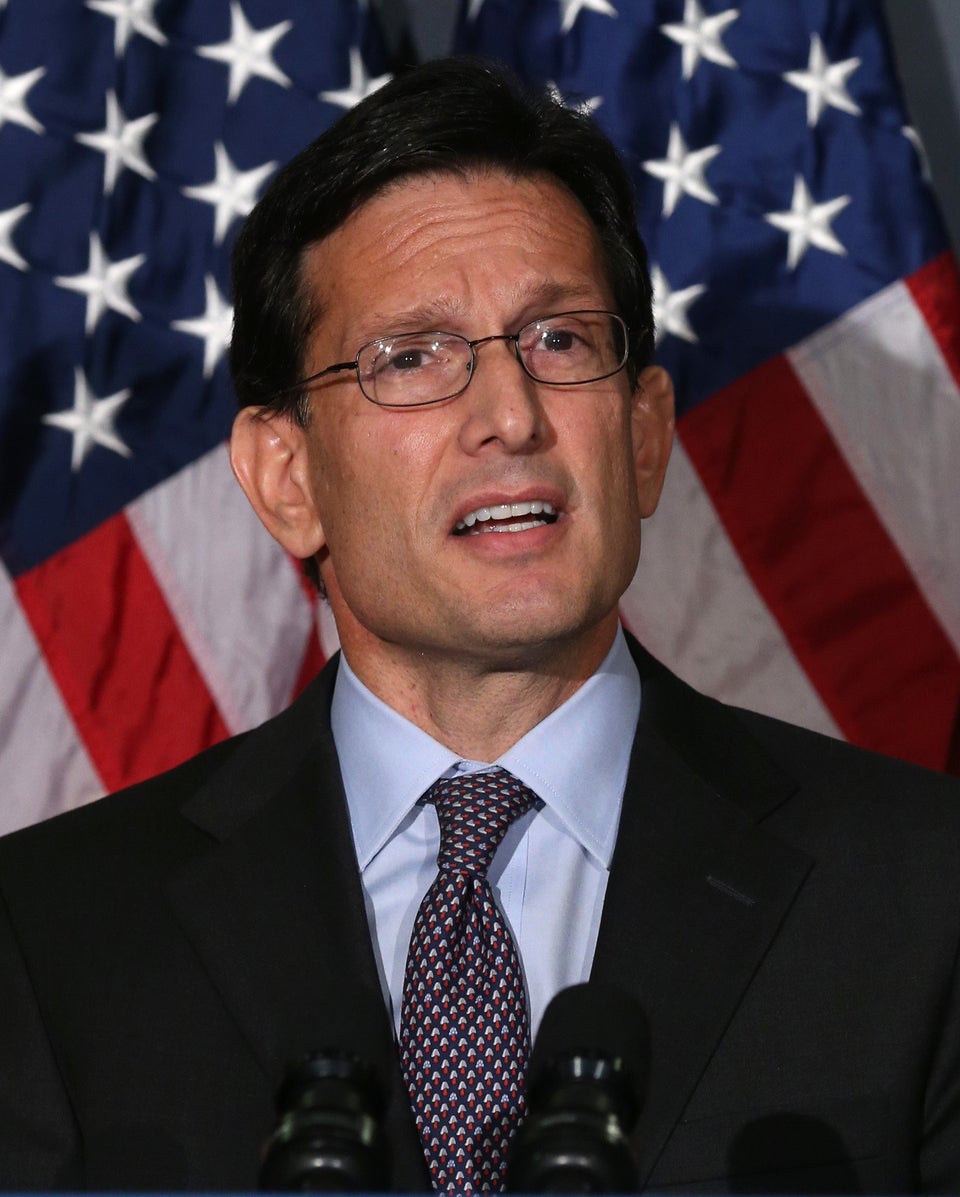 Eric Cantor
Popular in the Community