WASHINGTON -- Even if the U.S. Senate were able to pass a bill renewing long-term unemployment insurance, it would face uncertain prospects in the GOP-controlled House of Representatives. House Majority Leader Eric Cantor (R-Va.) underscored that Friday when he said Republicans would rather focus on employment than unemployment.
Rep. Steny Hoyer (D-Md.), a member of Democratic leadership in the House, had pleaded with Cantor for a reauthorization of long-term unemployment insurance, which expired in December for more than a million Americans.
"We have been trying to focus this Congress on getting back to a more optimistic view of what the economy can do," Cantor said in response. "It is about jobs. It is about growth. Our focus is about wanting people to get a job. It's on employment, not unemployment."
Cantor pointed to the SKILLS Act, a Republican bill that would consolidate and reform federal job training programs, as a possible solution. President Barack Obama has also called for consolidation of federal job training programs, but congressional Democrats and labor groups hate the SKILLS Act, saying it would hurt elderly and disabled jobseekers.
Meanwhile, the 1.3 million jobless workers whose benefits stopped on Dec. 28 have basically been left hanging, with little sign their compensation will ever come back. Without the federal benefits, workers are eligible for only 26 weeks or fewer of state benefits. The Labor Department reported Friday that in December, the average unemployed person had been out of work for more than 37 weeks.
Mary Murphy of St. Charles, Mo. said she's been out of work since losing her medical billing job in a mass layoff last April.
She said her husband is still working and her kids are grown, but she's still got bills to pay and the job search has been difficult.

"I have looked for everything," said Murphy, 56. "I have looked in the medical field. I have applied at restaurants. I have applied at funeral homes. Reception jobs."

She said she resented that some members of Congress think the benefits are a disincentive to work, but even more that lawmakers haven't worked urgently to address the issue.
"They knew it was coming and I think they should've have worked on it before they went home for the holidays," she said.
Earlier this week the Senate advanced a bill to reauthorize federal unemployment insurance, but progress stalled on Thursday, as some of the six Republicans who previously voted with Democrats complained angrily that Senate Majority Leader Harry Reid (D-Nev.) wouldn't let them offer amendments on a new bill to revive the benefits. Reid insisted he'd given Republicans what they wanted, most importantly by offsetting the cost of the measure with future budget cuts, but Republicans weren't happy.
It's unlikely House Republicans would entertain legislation that merely reauthorizes the benefits -- even if the cost is offset -- without an additional GOP-friendly job creation component.
"The Leader has repeatedly said it is critically important that we help people get back to work and regain independence, and so he will consider any plan that is fiscally responsible and does something to actually create jobs," Cantor spokesman Rory Cooper said in an email. "Senate Democrats have blocked dozens of House-passed job and training bills while offering no alternative of their own, and that is a slap in the face to middle class families across this country."
Before You Go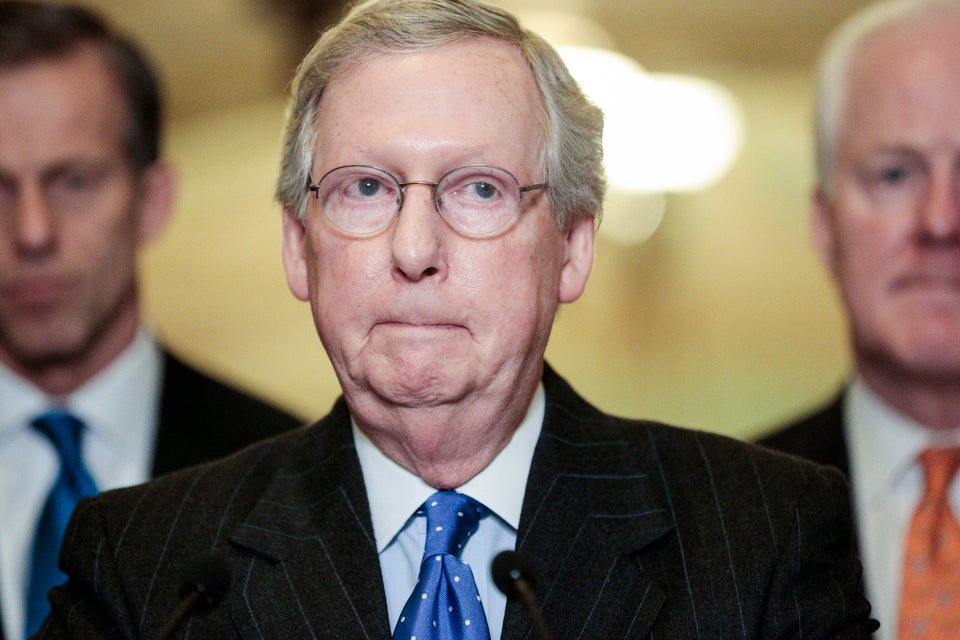 Say Cheese! Mitch McConnell Smiles
Popular in the Community