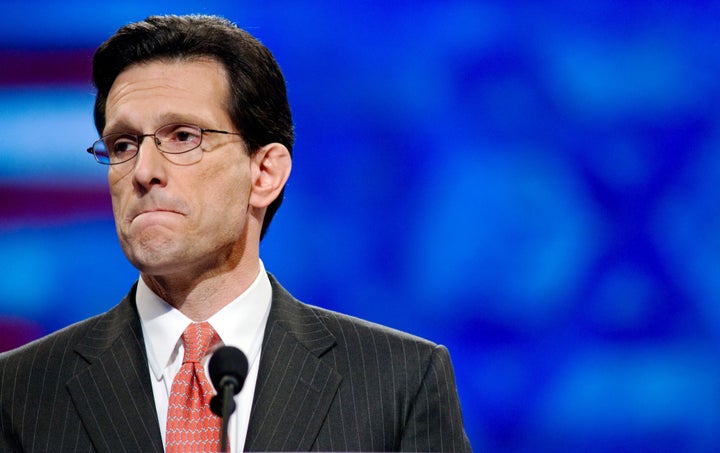 WASHINGTON -- Rep. Eric Cantor's (R-Va.) office on Monday issued a follow-up comment to one made last week, saying that the congressman would serve as a roadblock to the Obama administration approach but not when it comes to issues of Middle East diplomacy.
A spokesman for the likely soon-to-be House Majority Leader said that there was no clarification being offered on a statement that caused a bit of controversy last week. On Monday, simply put, the office was reaffirming that while Cantor told Israeli Prime Minister Benjamin Netanyahu on Wednesday that he planned on serving as "a check on the administration," he would not be playing that function "in relation to U.S./Israel relations."
Last week, after a meeting with Netanyahu, Cantor's office put out a statement that caused a bit of a stir within political circles.
Eric stressed that the new Republican majority will serve as a check on the Administration and what has been, up until this point, one party rule in Washington. He made clear that the Republican majority understands the special relationship between Israel and the United States, and that the security of each nation is reliant upon the other.
There was no direct reference in that remark to U.S.-Israel relations. But such an implication was read by members of the press and some foreign policy analysts. What followed was several days of critical coverage over the idea that a sitting member of Congress would publicly and actively play the role of foiling the White House's foreign policy agenda. As The Huffington Post's Amanda Terkel reported last week:
In the past, Republicans have been sharply critical of Democratic trips abroad that could be seen as undermining the official foreign policies of the U.S. president. For example, in 2007, both the Bush White House and its Republican supporters lashed out at House Speaker Nancy Pelosi (D-Cali.) for visiting Syria, saying that she was trying to circumvent President Bush (never mind that Republican lawmakers were also in Syria and Pelosi didn't criticize the Bush administration).

"It has long been the established principle of this country that the president of the United States leads our foreign policy," said former Massachusetts governor Mitt Romney. "And if you don't like the president, then you change him. But you don't have the two parties each conducting foreign policy in the way they think it ought to be conducted."
Cantor's office protested the notion that his initial statement contained any foreign policy implications. And while spokesman Brad Dayspring felt compelled to offer a follow-up comment to the Washington Post, he stressed that it was neither a clarification nor a walk-back.
This post has been updated from it's original version

Popular in the Community