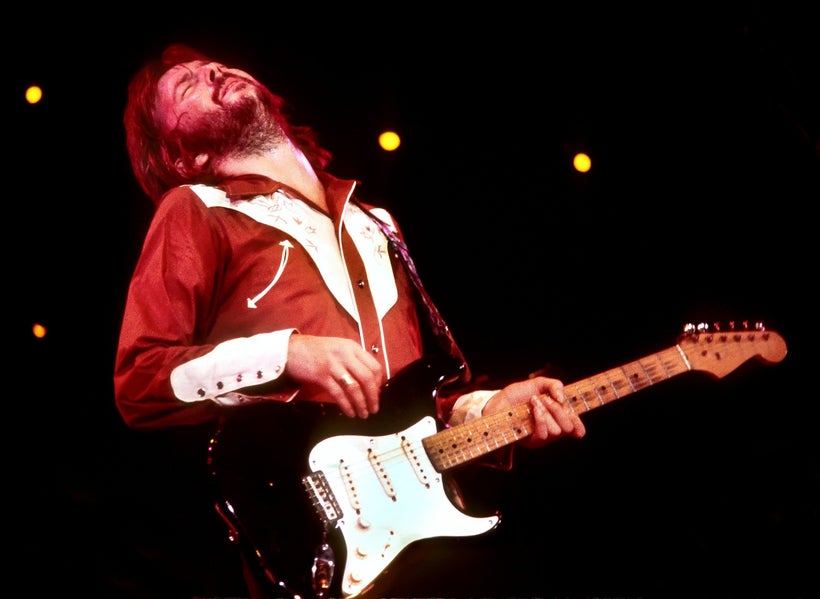 Considering the amount of booze and heroin that rushed through Eric Clapton's veins back in the '60s and '70s, his survival is almost miraculous. Maybe not as astonishing as watching Keith Richards dodge the Grim Reaper, but close. Hence the fascination with watching this 2hr 15 min bio/doc about this legendary rock icon. He has lived to tell his story.
Many know Clapton as the rock guitarist whose four-year-old son Conor fell out of the window of a New York high-rise in 1991. The torment that followed led the musician to write the classic ballad "Tears in Heaven:" "Would you know my name. If I saw you in heaven…" That song crowned an album called Unplugged, which won multiple Grammys. Those who are older, will undoubtedly remember Clapton fronting a number of super groups. The slow hand guitarist seems eager to fill in most of the details of his harrowing life for all his fans. And other anecdotes are supplied in clips of friends like BB King, George Harrison and Pattie Boyd.
Producer Lili Fini Zanuck (Reign of Fire) is on board as director/producer. Scooter Weintraub and Larry Yelen have written a script that is as intelligent and revealing as Keith Richard's best-selling autobiography Life. That book and this film recreate childhoods of the '50s, teen angst of the '60s, an attraction to blues music and the evolution of rock heroes. In this documentary, add near perfect editing (Chris King) that neatly assembles archival footage of famous performances (Fillmore West, Royal Albert Hall), backstage footage, home movies, iconic and private photos, handwritten letters and personal diary entries. Grace the proceedings with an evocative musical score by Gustavo Santaolalla (Brokeback Mountain) and a string of Clapton's hits.
Much of what's on view is accompanied by Eric Clapton's own voiceovers. It's as if you're sitting around, after a nice dinner, drinking some Courvoisier and listening to the guitar virtuoso recollect his wild days. Born March 30, 1945, in Surrey, England, Eric grew up in a home with parents who were much older. That's what he was led to believe. In fact, the girl who he thought was his sister, the one who went away and didn't comeback, was not a sibling but his real mother. That discovery sent the then nine-year-old on a downward spiral. He felt betrayed, alone, abandoned. It's no wonder he was attracted to blues music. At age 14 he was gifted with an acoustic guitar, and for the rest of his life that instrument was his best friend and sounding board.
The dexterity Clapton achieved set him apart from other guitar players back in 1960s England. He came up with the Beatles and Rolling Stones, but even they knew his agile guitar playing was special. Participation in respected groups led to his legendary status in the music world: John Mayall and the Blues Breakers; the blues-based psychedelic pop trio Cream (Clapton, Jack Bruce and Ginger Baker); Blind Faith (with Stevie Winwood); and Derek and the Dominoes (with Bobby Whitlock and a guest appearance by Duane Allman). The latter band produced unarguably one of rock's most iconic tunes, "Layla," an ode to Pattie Boyd the woman who Clapton lusted for, the wife of his good friend George Harrison.
Clapton appears to be a humble musician. He credits Muddy Waters and B.B. King for influencing his music, which they deserve. He confesses that he was an introvert, a junkie, a cocaine addict and an alcoholic with bouts of severe depression and hostility. "In my lowest moments, the only reason I didn't commit suicide was that I knew I wouldn't be able to drink anymore if I was dead," says Clapton.
The candid moments, the dazzling music and seemingly vivid recollections propel the footage forward. There are a few gaps, or slights: Clapton and Harrison toured with Delaney & Bonnie and Friends, and Delaney Bramlett is often credited with coaxing the musician into a solo career, even producing Clapton's first album Eric Clapton (including the song "After Midnight"). There's no mention. Rita Coolidge wrote the slow piano cadence that became the coda for "Layla," but she is still not being credited for composing it. That's a slight.
Minus those imperfections and a wish that the footage would have continued for at least another 30 minutes of retrospection, this is an entrancing documentary, a rock music history lesson and an up-close at an 18-time Grammy Award winner who is lucky to be alive.
REAL LIFE. REAL NEWS. REAL VOICES.
Help us tell more of the stories that matter from voices that too often remain unheard.
This post was published on the now-closed HuffPost Contributor platform. Contributors control their own work and posted freely to our site. If you need to flag this entry as abusive,
send us an email
.