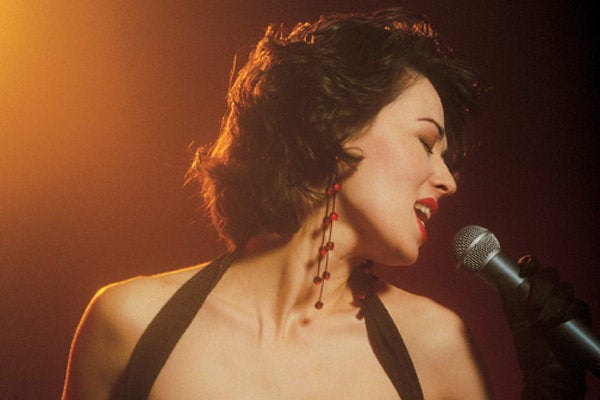 A cabaret strong-point is the illusion the genre handily gives audience members that they're being entertained in their own living-room--or maybe someone else's. Indeed, there used to be a small Second-Avenue boite that got right to the point with its name: The Living Room--and there's another one now on downtown's Stanton Street. Furthermore, there are certain performers who maximize the illusion, intentionally or unintentionally. Not to mention Frank Sinatra, who, when at his best, could turn Madison Square Garden into a space no larger than Imelda Marcos's shoe closet.
Which is a slightly delayed lead-in to reporting that the husband-wife team of Eric Comstock and Barbara Fasano are currently doing the living-room honors in Manhattan's Oak Room at the Algonquin Hotel through the first week of March. Hardly deviating from many cabaret theme shows, they've dubbed the outing "This Thing Called Love," which seems appropriate for a stint that included Valentine's Day week.
Not the least of the team's performing magic is the easy-going quality that Comstock--sitting at the piano with an almost cartoon-blank face--brings to his moderate-jazz-swing music. A "Great American Songbook" scholar--who jokes about how non-rock nerdiness stopped him attracting a clique at his north New Jersey "Mayonnaise Belt" high school--Comstock plays with the same understatement he uses when singing. It's not far from the kind of WASP reticence that informs Noel Coward's Brief Encounter.
Even gliding through the Leonard Bernstein-Stephen Sondheim "Tonight" or the Lorenz Hart-Richard Rodgers "It Never Entered My Mind" (he calls Hart his favorite lyricist), he comes nowhere near breaking into an emotional sweat. Because he's so knowledgeable and devoted to the music that makes him prance, he even gets away with the occasional off-key crooning on songs he might be placing a key or so lower than is optimum.
Fasano--raised in a Long Island, New York Italian family--brings different dynamics to the collaboration. You could say she illuminates that cabaret-as-living-room with torchlight. Never descending into histrionics, the slim, raven-haired Fasano applies her mezzo to solos so that she continually allows feelings to simmer and crackle.
Long before she tied the knot with Comstock (they've just marked their fifth anniversary), she was singing Cole Porter's "In the Still of the Night" as well or better than anyone has ever sung it to this auditor's knowledge. Arms folded in front of her, she remains a mistress of what is one of the most magnificent popular songs ever written. Her repeated "Do you love me" is heartbreaking. Moreover, to that evergreen she adds a mordant version of Joni Mitchell's "Cactus Tree" and a "Joey, Joey, Joey" (Frank Loesser) that few, or no, other chanteuses even dare attempt. For those strengths, her off-the-mark Barbra Streisand imitations are forgivable.
Though Comstock and Fasano underscore their continuing solo careers throughout the piece, they sing together as well, of course--sometimes throughout a song and sometimes partly separate (and supported by bassist Sean Smith). Comstock starts the proceedings with a somewhat moody version of the Billy May-Milt Raskin "Somewhere in the Night," then yields the floor to Fasano's cheerful run-through of Bart Howard's infrequently sung "I'll Be Easy to Find"--at the end of which they combine forces. When they get to the Joe Bushkin-John DeVries 'Oh, Look at Me Now," he sings the familiar man's-viewpoint words before she does a less-familiar set of lyrics from the woman's perspective.
A cute conceit, and the ditty's sentiments are in keeping with the subtle way "This Thing Called Love" has been structured as the typical history of a romance--meeting, early infatuation, commitment, estrangement, separation, reunion, ultimate bafflement at the enduring wonder of it all. It could be termed a boutique presentation. Or--borrowing a phrase from the Sondheim-Jule Styne's "Small World" Comstock intones--it's an outing that's "small and funny and fine."
Incidentally, publicity for the pair often includes references to their being a latter-day Alfred Lunt and Lynn Fontanne or Fred Astaire and Ginger Rogers. Katharine Hepburn once said of the Astaire-Rogers chemistry, of course, that he brought her class and she brought him sex. The quip was, however, unfair to both Astaire and Rogers. Astaire already had a certain innate sex appeal; Rogers came with had her own form of class. And it's equally unfair to Comstock and Fasano. They're each sexy and classy--when they're not working too hard at being both--and that sex-class combo unmistakably has its small-room allure.
REAL LIFE. REAL NEWS. REAL VOICES.
Help us tell more of the stories that matter from voices that too often remain unheard.