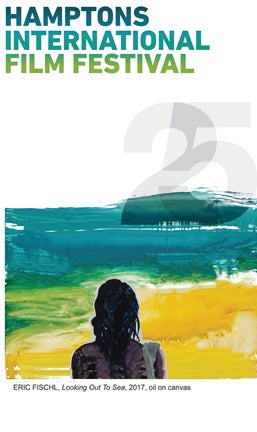 Eric Fischl might be the East End's busiest artist: aside from painting, and showing his work, the North Haven-based painter is President ofGuild Hall's Academy of the Arts, and active with his wife April Gornik in the effort to rebuild the Sag Harbor Cinema as a community film and arts center. When he was tapped to create a poster for this year's Hamptons International Film Festival, now in its 25th year, he immediately said yes: "I am honored to be part of it. This poster is my fourth," the artist told me in a recent interview. "I did the first festival. That's why they asked me."
After two others, how do you imagine a new poster?
I approach it the way I approach my painting. Cinema was a big influence on me. I saw movies before I saw paintings. I have a strong sense of narrative. I'm looking for a moment that feels heightened, like a film still, even if it evokes the quotidian. My first was a film still sequence of woman undressing: you watch her put her dress on or take it off, her white skirt vivid. It had a film noir quality. Another was a photography series of paintings of actors in nestling embrace. For this one, I tried to find a camera eye point of view, some quality of light that feels cinematic.
What inspired the poster?
It's art based, oil on paper, and it's the Hamptons experience: the viewer stands behind a woman who is walking toward a beach, a loose evocation of sand and water, a turquoise blue gestural blast, and exuberant; the colors are light and welcoming. We see her mid-back; we follow so close to her; the implication is, you are behind this person meditating on the scene, on some existential border between where we live and where we come from.
How does this poster relate to your painting?
It's the Hamptons experience and cinematic. I am planning my next show, in London, in Spring 2018 with new work. My last show in April in Chelsea had four paintings: the scene takes place at a swimming pool. The new show will be more and different people at a swimming pool, adults and young kids, or adults alone. They are like people you would know fictionalized: affluent, white, seen by their accomplishments. Like much of my work, the art measures the distance between need and desire. These people are more disappointed than satiric, locked into misplaced expectations, an existential truth; this is the condition of being alive. I hope people will recognize something about themselves.
Regina Weinreich co-produced and co-directed the documentary, PAUL BOWLES: THE COMPLETE OUTSIDER. The film premiered at the first Hamptons International Film Festival.
Calling all HuffPost superfans!
Sign up for membership to become a founding member and help shape HuffPost's next chapter
This post was published on the now-closed HuffPost Contributor platform. Contributors control their own work and posted freely to our site. If you need to flag this entry as abusive,
send us an email
.