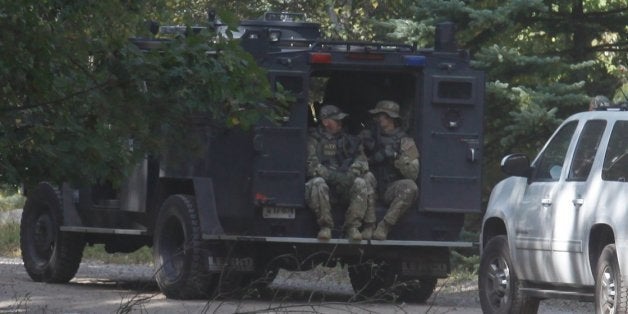 It's been ten days since Eric Frein disappeared into the thick woods of Pennsylvania's Pocono Mountains after allegedly ambushing troopers at a police barracks, killing one officer and injuring another.
As residents anxiously wait for the capture or killing of the 31-year-old suspect, police said Sunday that they were "closing in" on the man who was recently added to the FBI's Ten Most Wanted list, according to CNN.
Frein is accused of ambushing a Canadensis police barracks and fatally shooting state trooper Bryon Dickson and injuring trooper Alex Douglas on Friday, September 12.
The Associated Press reported Sunday night that authorities had found an AK-47 assault rifle and ammunition in the woods that they believe belonged to Frein.
"We are pushing him hard, he is no longer safe and I am confident that he will be apprehended," State Police Lt. Col. George Bivens told the publication.
Bivens said Monday that officers are narrowing their search and closing in on Frein, according to the Pittsburgh Post-Gazette.
"He's out in those woods right now," Gov. Tom Corbett said at a news conference. "My thoughts are constantly with those people right now who are looking for this individual."
The Pike County Dispatch reported last Thursday that police referred to Frein as a "coward" who may have had a long-standing grudge against police over "an incident that was investigated by PSP Blooming Grove." Police have so far declined to offer details about the previous incident.
"Everyone has a gun," said Mike, a resident who declined to give his last name. "Everyone."
Frein has been described as a heavy smoker who is a weapons enthusiast and known survivalist. A reward of up to $175,000 is being offered to anyone with information on his whereabouts.
REAL LIFE. REAL NEWS. REAL VOICES.
Help us tell more of the stories that matter from voices that too often remain unheard.