Eric Frein, the man wanted for allegedly killing a Pennsylvania state trooper before going on the lam for 48 days, is in police custody.
Frein was captured by authorities Thursday, according to Pennsylvania State Police spokeswoman Connie Devens.
"I can confirm that we have taken Eric Frein into custody," Devens said in an email Thursday evening. "No further information will be released or confirmed at this time."
The arrest was reportedly made near an abandoned airport hangar at the Birchwood-Pocono Airport near Tannersville. No shots were fired during the arrest, according to FOX News.
An unconfirmed photo that allegedly shows Frein after he was taken into custody:
Authorities say Frein, a 31-year-old military enthusiast with extensive training as a marksman, ambushed two state troopers during a shift change outside the Blooming Grove barracks on Sept. 12. Cpl. Bryon Dickson was killed in the attack. Trooper Alex Douglass, who was seriously wounded, was released from the hospital two weeks ago.
In a press conference late Thursday, Gov. Tom Corbett thanked law enforcement for their efforts in the manhunt, and assured the families of Dickson and Douglass that, "Justice will be served." Corbett added that Frein was arrested using the handcuffs of the trooper he allegedly killed.
State Police Commissioner Frank Noonan said U.S. marshals spotted Frein at the airport, and after they confronted him, he admitted his identity and was taken into custody. Pike County District Attorney Ray Tonkin said that Frein would be charged with first degree murder, homicide of a law enforcement officer, attempted murder, and possession of weapons of mass destruction. Tonkin said that he would seek the death penalty for Frein.
The first breakthrough in the case came in the hours following the shooting, when Frein's jeep was found partially submerged in a wooded area, not far from the police barracks. Ammunition casings found inside the vehicle matched casings found at the scene of the shooting, police said.
Investigators say they believe Frein fled on foot. During the course of the manhunt there were numerous reported sightings of him in the wooded mountain areas, which are popular with tourists and law enforcement repeatedly claimed they were closing in on the fugitive.
On September 24, Pennsylvania State Police Lt. Col. George Bivens announced Frein had left a trail of used diapers and empty cigarette packs in the forests surrounding Canadensis, the village in northeastern Pennsylvania where Frein grew up.
The diapers earned Frein the moniker "Diaper Sniper" and the creation of hashtag #DiaperSniper on Twitter.
Another big development came earlier this month, when police seized a large cache of survival supplies and handwritten notes at a campsite in the area around Canadensis.
According to Bivens, the notes give a detailed first-person account of the deadly ambush.
One of the notes, reads, in part:
"Got a shot around 11 p.m. and took it. He dropped. I was surprised at how quick. I took a follow-up shot on his head, neck area. He was still and quiet after that. Another cop approached the one I just shot. As he went to kneel, I took a shot at him and he jumped in the door. His legs were visible and still. I ran back to the jeep. I made it maybe half-a-mile from the GL (game land) road and hit a road block. I didn't expect one so soon -- it was only 15 to 20 minutes. I did a k-turn a quarter mile from them and pulled into a development I knew had unfinished access roads. Hearing helos (helicopters), I just used my marker lights, missed the trail around a run off pool and drove straight into it. Disaster. Made half-attempt to stash AK and ran."
Biven's called the written account of the shootings "cold blooded and absolutely chilling."
"I can only describe Eric Frein's actions as pure evil," he said.
None of the notes, Bivens said, suggest Frein knew either of the troopers he is accused of shooting.
The search for Frein heightened on Tuesday, when Frein was reportedly sighted at Buck Hill Falls, a private community in the Pocono Mountains. It remains unclear if that sighting helped lead police to Frein Thursday.
Police have not confirmed a possible motive for the shooting of the troopers, but have said Frein previously wrote about his hatred for police and had been planning an attack for several years.
"He has made statements about wanting to kill law enforcement officers and also to commit mass acts of murder," Noonan said in September. "What his reasons are, we don't know, but he has very strong feelings about law enforcement and seems to be very angry with a lot of things that go on in our society."
Before You Go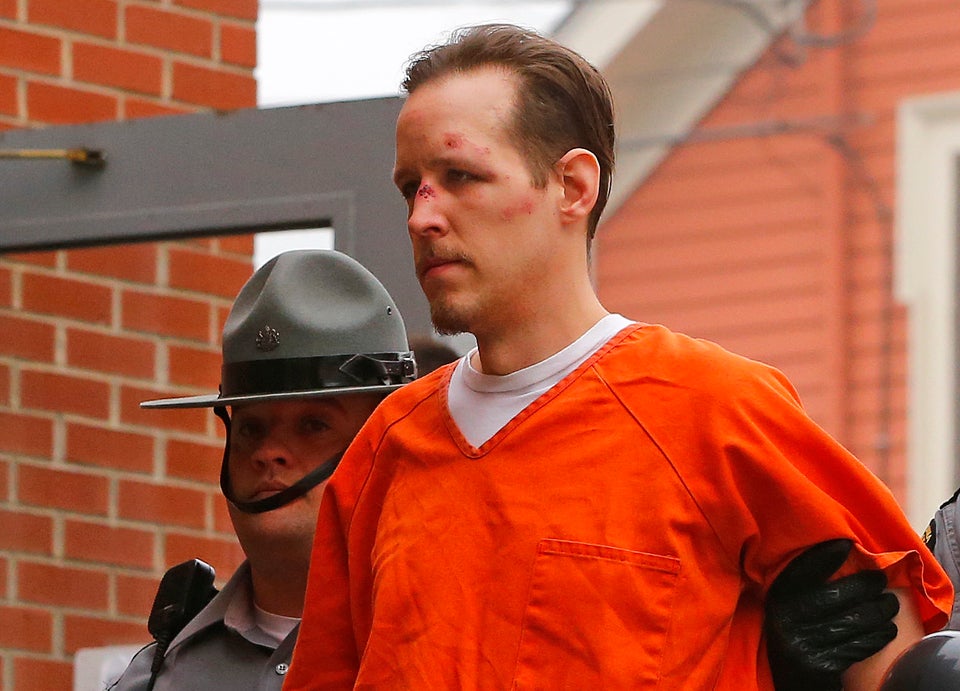 PA State Police Barracks Shooting
Popular in the Community