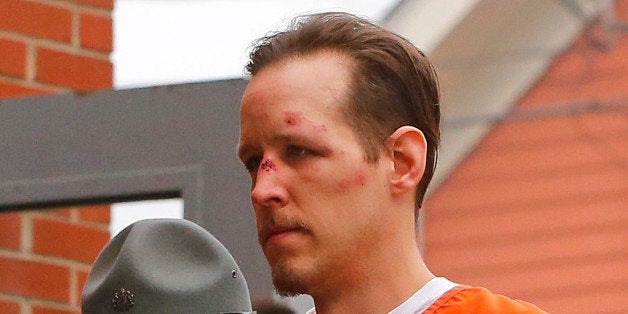 Pointing to the district attorney's campaign materials and the considerable publicity surrounding the case, the attorney for accused cop killer Eric Frein wants his client's trial moved to another county.
Michael Weinstein, the attorney defending Frein, said in court documents filed Friday that Pike County District Attorney Raymond Tonkin recently sent out 4,500 "graphic" campaign flyers that will reach roughly half of the potential jury pool.
The flyers, Weinstein wrote in his motion, feature a photo of Tonkin, standing with a high-ranking member of the Pennsylvania State Police, alongside a photo of a "bruised and battered" Frein.
THE FLYER (story continues below):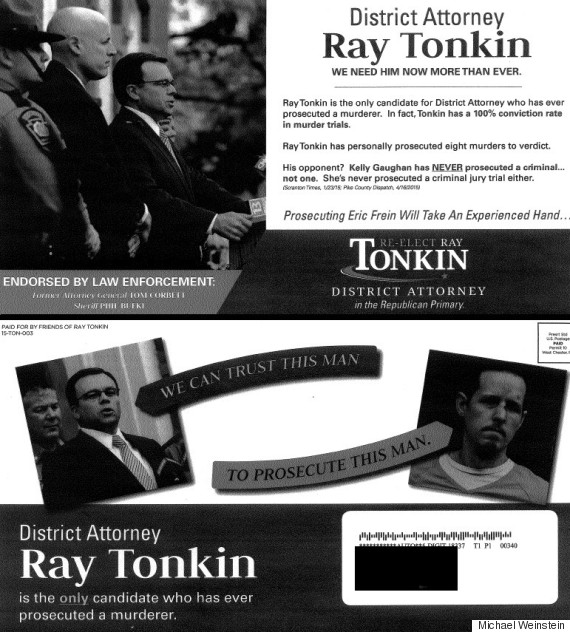 "[There is] a blue arrow with yellow wording pointing at the district attorney, stating: 'We can trust this man,'" the court documents read. "The photograph of … Frein has a red arrow pointing at him, with black wording stating: 'To prosecute this man.'"
The court documents further state that the word "murderer" is used twice in the mailer -- something that removes "the cloak of innocence" and sends a "clear indication" that Frein is guilty.
"This mailer ... affords [the] prosecutor an avenue to reach and taint [the] jury pool," Weinstein wrote.
In addition to a change in venue, Weinstein is asking the court to prohibit Tonkin from sending out similar mailers and from mentioning Frein in any televised campaign ads.
"Television advertising will cover a far greater geographical area than the mailer and will thus taint potential venues," the attorney wrote.
Frein, a 31-year-old military enthusiast with extensive training as a marksman, is accused of ambushing two Pennsylvania state troopers during a shift change outside the Blooming Grove barracks on Sept. 12. Cpl. Bryon Dickson was killed and Trooper Alex Douglass was seriously wounded in the attack.
ERIC FREIN MANHUNT PHOTOS (story continues below):
PHOTO GALLERY
PA State Police Barracks Shooting
Until Frein's capture, authorities spent 48 days searching for him in the forests surrounding Canadensis, the village in northeastern Pennsylvania where the suspect grew up.
In January, Frein pleaded not guilty to all the charges against him, including first-degree murder and terrorism.
Tonkin, who has already filed notice that he intends to seek the death penalty during Frein's trial, was unavailable for comment Saturday.

In an interview with The Citizens' Voice, Tonkin called the motion a "legal stunt" and said he plans to oppose it.
"That motion is in response to a campaign mailer that does not discuss any legalities or facts related to the Frein case," Tonkin told the newspaper.
Frein, according to The Citizens' Voice, is expected to appear in court for a pretrial hearing on June 8. A trial date has not yet been set.
READ THE MOTION:
Calling all HuffPost superfans!
Sign up for membership to become a founding member and help shape HuffPost's next chapter
BEFORE YOU GO
PHOTO GALLERY
Eric Frein Capture Location