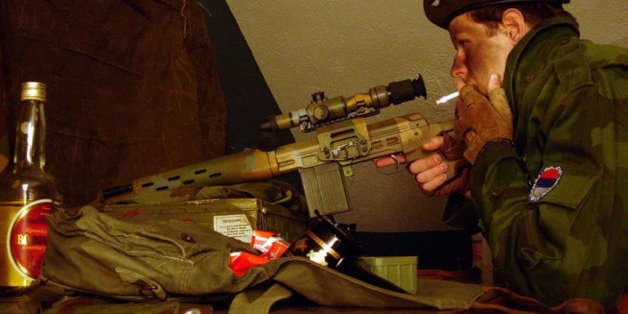 Authorities say they have found notes written by Eric Frein that give a detailed first-person account of the deadly ambush in which he allegedly killed one Pennsylvania state trooper and injured another.
The announcement was made at a Wednesday afternoon press conference by Pennsylvania State Police Lt. Col. George Bivens.
One of the notes, which Bivens read at the press conference, was dated Sept. 12, the day Pennsylvania state troopers Alex Douglass and Bryon Dickson were shot during a shift change outside the Blooming Grove barracks. Dickson was killed in the attack. Douglass, who was seriously wounded, remains hospitalized.
The note, as read by Bivens:
"Got a shot around 11 p.m. and took it. He dropped. I was surprised at how quick. I took a follow-up shot on his head, neck area. He was still and quiet after that. Another cop approached the one I just shot. As he went to kneel, I took a shot at him and he jumped in the door. His legs were visible and still. I ran back to the jeep. I made it maybe half-a-mile from the GL (game land) road and hit a road block. I didn't expect one so soon -- it was only 15 to 20 minutes. I did a k-turn a quarter mile from them and pulled into a development I knew had unfinished access roads. Hearing helos (helicopters), I just used my marker lights, missed the trail around a run off pool and drove straight into it. Disaster. Made half-attempt to stash AK and ran."
Biven's called the account of the shootings "cold blooded and absolutely chilling."
"I can only describe Eric Frein's actions as pure evil," he said.
Authorities say Frien, a 31-year-old military enthusiast, faces charges of homicide of a law enforcement officer and attempted murder. He also is wanted on federal charges of unlawful flight to avoid prosecution.
Bivens said the notes were found Sept. 29 at a campsite -- the same one authorities mentioned last week that allegedly contained explosive devices and a "significant amount" of ammo.
None of the notes, Bivens said, suggest Frein knew either of the troopers he is accused of shooting.
"Every so often, true evil rears its ugly head and we must deal with it," Bivens said. "Let me remind everyone, Frein has already murdered one trooper and wounded another one. ... If left unchecked he may strike again."
The top cop added, "The Pennsylvania state police didn't pick this fight, but it's ours to finish."
REAL LIFE. REAL NEWS. REAL VOICES.
Help us tell more of the stories that matter from voices that too often remain unheard.
BEFORE YOU GO
PHOTO GALLERY
PA State Police Barracks Shooting