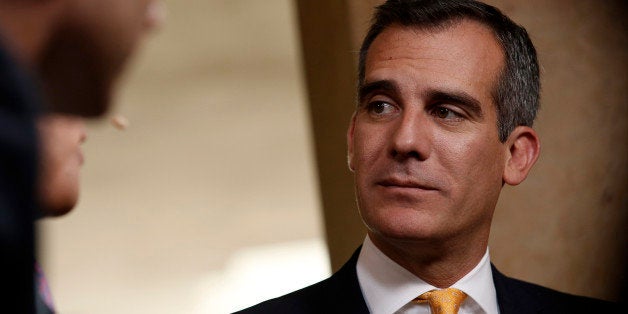 WASHINGTON, May 4 (Reuters) - Los Angeles Mayor Eric Garcetti said on Sunday he expects Los Angeles Clippers owner Donald Sterling to put up a "long, protracted fight" to retain ownership of the team after being banned for life from the National Basketball Association because of racial comments.
Garcetti, appearing on CBS News' "Face the Nation" program, was asked about a potential boycott of Clippers games if Sterling balks and said, "I would certainly keep that arrow in my quiver."
Last week NBA Commissioner Adam Silver fined Sterling $2.5 million and imposed a lifetime ban after the revelation of taped conversations in which he told his friend, V. Stiviano, that he did not want her to bring black people to Clippers games or pose for pictures with them.
The NBA Board of Governors is expected to meet within the next two weeks to vote on forcing a sale of the team.
Sterling, who built a fortune estimated at $1.9 billion through Los Angeles-area real estate holdings, bought the Clippers for $12 million in 1981 and the franchise now is valued at $430 million by Forbes magazine.
Garcetti said he had spoken with Sterling, urging him to apologize for his comments, but that he expects an ugly legal battle.
"I think that he thinks that he's going to be the owner for a long time, that he wants to stay the owner," Garcetti said. "And I said, 'This will be a long, protracted fight and a painful thing for our city ...'"
Garcetti said Sterling's continued ownership could be "very tough" for the Clippers players, who advanced to the second round of the NBA playoffs Saturday, since further success would profit Sterling.
Kevin Johnson, a star guard for the Phoenix Suns in the 1980s and 1990s and now mayor of Sacramento, California, served as an emissary for the NBA players union after Sterling's conversations were revealed. He said on NBC's "Meet the Press" that he would like to see a unanimous or near-unanimous result when owners vote on making Sterling to sell the team.
A three-fourths vote by the board of governors would be required to force the sale.
"I think the players feel very strongly that they have confidence in the owners to make the right decision," Johnson said. "I think the owners are going to put the Clippers in a position where this owner, Mr. Sterling, is going to have to sell the team. Whether it happens this week or next week, it's going to have to run that process."
"I think that everyone is anticipating there will be a legal fight," Johnson said. "However, I'd like him (Sterling) to rethink that position. I think if Mr. Sterling was going to approach it the right way, he would apologize, he would embrace the sanctions and spend the rest of his life proving he wasn't a racist." (Writing by Bill Trott; Editing by Jim Loney and Marguerita Choy)
REAL LIFE. REAL NEWS. REAL VOICES.
Help us tell more of the stories that matter from voices that too often remain unheard.
BEFORE YOU GO
PHOTO GALLERY
Mayors Of America's Largest Cities