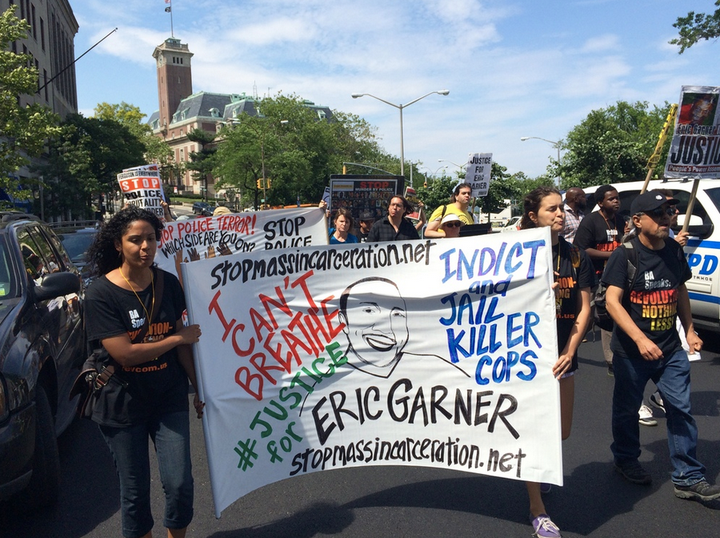 Dozens of demonstrators rallied on New York's Staten Island on Friday to commemorate the one-year anniversary of Eric Garner's death at the hands of New York City police.
Protesters briefly blocked traffic as they marched to where Garner died after he was placed in a chokehold by NYPD Officer Daniel Pantaleo.
"Pantaleo belongs in a jail cell," 27-year-old protester Noche Diaz told The Huffington Post as he carried a large sign with photos of black men killed by police. He said he was inspired massive protests this spring in Baltimore that followed the death of Freddie Gray, a black man fatally injured in police custody.
Participants in Friday's rally took turns placing white roses on the Staten Island sidewalk, then collectively yelled, "I can't breathe" 11 times. A video of Garner scuffling with police after he was caught selling loose cigarettes shows him repeatedly saying, "I can't breathe."
Earlier Friday, Garner's 1-year-old daughter, Legacy, helped lift the lid off a box containing a single white dove, according to The Wall Street Journal. The dove flew away as family members and supporters cheered.
"I wanted something that represented purity," Legacy's mother, 38-year-old Jewel Miller, told the Journal. "Eric was a gentle giant and the dove is a symbol of peace."
A larger protest -- organized by Millions March NYC, NYC ShutItDown, People's Power Assemblies and Black Lives Matter NYC -- is planned in Manhattan on Friday evening.
The Rev. Al Sharpton will lead a march to the U.S. Attorney's office in Brooklyn on Saturday to push for federal charges against officers involved in Garner's death. On Sunday, Garner's friends will continue a four-year tradition of hosting an annual "Give Back" barbecue in Timpkinsville Park, Staten Island, yards from where Garner was arrested.
Garner died on July 17, 2014, after he was stopped for selling untaxed cigarettes. A viral video of the arrest shows Garner saying, "I can't breathe!" 11 times while in a chokehold before he becomes unresponsive. He was declared dead a short time later.
A Staten Island grand jury in December declined to indict Pantaleo in Garner's death, setting off massive protests.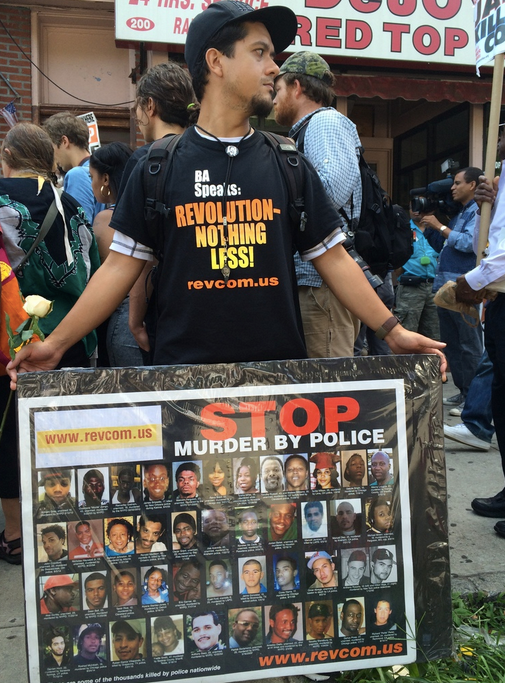 The Justice Department has since December been investigating whether to file federal civil rights charges against Pantaleo.
Near where Garner was killed, about 30 teenage activists from the group Make The Road New York wore black T-shirts inscribed with the words "Eric Garner Can't Vote. But We Can." Carrying clipboards, they encouraged passersby to register to vote.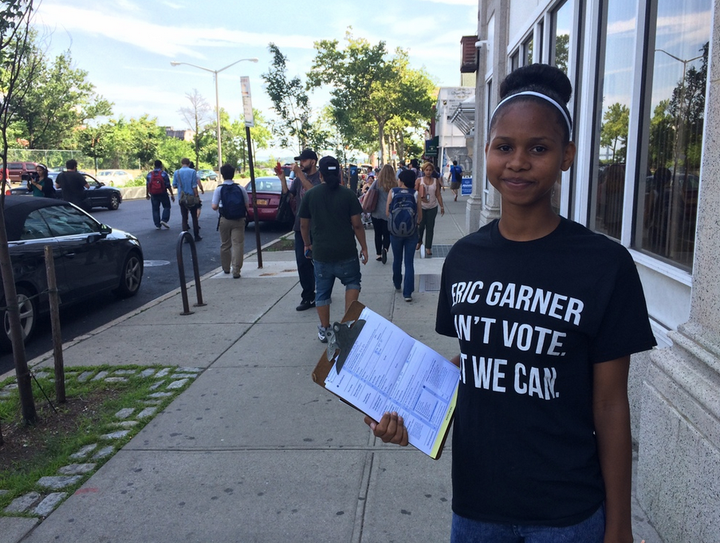 Popular in the Community