New York City Mayor Bill de Blasio (D) said Wednesday that a grand jury's decision not to indict a police officer involved in the death of Eric Garner was a decision "that many in our city did not want."
The officer, Daniel Pantaleo, put Garner in a chokehold that was captured on video during an arrest for selling untaxed cigarettes in July. In the video, Garner can be heard repeating, "I can't breathe."
In a statement, de Blasio called Garner's death "a great tragedy" but said that any protests following the decision should be peaceful. He said that his administration was working with police to make sure that similar incidents did not happen in the future. De Blasio also noted that there would be a NYPD internal investigation as well as a separate investigation by the U.S. Attorney.
De Blasio also invoked Martin Luther King, Jr. in his statement, saying that the problematic relationship between police and communities should be something that concerns all Americans.
"Dr. Martin Luther King Jr. – one of our nation's most profound thinkers on these issues – taught us something very simple: 'Injustice anywhere is a threat to justice everywhere,'" de Blasio said. "The problem of police-community relations and civil rights is not just an issue for people of color – or young people – or people who get stopped by police. This is a fundamental issue for every American who cares about justice."
During a press conference on Staten Island Wednesday evening, de Blasio called for peaceful demonstrations and spoke in personal terms about Garner's death. Mentioning that he had met with Garner's father, de Blasio said that he couldn't help but think of his own son, Dante, who is black.
"I couldn't help but immediately think what it would mean to me to lose Dante. Life would never be the same for me after," de Blasio said. "Chirlane and I have had to talk to Dante for years about the dangers that he may face," he added.
"No family should have to go through what the Garner family went through," de Blasio said.
Referring to the refrain "black lives matter," which protesters across the country have used during demonstrations after a grand jury decided not to charge police officer Darren Wilson in the killing of Michael Brown, de Blasio said "It's a phrase that should never have to be said, it should be self-evident, but our history requires us to say that black lives matter."
"We're not just dealing with a problem in 2014, we're not dealing with years of racism leading up to it, or decades of racism we are dealing with centuries of racism that have brought us to this day. That is how profound the crisis is."
De Blasio also described Garner's death as a moment that should galvanize all communities for change, but that change should come through peaceful protest.
"If you really want to dignify the life of Eric Garner, you will do so through peaceful protest, you will work tirelessly for change."
Below, more politicians react to the grand jury's decision not to indict Garner: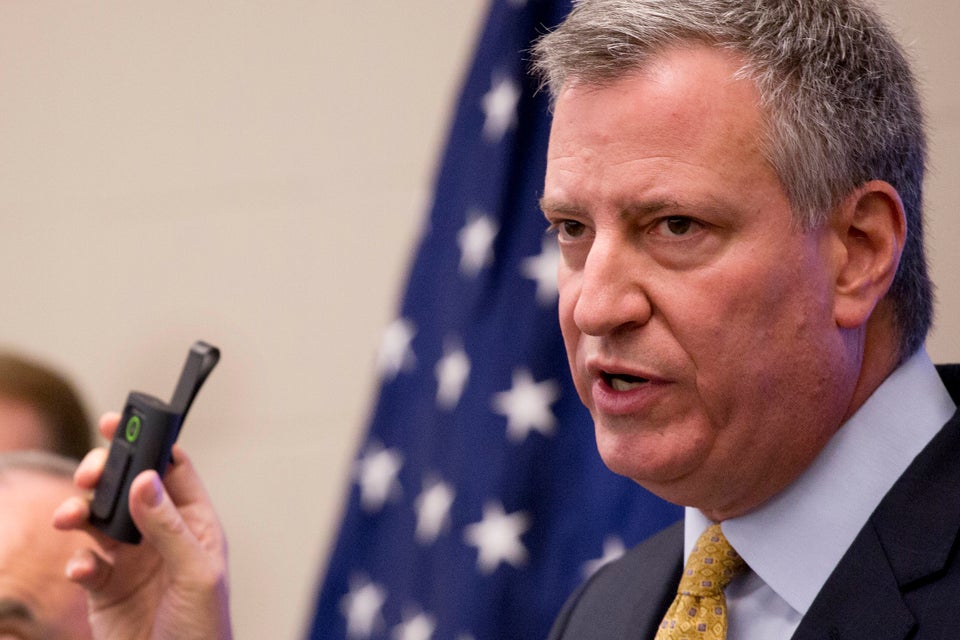 Politicians React To Eric Garner Grand Jury Decision
Popular in the Community