NEW YORK -- Chokeholds are dangerous and prohibited by the New York City Police Department. Yet on July 17, Officer Daniel Pantaleo wrapped his arm around the neck of Eric Garner, who had resisted arrest for selling untaxed cigarettes on Staten Island. In a viral video of the encounter, Garner can be heard repeatedly screaming, "I can't breathe!" before his body goes still.
The medical examiner ruled the death a homicide, and "I can't breathe!" became a rallying cry at a massive protest against police brutality in Tompkinsville, the neighborhood where Garner -- who'd been caught on multiple occasions selling cigarettes illegally -- was arrested for the last time.
Friday marks three months since the death of Garner, a 43-year-old father of six. For his family, it's another milestone in justice that has been delayed.
"They lost their provider, the father, the husband, the son, and it's tough," the family's attorney, Jonathan Moore, told The Huffington Post this week. "They're upset."
"It's taking too long," Moore continued, criticizing the pace of Staten Island District Attorney Daniel Donovan's investigation. "I'm very concerned that it's taken three months for what should be a straightforward case."
It took Donovan more than a month to announce a special grand jury would determine whether to bring charges against Pantaleo or other officers involved. And it wasn't until last week that the grand jury began hearing evidence in the case.
Moore said he hopes Donovan is taking so long because he's conducting a thorough investigation.

From the beginning, there were doubts that Donovan could effectively prosecute the case. A group of 14 state lawmakers called on Gov. Andrew Cuomo to appoint a special prosecutor. The Rev. Al Sharpton asked the U.S. Department of Justice to step in.
They argued that Donovan was moving too slowly and had a fundamental conflict of interest. District attorneys have to work closely with police officers on thousands of cases every year. Prosecuting a police officer for misconduct could anger cops, undermining that relationship.
Anthony Thompson, a professor of law at New York University, told HuffPost there are questions why Donovan would convene a grand jury at all. "Why not just direct file?" he said. The video, Thompson said, appeared to be clear evidence of misconduct, and may have been enough to sustain a charge of negligent homicide.
Thompson said there's a history of district attorneys using grand juries as "political cover." If a grand jury chooses not to indict, the district attorney can appear absolved from responsibility. And because grand jury proceedings are secret, the public won't know what evidence the district attorney presented.
Other legal experts have pointed out that many NYPD officers live in Staten Island, and grand jury members from Staten Island are more likely than those from other parts of the city to sympathize with cops.
"The chances of [Officer Pantaleo] beating it on Staten Island are pretty good," Mathew Galluzzo, a criminal defense attorney and former prosecutor at the Manhattan District Attorney's office, told The Staten Island Advance earlier this month. "There's a lot of allegiance to officers on Staten Island. If this was the Bronx, he'd be indicted already. But it's Staten Island."
Donovan's office had no comment Thursday on the grand jury. His last public statement on the matter was in August.
"I assure the public that I am committed to conducting a fair, thorough, and responsible investigation into Mr. Garner's death," Donovan said then. "And that I will go wherever the evidence takes me, without fear or favor."
Moore, Garner's family lawyer, said the family is being "patient" with Donovan for now. It could be months before the grand jury reaches a decision.
Twenty years ago, it took a special grand jury in Staten Island seven months before it voted not to indict three officers involved in the death of an unarmed black man named Ernest Sayon. Sayon, who had violently resisted arrest, was asphyxiated while in handcuffs during a struggle with police.

Before You Go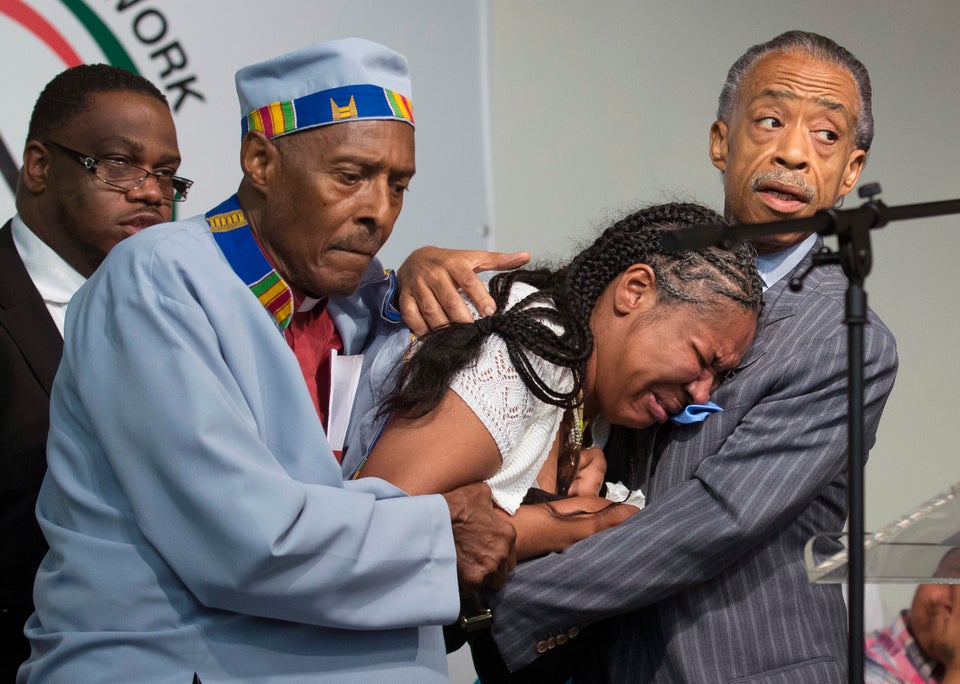 Eric Garner Chokehold Case