NEW YORK -- Eric Garner was a son, husband, father of six and grandfather of two. As his family wept over his coffin Wednesday evening, the Rev. Al Sharpton took to the pulpit.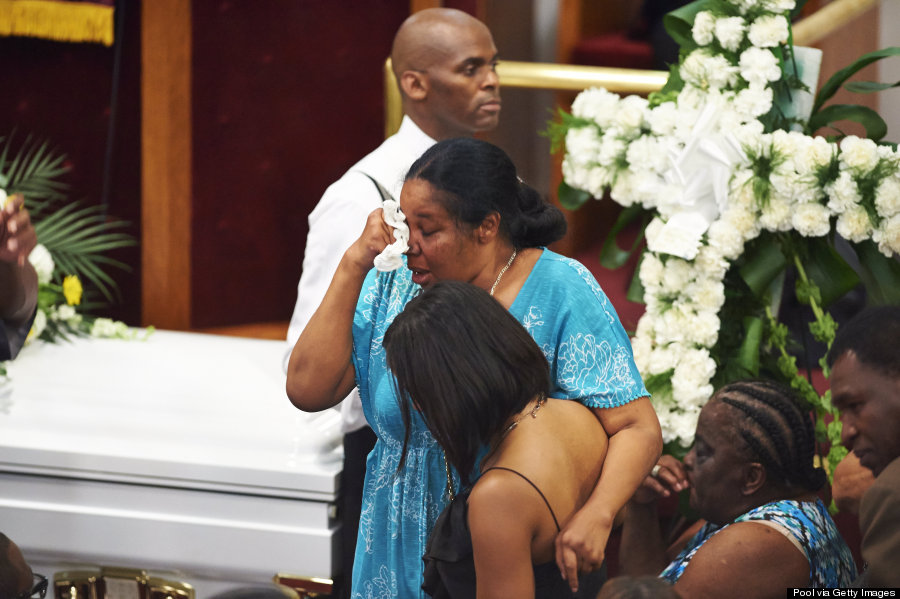 Esaw Garner, wife of Eric Garner, cries Wednesday during her husband's funeral.
"We should not act as though we should be here today," he told the few hundred mourners packed inside Brooklyn's Bethel Baptist Church, many waving paper fans across their faces to fend off the heat. This funeral, he said, "never should have been in the first place."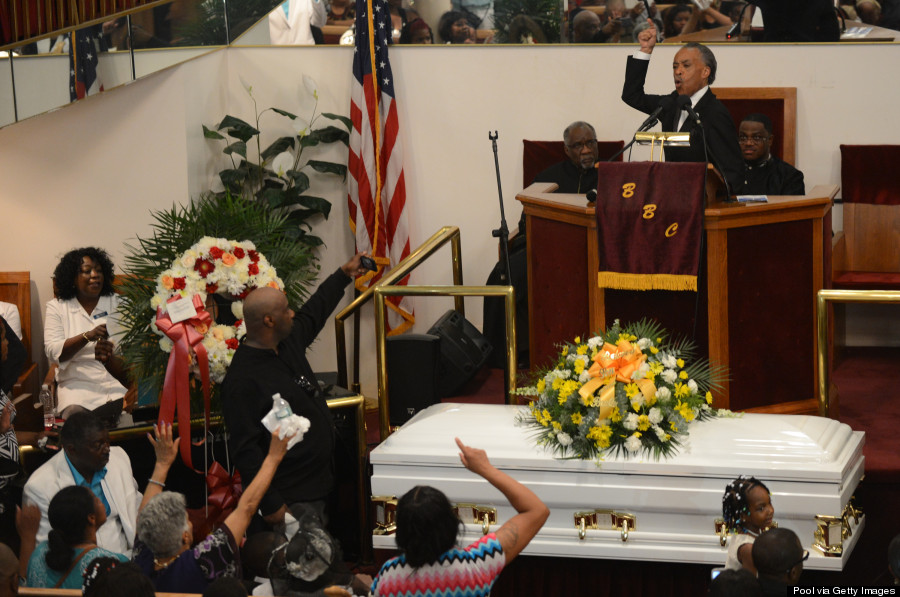 "And with all of our faith, you also must have courage to speak truth," Sharpton said, his voice crescendoing. "Yes, God will make a way, but God expects some things out of us. And when you can, in broad daylight, choke one of God's children, God expects us to stand up, and demand justice! And fairness!"
The crowd rose to its feet and clapped. There were shouts of "Talk about it!" and "Amen!"
Garner died last week after police officers in Staten Island tried to arrest him, and one officer used an illegal chokehold to bring him to the ground. He was 43.
"Let's not play games with this," Sharpton said. "You don't need no training to stop choking a man saying, 'I can't breathe!' You don't need no cultural orientation to stop choking a man who says, 'I can't breathe!' You need to be prosecuted and you need to be put away for a while!"
"Where's Ramsey Orta? Come here, brother." A young man walked his way through the crowd and joined Sharpton at the pulpit.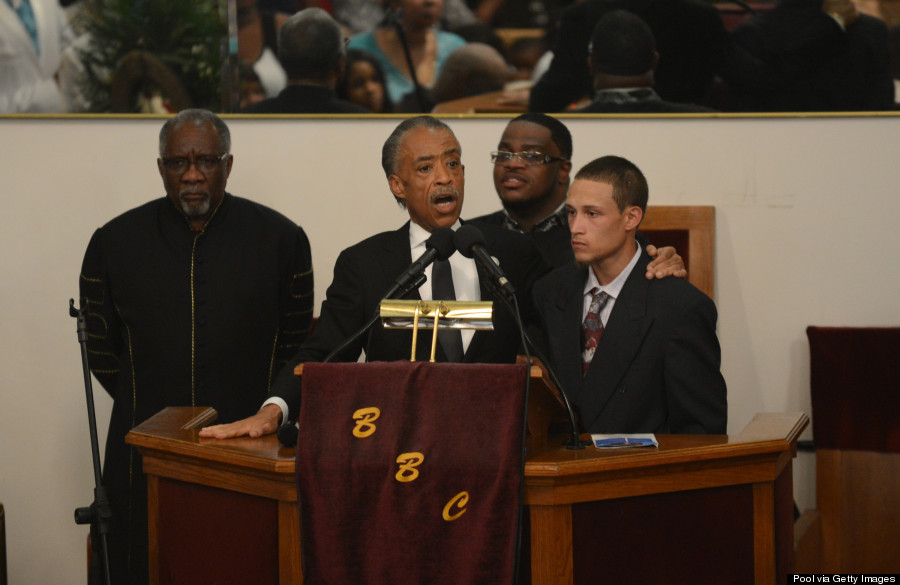 Sharpton and Orta.
"This young man showed more respect for the law, for human life, for decency than the police and the EMS workers. They ought to follow his example. He turned around and said, 'This is wrong, I'm gonna video it.' This city ought to thank God that when the police and EMS failed us, there was a Ramsey Orta!"
Orta then left the pulpit to loud cheers, and was embraced by Garner's family in the front row.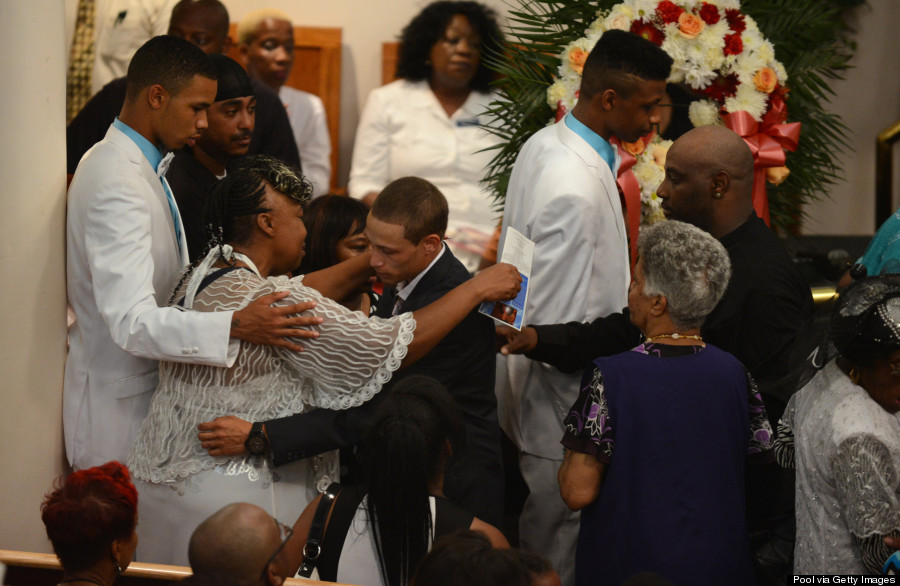 Gwen Carr, Eric Garner's mother, hugs Ramsey Orta.
"On Friday morning at 10:30," Sharpton continued, "we have an appointment with the United States Attorney's office, civil rights division. We want the federal government to come in. Why? Because that's how Abner Louima's police went to jail."
Abner Louima was brutalized and sodomized by police in 1997. Unlike so many other high-profile cases in which the NYPD either hurt or killed an unarmed black man, the police in Louima's case were prosecuted by the U.S. Attorney's office instead of a local district attorney, and police involved served jail time.
"'But Rev. Al, how do we know it was intentional?'" Sharpton continued. "If [Garner] said on tape 11 times, 'I can't breathe,' when does it become intentional? On the third 'I can't breathe'? Or maybe on the sixth 'I can't breathe'? At some point during that time, you made up your mind that you didn't care about him! And your partners made up your mind!"
"And then you file a report that he was not in distress when the tape shows he was laying lifeless," Sharpton said, referring to a police report Tuesday that said Garner wasn't in distress before his death. The report also made no mention of the chokehold.
"You think we're not gonna fight this? We're ready for the long haul. We're not gonna stop until we get justice."
Sharpton then turned toward the assorted elected officials seated in the church. Minutes earlier, Public Advocate Letitia James had spoken, calling for all police street encounters to be videotaped, and for each of the thousands of complaints made to the Civilian Complaint Review Board to be reviewed.
"You're in City Hall now," Sharpton told the politicians. "Now we want you to give justice a chance."
"It's not about training, it's about justice," Sharpton added, referring to NYPD Commissioner Bill Bratton's remarks this week that every NYPD officer will be retrained on the use of force. "Hold them accountable for what they did!"
Sharpton then left the pulpit to screams of "Thank you!" and "Amen!" After a few more speakers, and some remarks from the family, Garner's coffin was taken out of the church and into a hearse waiting outside.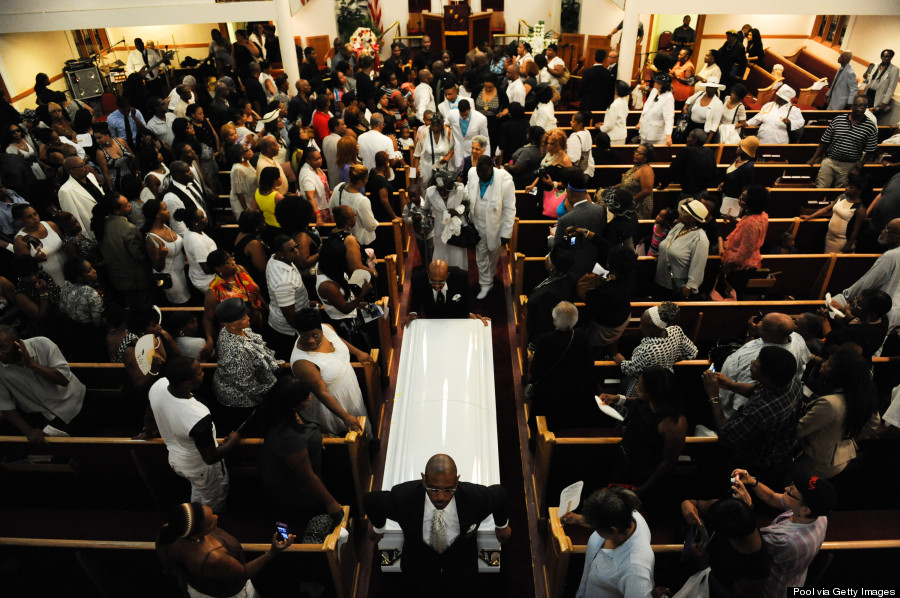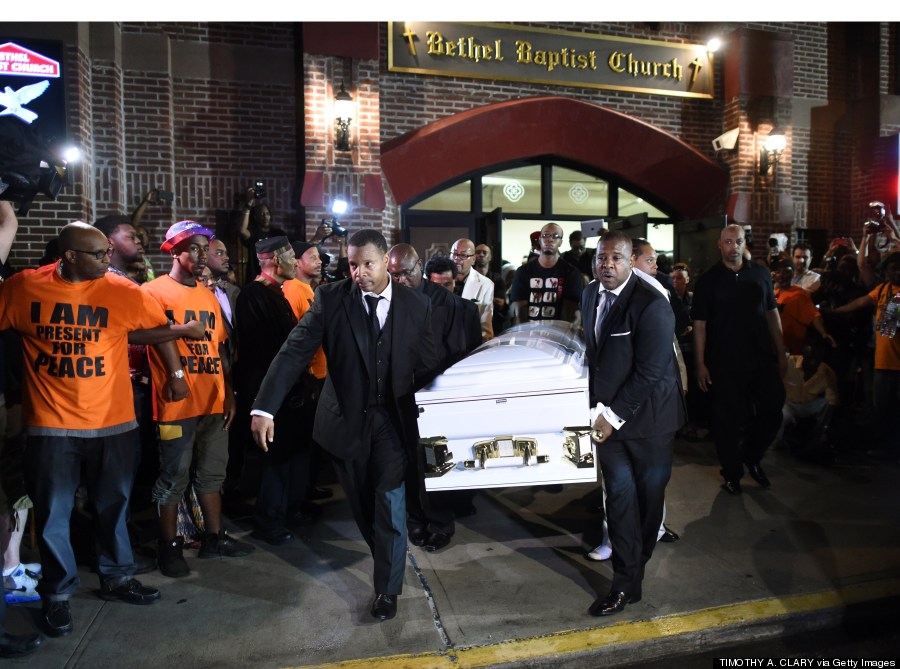 As the family left the service, some lightning in the distance mixed with the flashes of what seemed like a hundred cameras. Reporters crowded the street, as did police and protesters. Eric Garner's mother, Gwen Carr, and Garner's son, Eric Snipes (left), leave Garner's funeral on Wednesday.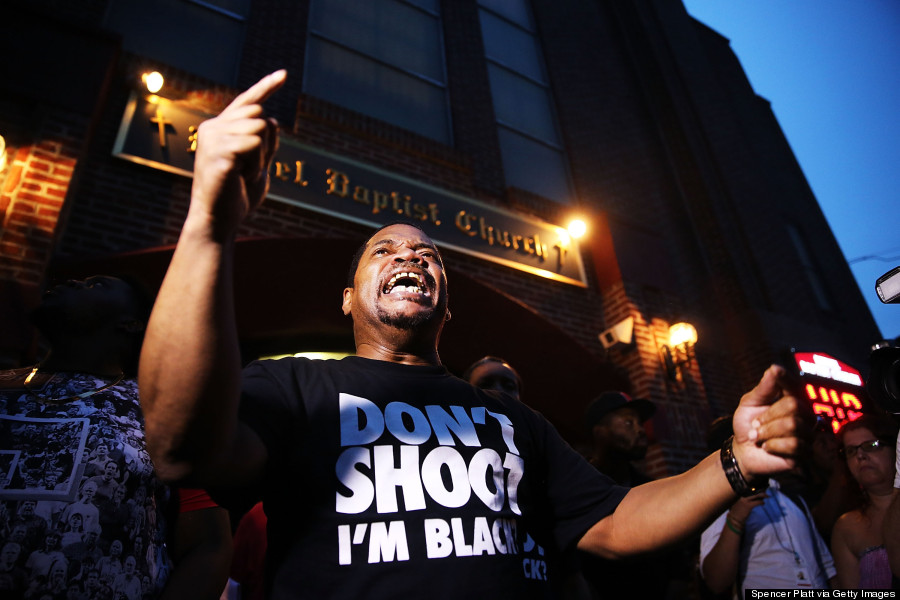 Garner's family, friends and neighbors had spent the hot summer day shuffling in and out of the Brooklyn church to pay their respects. They remembered Garner as a good father and friend.
Earl Simms choked back tears outside the church. He'd seen Garner the day before he died.
"First it was sadness, now it's becoming anger," Simms said, adding that he hoped the anger over Garner's death wouldn't turn into unrest.
"The police need to pay," he said. "If the cops don't pay, this will keep happening." Simms said cops on Staten island are "racist," and constantly harass black men like him and Garner.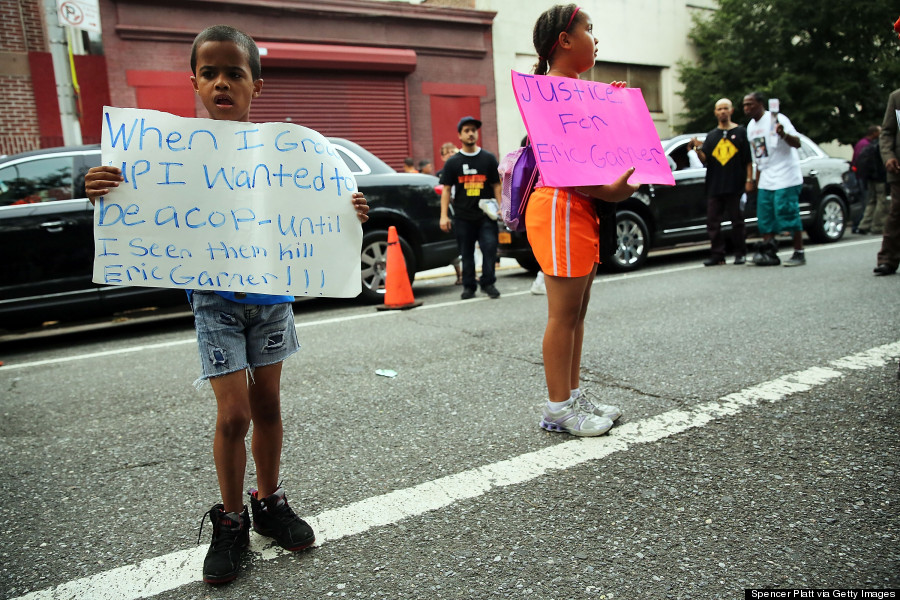 Young protesters hold signs outside Eric Garner's viewing on Wednesday.

Estelle Smith, an elderly neighbor of Garner, described him as a "teddy bear that didn't hurt anybody." But that didn't stop cops, she said, from harassing Garner all the time.
"Staten Island is very prejudiced," she said. "Once they get to know you, they lean on you. They come after you constantly for anything."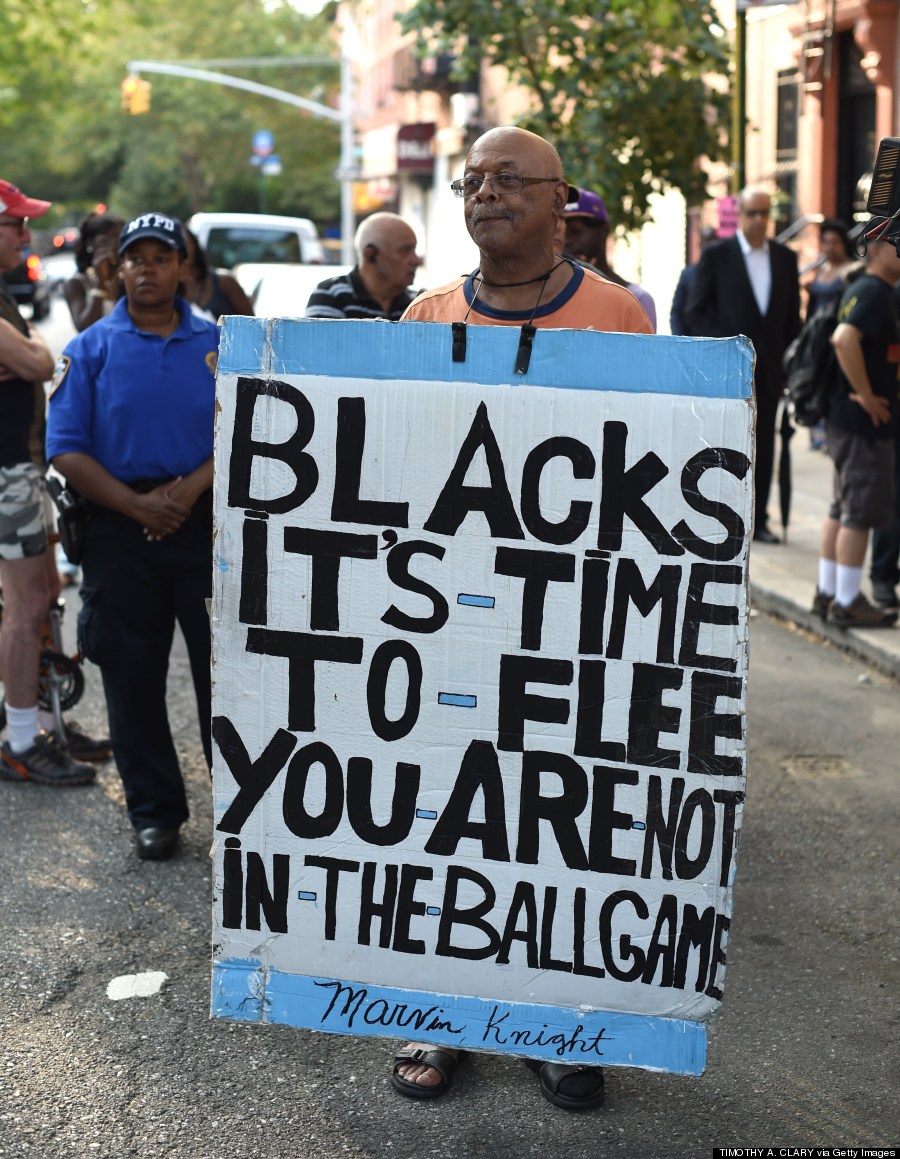 Another protester outside Garner's viewing Wednesday.
Police officers attempted to arrest Garner outside a Staten Island store July 17 for selling untaxed cigarettes.
"I didn't do shit!" Garner can be seen shouting at cops in a viral video of the incident. He'd been arrested multiple times for selling untaxed cigarettes over the years. "I was just minding my own business."
"Every time you see me, you want to mess with me," he added. "I'm tired of it. ... Please just leave me alone!"
(Warning: This video contains content that may be disturbing to some readers.)
When officers attempted to detain him, Garner resisted. The video then shows one officer putting Garner in a chokehold-- a maneuver that was banned by the NYPD more than 20 years ago, but has been allegedly used by cops more than 1,000 times in the last 5 years.
The chokehold brings Garner to the ground, where the 350-pound asthmatic man can be heard screaming, "I can't breathe!" numerous times. Eventually, Garner's body goes limp.
Garner's death has spurred outrage among civil rights leaders and police reform advocates. His death, they argue, is the result of the systemic brutality by NYPD officers against low-income New Yorkers, particularly blacks and Latinos. Ed Josey, the local representative of the NAACP, told the Staten Island Advance that Garner's death was a "modern-day lynching." Ellisha Flagg, sister of Eric Garner, center, leads demonstrators on a march towards the 120th Precinct following a Tuesday vigil demanding justice for her brother.
Garner's death has also put Police Commissioner Bratton's controversial use of "broken windows" policing back in the spotlight. It's a policing strategy -- first championed by Bratton during his first stint as commissioner in the 1990s -- that has cops aggressively target low-level offenders, such as subway dancers and panhandlers, in an effort to curb more serious crime. Critics argue, however, that it's not only ineffective, but also unfairly targets minorities. Communities United for Police Reform called Garner's arrest "yet another example of unnecessary police encounters resulting from broken windows-style policing that targets New Yorkers of color -- in this case escalating with fatal consequences."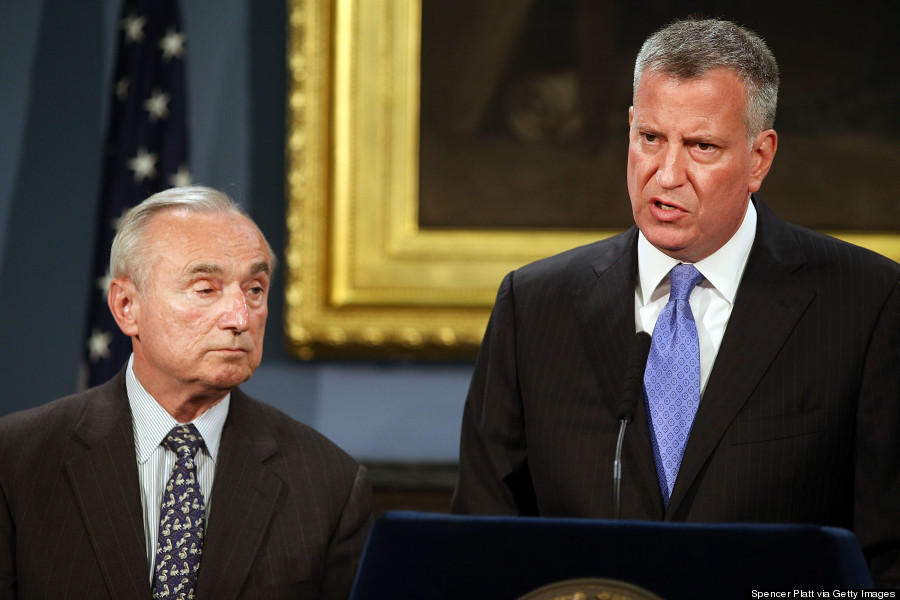 NYPD Commissioner Bill Bratton, left, and Mayor Bill de Blasio, right, at a press conference last week about the death of Eric Garner.
Mayor Bill de Blasio, who was elected with a mandate to reform the NYPD, appointed Bratton at the beginning of this year. De Blasio, currently on vacation in Italy, has said a full investigation into Garner's death is needed. He also called Garner's family to offer his condolences.
The officer seen in the video putting Garner into a chokehold, Daniel Pantaleo, has been stripped of his badge and gun and placed on desk duty. Another officer involved has been taken off street patrol, but still has his gun and badge. Prosecutors and NYPD Internal Affairs, meanwhile, are conducting an investigation into the incident. The four EMS workers who responded to the scene have also been placed on modified duty.
The medical examiner's office has yet to determine the exact cause of Garner's death.
CORRECTION: A previous version of this story misstated Ramsey Orta's last name as "Ortiz."
Popular in the Community