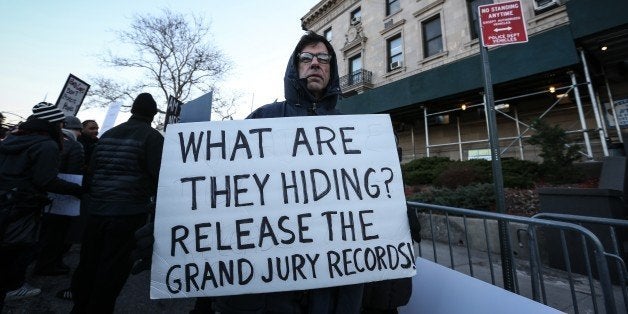 NEW YORK -- A New York state judge heard arguments on Thursday over whether to release records from the grand jury investigation into the death of Eric Garner, the 43-year old unarmed black man who died this summer after being put into a chokehold by a white police officer.
Christopher Pisciotta, an attorney for the Legal Aid Society, argued to Justice William Garnett that the "public questioned the fairness" of the way evidence was presented to the grand jury by the office of Staten Island District Attorney Daniel Donovan. In early December, the grand jury declined to indict New York City Police Department Officer Daniel Pantaleo in Garner's death -- a decision that sparked protests across the city and the country.
The Legal Aid Society acts as the city's primary public defender. Pisciotta said that when his group's clients face grand jury investigations, the proceedings generally last only a few days, and involve just a few witnesses. But the grand jury investigation into Pantaleo's conduct, Pisciotta noted, lasted nine weeks and involved testimony from 50 witnesses.
"There is a perception that Officer Pantaleo was treated differently," Pisciotta said. The attorney argued that releasing the grand jury records -- which are typically sealed -- would help the public determine whether Pantaleo received special treatment.
Four other petitioners joined the Legal Aid Society in seeking release of the grand jury transcripts: Public Advocate Letitia James, the New York Civil Liberties Union, The New York Post, and The National Association for the Advancement of Colored People. Thursday's hearing pitted these groups against Donovan's office, which argued that the records should remain sealed.
New York has stricter rules than other states surrounding the release of grand jury material. Last year, after a Missouri grand jury declined to indict the white police officer who shot and killed unarmed black teenager Michael Brown in Ferguson, Missouri, St. Louis County Prosecuting Attorney Robert McCulloch voluntarily released the transcripts from the grand jury. The release of the documents raised concerns about how McCulloch conducted the proceedings.
At the beginning of Thursday's hearing in Staten Island, Garnett said that New York state statutes required the petitioners to prove a "compelling and particularized need for disclosure" of the grand jury records.
Matthew Brinckerhoff, the lawyer representing James, argued that the records were essential for lawmakers across the state seeking broader reforms to the grand jury system, which has come under scrutiny since the decision not to indict Pantaleo. "This case has been the catalyst for widespread discussions of reform," Brinckerhoff said.
In particular, James, New York Gov. Andrew Cuomo and other local and state officials have all expressed interest in recent months in appointing special state prosecutors to handle cases involving alleged police misconduct or brutality.
James has argued that special prosecutors could help combat the perception that local district attorneys, like Donovan, have an inherent conflict of interest when pursuing charges against police, with whom they often work closely on other cases.
"It would not be responsible," Brinckerhoff argued, for James to consider pushing for changes to the grand jury system without seeing the transcripts of the grand jury investigation into Garner's death.
"You can't reform a system if you don't know what's wrong with it," he said.
In December, immediately following the grand jury decision not to indict Pantaleo, Donovan filed an application to publicly release a limited set of details surrounding the proceedings, citing overwhelming public interest in the case.
A judge granted Donovan's application, which revealed only that 60 exhibits were admitted into evidence to the grand jury, which met for nine weeks and heard from a total of 50 witnesses.
Donovan's office argued in Thursday's hearing that the release of any further information, as sought by the petitioners, could jeopardize future investigations. Assistant District Attorney Anne Grady added that the release of witness testimony in particular would do "maximum damage" to the ability of prosecutors to assure witnesses that their testimony would be kept secret.
Brinckerhoff, however, countered that all of the petitioners in court Thursday supported releasing the grand jury records with the witnesses' names redacted. He also noted that witnesses can never be fully assured that their testimony will remain sealed, since when grand juries return indictments, records from those proceedings are made public during trial.
Garner died on July 17 after being placed in a chokehold by Pantaleo during an arrest for selling untaxed "loosie" cigarettes in the Tompkinsville section of Staten Island. A video of the arrest -- which went on to grab the world's attention -- shows the father of six screaming "I can't breathe" 11 times before his body goes still.
The New York City medical examiner later ruled Garner's death a homicide due to "compression of neck (chokehold), compression of chest and prone positioning during physical restraint by police." NYPD guidelines ban the use of chokeholds.
Among those who attended Thursday's hearing were Eric Garner's mother, Gwen Carr, and his daughter, Erica Garner. Last month, Garner's family filed an amicus -- or "friend of the court" -- brief in support of releasing the grand jury records.
"We're standing in solidarity with justice," Erica Garner told reporters after the hearing.
James was also in the courtroom Thursday.
"This is not about one incident or one death -- it is about transparency and a moment within the public consciousness through which we can affect meaningful reform," she said in a statement. "We know that the grand jury was impaneled for 9 weeks, a considerable amount of time even in cases such as this, yet not a single charge was filed. People around the world have seen the troubling video, and New Yorkers stand alongside the Garner family in seeking answers."
Donovan -- who is running for Congress to replace disgraced Rep. Michael Grimm (R-N.Y.) -- did not attend the hearing.
Judge Garnett said he will rule on the petitions at a later date.
Calling all HuffPost superfans!
Sign up for membership to become a founding member and help shape HuffPost's next chapter