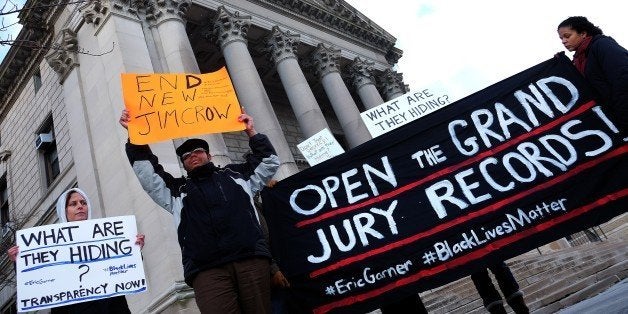 With six Baltimore police officers facing criminal charges in the death of Freddie Gray, many New Yorkers still want to know why there were never any charges against police involved in the death of another unarmed black man: 43-year-old Eric Garner.
This week, an effort to answer that question reached one of New York's highest courts.
The New York Civil Liberties Union and New York's Legal Aid Society both filed briefs with the Appellate Division of the state Supreme Court on Tuesday, asking that records from the grand jury investigation into Garner's death be released to the public. In addition, New York City Public Advocate Letitia James will be filing a brief Tuesday, a spokesman told The Huffington Post, and the NAACP is also expected to file a brief.
"There is a national consensus building around the need for increased transparency in our criminal justice system," James said in a statement to The Huffington Post. "New Yorkers deserve to know what happened in the Eric Garner grand jury proceedings, so that we can prevent future injustices in our City."
Garner died in July after NYPD Officer Daniel Pantaleo put him in a prohibited chokehold during an arrest for allegedly selling untaxed "loosie" cigarettes. A video of the arrest shows Garner screaming "I can't breathe!" 11 times. In December, a grand jury declined to indict Pantaleo in Garner's death, setting off massive protests in the city and across the country.
Grand jury records are typically sealed, and it's unknown what evidence Daniel Donovan, Staten Island's district attorney, presented to the jurors. Protesters have argued that local prosecutors like Donovan have an inherent conflict of interest when pursuing charges against police, with whom they often work closely on other cases.
In December, shortly after the grand jury decision, the state Legal Aid Society, the NAACP, the NYCLU and James all petitioned the state court in Staten Island, asking that the grand jury records be made public. But Justice William Garnett shot down the request in March, saying there was no "compelling and particularized need" to release the records.
"The Garner controversy has provoked a debate about the need for Grand Jury reform," said Arthur Eisenberg, legal director of the NYCLU, in a statement Tuesday. "But discussions regarding the need for reform are proceeding without any real understanding of how and why the Grand Jury reached its decision."
"This absence of public information can and should be corrected," Eisenberg continued. "In a democracy, decisions about the need and nature of reform should rest upon a fully informed discussion by the electorate and its representatives."
The NYCLU's brief Tuesday mentioned a number of other places where high-profile protests have recently erupted following the deaths of unarmed black boys and men at the hands of police.
"News from around the country -- Ferguson, Cleveland, South Carolina, Baltimore -- continuously adds fresh fuel to the raging public debate and exposes deep distrust between communities of color and the police," the brief reads.
"In New York, this debate has centered on the perception that aggressive policing practices, which disproportionately target people of color, led to Mr. Garner's fatal encounter with police, and that there has been a lack of accountability for his death," it continues.
The NYCLU brief asks the appeals court to release the grand jury transcripts -- with certain names redacted -- as well as the legal instructions that were issued to the jury, and a description of all the evidence presented.
On Friday, after Baltimore's top prosecutor, State's Attorney Marilyn Mosby, announced the charges against six officers in Gray's death, Al Sharpton said it was an "embarrassment to New York" that no charges were similarly filed in Garner's death.
Garner's mother, Gwen Carr, praised Mosby for her decision to press charges.
"Their prosecutor... did the right thing," Carr said Saturday at the weekly National Action Network rally in Harlem. "And that's what we need."
Garner's widow, Esaw Garner, said that she felt "like the same scenario that happened in Baltimore also happened with my husband."
"I would just like to see something done," she added.
Donovan had no comment Tuesday on the ongoing effort to release the Garner grand jury records. His office argued earlier this year in court that the records should stay sealed.
Donovan is also the Republican candidate in Tuesday's special election to replace former Rep. Michael Grimm (R-N.Y.), who represented Staten Island and parts of Brooklyn and who resigned earlier this year after pleading guilty to tax fraud. Donovan is heavily favored to win the race.
Calling all HuffPost superfans!
Sign up for membership to become a founding member and help shape HuffPost's next chapter