NEW YORK -- For the daughter of Eric Garner, the fight to bring her father's killer to justice has proved long and slow. 
"As I contemplate this past year -- a year full of upheaval and struggles for justice -- I'm struck by what has changed: nothing," Erica Garner wrote in a Huffington Post blog Thursday.  
Thursday marks the one-year anniversary of when a Staten Island grand jury declined to indict New York City police officer Daniel Pantaleo, who is white, in the death of her father, who was black. The decision came despite a disturbing and widely watched video of the fatal encounter that shows Pantaleo putting Garner into a prohibited chokehold maneuver during an arrest for selling untaxed cigarettes. Garner falls to the ground and screams "I can't breathe!" 11 times before his body goes still. 
The grand jury's decision -- which came just over a week after the non-indictment of a white officer in the death of a black man in Ferguson, Missouri -- set off massive protests across the city and the country. Garner's infamous last words -- "I can't breathe!" -- echoed through Times Square, in Grand Central Terminal, across the Brooklyn Bridge and on the modest Staten Island block where Garner last stood. 
If prosecutors couldn't even indict Pantaleo, protesters asked, what are the chances of other officers using excessive force being brought to justice? Do black lives really matter? 
"Sure, New York Governor Andrew Cuomo appointed a special prosecutor to investigate police-related killings after my father's death," Erica Garner wrote in the post, which she co-wrote with Reggie Harris, political director at the Garner Way Foundation. "What's the likelihood that this appointment -- which only lasts one year -- will be renewed by the Republican controlled state legislature?" 
"Sure, Pantaleo, the officer who choked my father to death, had to appear before a grand jury, but Staten Island's then District Attorney Daniel Donovan gave immunity to the other officers involved," Erica continued. "And where is Donovan now? Congress." 
Plus -- and for Erica, "this is the part that hurts the most" -- Staten Island's new district attorney, Daniel Master, could simply convene another grand jury to indict Pantaleo, but has given no indication he plans to do so.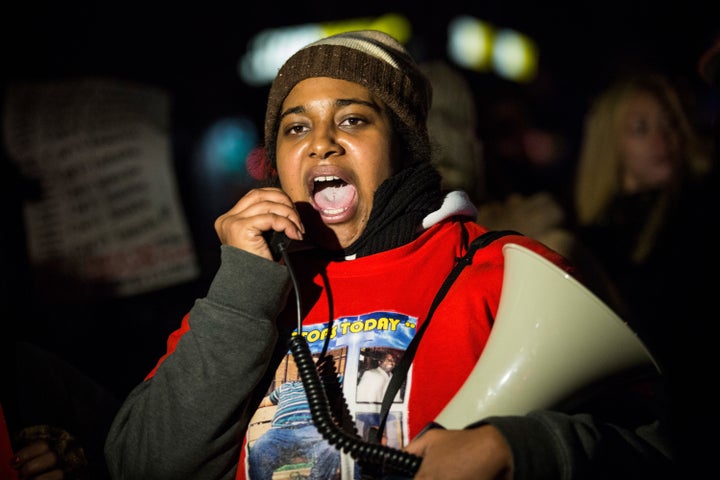 According to a source who was on a conference call Wednesday with New York City's head legal counsel, Zach Carter, and advocacy groups, including The Justice League and the NAACP, Carter said it was his understanding that the DOJ's investigation was "in the fourth quarter," or near completion.
(But even if that's the case, experts say it's unlikely the DOJ will press charges against Pantaleo.) 
Until then, NYPD Commissioner William Bratton says, the department won't independently proceed with any disciplinary action against Pantaleo. 
"We have completed our investigation, our administrative investigation, we are ready to proceed with it," Bratton said at a press conference Wednesday, according to Politico New York. 
"However at the request of the Attorney General of the United States Loretta Lynch, who I talked with last evening, and at the request of the acting U.S. Attorney for the Eastern District who is leading the federal government's civil rights probe into this incident, we have effectively stopped our investigation until they complete their investigation," he continued.
If and when the NYPD holds a disciplinary trial against Pantaleo, which would be open to the public, it could take up to nine months. Pantaleo has been on modified duty, his gun stripped, since Garner's death last July. 
In her blog post Thursday, Erica Garner included a memo she composed with New York City Public Advocate Letitia James during a meeting in October. For the Garner family, the memo says, "achieving justice" will require three things. 
First, "The Civilian Complaint Review Board's (CCRB) release of a summary of its records regarding Officer Daniel Pantaleo's history of substantiated complaints brought against him to the CCRB." 
Second, the family wants "the unsealing of the minutes from the grand jury proceeding" as overseen by then-District Attorney Donovan. (Repeated efforts in court to get these records released have failed.) 
And third, the family says Daniel Master, the current district attorney, needs to convene "a new grand jury" or reconvene "the original grand jury based on the applicable grounds permitted by law." 
Just as they did one year ago, protesters are planning demonstrations across New York City on Thursday. One is planned outside the mayor's residence at Gracie Mansion in Manhattan. Another, which Erica Garner will attend, is planned at the site of the chokehold in Staten Island.  
In her blog post, Erica Garner asks supporters to reflect on the past year.
"I urge us all to consider what we are fighting for," she writes. "Is it reform or revolution? Which of these will bring real change? Will body cameras make a difference? Will training really stop this epidemic of police-involved killings, or will it just create better killers? Who do our elected officials really work for? More importantly, what will we do if we learn it's not the people?"  
Calling all HuffPost superfans!
Sign up for membership to become a founding member and help shape HuffPost's next chapter