STATEN ISLAND, N.Y. -- Thousands of protesters marched in Staten Island on Saturday to call for justice in the death of Eric Garner, the unarmed black man killed earlier this summer after NYPD Officer Daniel Pantaleo put him into a banned chokehold.
In anticipation of the event, the New York Post published this front page on Saturday morning.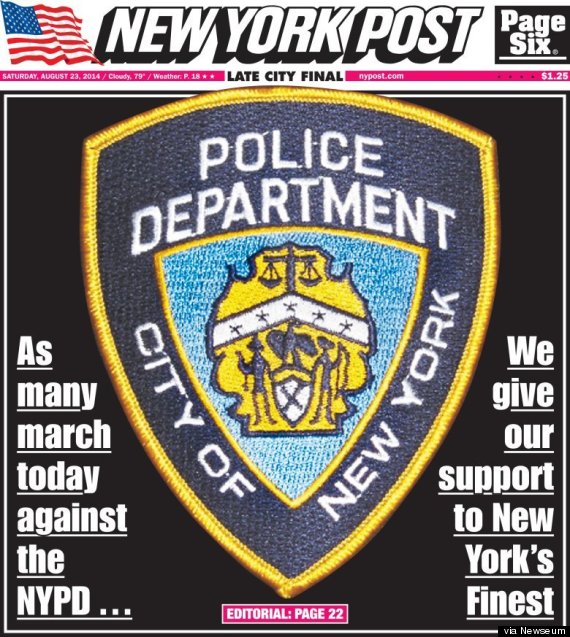 At Saturday's march, however, there was scarcely anyone "against" New York's finest. Rather, hundreds of NYPD officers were able to calmly corral the 2,500 peaceful protesters all the way from the site of Eric Garner's death on Bay Street, past the Staten Island district attorney's office, and then to a stage set up by the waterfront. Esaw Garner, left, arrives at the spot where her husband Eric Garner died with The Rev. Al Sharpton, center, and Eric Garner's mother, Gwen Carr.
"We are not against police," the Rev. Al Sharpton told protesters from the stage at the culmination of the march. "Most police do their jobs, but those who break the law must be held accountable, just like anyone else."
"Don't act like we are here against police," Sharpton continued. "We are for police. But let me tell you something. If you have a bag of apples, and there's a rotten apple in the bag, the only way to protect the good apples is to take the rotten apple out. If you don't take the rotten apple out, it's gonna rot out all the other apples. We come to do the NYPD a favor. We come to help you with the rotten apple."
Former New York Gov. David Paterson expressed a similar sentiment. "Most of the time, the police department do their job, and one of those times was today," he said. "We had so many more people than we expected come out here. We had a little trouble marching down here and they actually helped out and did the right thing."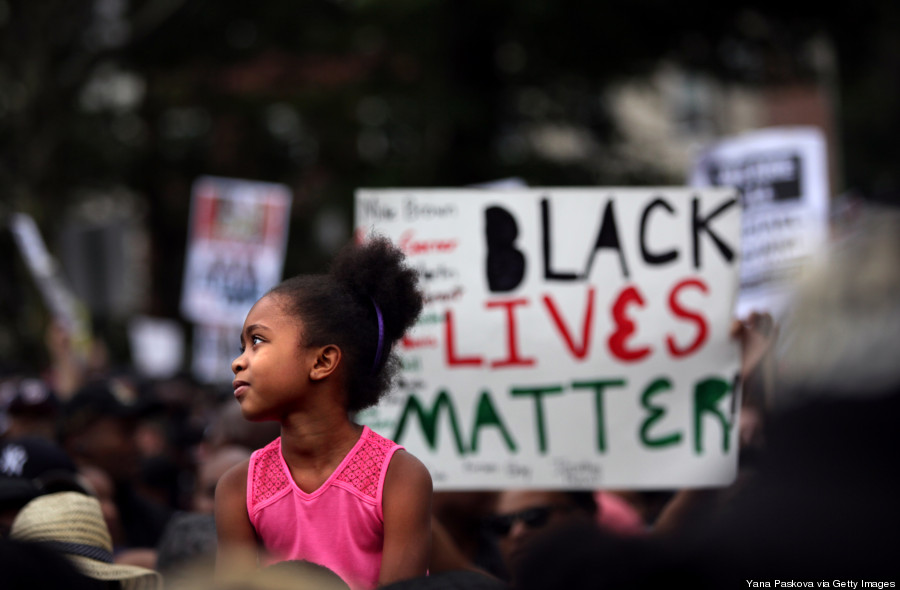 Eric Garner died on July 17. A video taken shortly before his death shows cops confronting him outside a store in the Tompkinsville section of Staten Island for allegedly selling untaxed cigarettes. NYPD officer Daniel Pantaleo can be seen putting Garner into a chokehold and bringing him to the ground. Garner, who suffered from asthma, can be heard screaming "I can't breathe!" numerous times, until his body goes limp. The medical examiner later ruled his death a homicide.
Protesters Saturday repeatedly chanted Garner's words -- "I can't breathe!"-- as part of their call for charges to be brought against Pantaleo. Staten Island District Attorney Daniel M. Donovan Jr. announced this week that he would convene a grand jury to investigate Garner's death and determine whether charges will be brought against any of the officers involved.
The U.S. Department of Justice, meanwhile, has said it is monitoring the investigation of Garner's death, but hasn't launched its own investigation.
"They did wrong," Garner's wife, Esaw Garner, told the crowd. "They need to pay for doing wrong."
Garner's sister, Ellisha Garner, expressed condolences to other families of those killed by police across the country, including Michael Brown. Brown died earlier this month after an altercation with a white police officer in Ferguson, Missouri. Some witnesses have said that Brown held his hands up in surrender before officer Darren Wilson fatally shot him. Protesters Saturday chanted "Hands up! Don't shoot" as a show of solidarity with Ferguson protesters.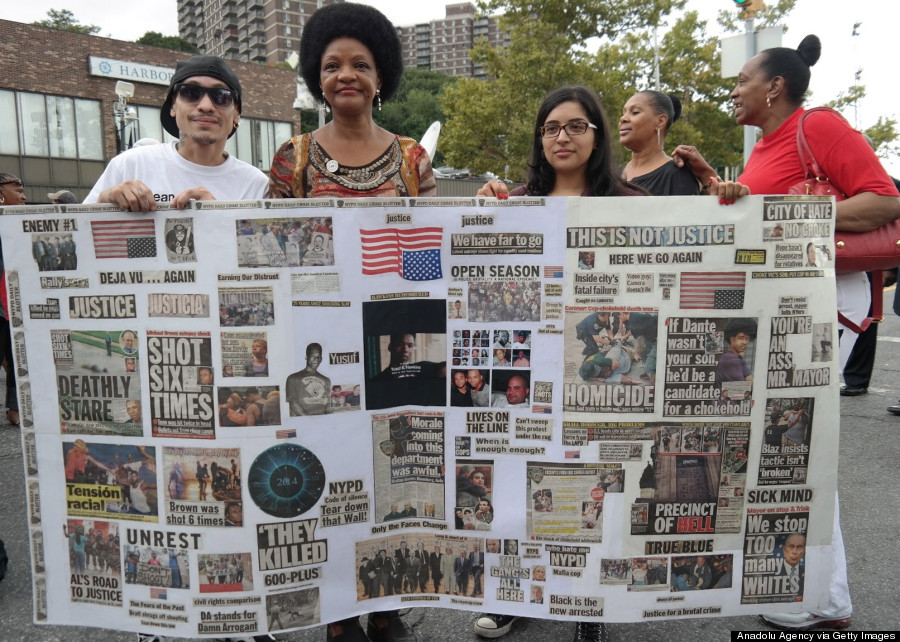 Constance Malcolm, the mother of Ramarley Graham, broke down at the podium while telling the story of how NYPD Officer Richard Haste barged into her Bronx home in 2012, without a warrant, and fatally shot her 18-year-old son.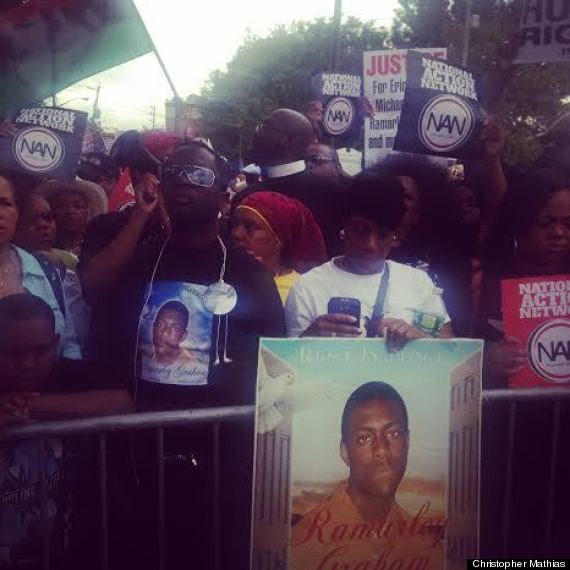 Frank Graham, left, and Constance Malcolm, right, are the parents of Ramarley Graham.
"They have to be held accountable for their actions," she said. "If they don't, we'll continue to be here, standing, fighting, screaming for justice."
Tawanda Jones, whose brother Tyrone West was killed by police in Baltimore when he was also unarmed, made the trip up to Staten Island on Saturday as a show of support.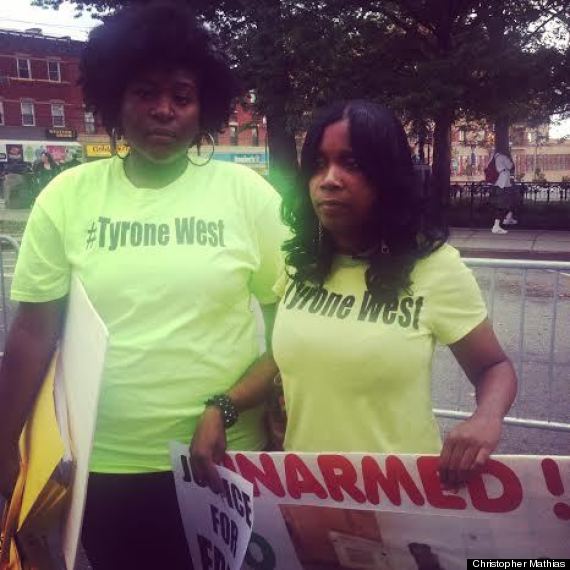 Jones, right, with cousin Qiara Butler.
"I feel sorry for Eric Garner's family," Jones told HuffPost. "I feel sorry for Michael Brown's mother and father. It's sickening, but at the same time it's good that were standing together in unity to say, 'No more!'"
Protesters Saturday also carried signs calling for the end of "Broken Windows" policing, a policy that's been supported by NYPD Commissioner William Bratton. The strategy has cops aggressively target low-level crime -- such as selling untaxed cigarettes -- in order to prevent more serious offenses. Critics, like Rep. Hakeem Jeffries (D-Brooklyn), argue Broken Windows amounts to police harassment of minority communities.
"If I wasn't on the floor of the House of Representatives -- if I wasn't in a suit and tie -- and I ran into the wrong police officer, simply because I'm a young black man in America, he might think I'm a lawbreaker," Jeffries said. "But it turns out I'm a lawmaker."
Ten days ago, Jeffries and five other members of the New York congressional delegation wrote a letter to Attorney General Eric Holder, asking that the Justice Department get involved in the investigation of Eric Garner's death and the NYPD's use of Broken Windows policing.
In the meantime, Jeffires argued, the video of Garner's death should be sufficient evidence to charge the officers involved.
Michael Hardy, the vice president of the National Action Network, closed out Saturday's event. NAN, along with Local 1199 of the Service Employees International Union, the United Federation of Teachers, and a host of police reform advocacy groups, all helped organized the march.
"They asked us why did we march and rally and stand with the family of Anthony Baez, who was also the deadly victim of a chokehold," Hardy said. "And at the end of the day, those that were responsible for the death of Anthony Baez went to jail!"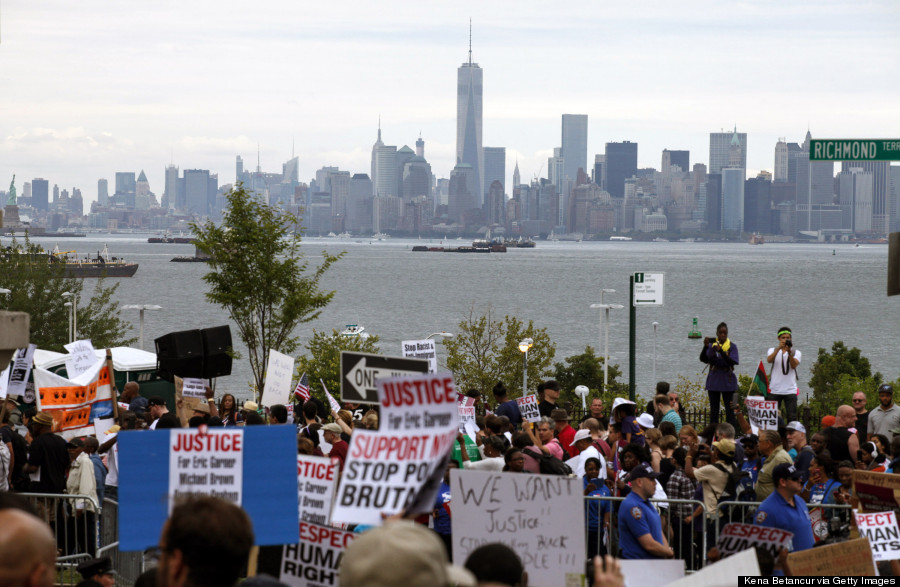 Popular in the Community