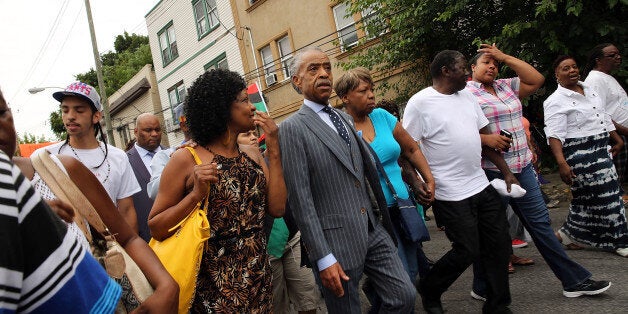 After kicking off "Freedom Summer 2014" and opening National Action Network's Birmingham, Alabama office last week, I headed home to deal with yet another police case in New York City. Eric Garner, the Staten Island father of six, died after continuously saying 'I can't breathe' as police officers placed him in a chokehold and forced him to the ground according to video footage which captured the horrific incident. On Friday, a medical examiner ruled that Garner's death was in fact a homicide, and that he was killed by neck compressions from a chokehold. While videotape footage was instrumental in this case, we must now ensure that justice prevails. Garner's family came to me for assistance, and I will do everything in my power to see to it that those responsible for his death are held accountable. The late great James Brown, a man who was like a father to me, once told me about an instance where police officers almost killed him as they shot his vehicle over 20 times. He never pointed a gun at them or fired towards them. That was when I was just 18 years old; all these years later, we are still dealing with over-zealous cops and excessive force. Across this nation, we need police reform and we need federal intervention because clearly things are out of control at the local level. Enough is enough.
For the last 25 years+, I've been involved with case after case of police misconduct, abuse and brutality after grieving families have approached me and National Action Network. Whether it was Sean Bell, Ramarley Graham or now Eric Garner, our mission is to not only raise the level of awareness, but to fight for true change. The use of chokeholds by the NYPD was banned in 1993, and yet, here we are. In order to see fairness and justice in this case, we must demand a federal investigation immediately, and those charged with Garner's death must be prosecuted in federal court. Local judges and authorities deal with prosecutors they are dependent on. And local judges and authorities can waive a jury trial which leaves a lot of political pressure on a judge. In federal court, a person or persons will be judged by a jury of their peers, not by a judge who may be beholden to certain politics or political forces. We will continue to hold rallies, marches and keep the pressure on because no man or woman should die at the hands of those sworn to serve and protect them.
Around the country, movie theaters are currently playing "Get On Up", the James Brown story. I was fortunate enough to know Brown and eventually develop an extremely close relationship with him that can only be summarized this way: he became the father I was missing, and I became the son he was missing. When I was just 18 years old, his son Teddy was killed in a tragic car accident. Teddy was the same age as me, and he was a member of my civil rights movement in New York. When he died, Brown and I became close; I learned many life lessons from him. And I'll never forget the time I flew to Augusta, GA after he was arrested following a police chase. I visited him in jail and I remember him repeatedly saying that the cops tried to kill him, that they shot his vehicle over 20 times. If they shot the gas tank, the car would have blown up he continued saying. I never fired at them, or even pointed a gun in their direction, and they still shot at me over and over again he told me.
Whether it's James Brown or Eric Garner, police shouldn't be trained or allowed to go above the law in the name of enforcing the law. If cops claim Garner was resisting arrest (though the tape leads one to believe that that's questionable), we must deal with how law enforcement handles that. Under no circumstances can police break the law with an illegal chokehold. And when a man is saying 'I can't breathe' 11 times -- that's 11 times -- how can you not release him so that he can breathe? What happened to people's humanity?
I don't believe all cops are bad; the majority are not. But the bad ones must be dealt with so the good ones are not smeared by their actions, and so the public doesn't lose faith in those hired to protect them. From Marlene Pinnock(who was reportedly punched in the face by a California Highway Patrol officer), to Eric Garner, to my memories of the Godfather of soul, all I want is police reform because crime in our communities must be tackled. I want to work with Mayors across the country to resolve problems because gun violence and crime is disproportionately impacting our neighborhoods. We must work together.
But crime cannot be dealt with if we have to fear both the cops and the robbers.
Related
Popular in the Community