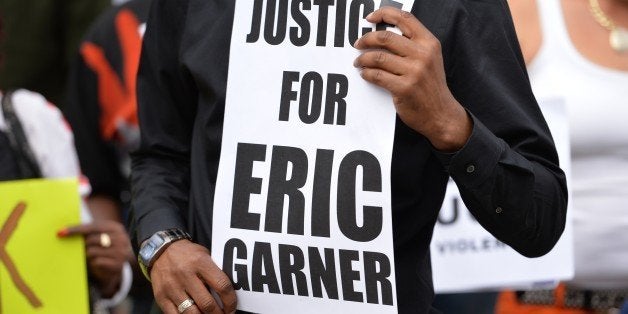 NEW YORK -- A majority of New Yorkers think criminal charges should be brought against police officer Daniel Pantaleo, the cop most directly involved in last month's death of Eric Garner on Staten Island, a new poll shows.
According to a Quinnipiac poll released Wednesday, 64 percent of New York City voters would support brining charges against Pantaleo, while only 19 percent would oppose charges. When the numbers are broken down by race, 83 percent of black voters approve of charges being brought against Pantaleo, along with 50 percent of white voters.
Similarly, 90 percent of black voters polled think there is "no excuse" for the way officers acted when arresting Garner, while 50 percent of white voters feel the same.
Garner, a black 43-year-old father of six and grandfather of two, died on July 17 after Pantaleo put him into a banned chokehold during an arrest for selling untaxed cigarettes in the Tompkinsville section of Staten Island. A viral video of the incident shows Garner, who suffered from asthma, screaming "I can't breathe" numerous times before his body goes limp. A medical examiner later ruled his death a homicide.
Garner's death has once again brought the relationship between the NYPD and the city's minority communities into focus. Wednesday's poll shows that 63 percent of voters think cops treat black New Yorkers tougher than they do white New Yorkers. When the numbers are broken down by race, 83 percent of black voters said cops were tougher on blacks, while 50 percent of white voters agreed.
Meanwhile, 74 percent of voters think police brutality in New York City is a "very serious" or "somewhat serious" problem. That number is 96 percent among black voters.
Yet the poll shows that despite their concerns about the NYPD, New Yorkers are still supportive of "Broken Windows" policing. Championed by NYPD Commissioner William Bratton, Broken Windows is a strategy of policing that targets low-level offenders -- such as people selling untaxed cigarettes -- in order to deter more serious crime.
Sixty percent of New Yorkers -- with almost equal support along racial lines -- support police targeting low-level, quality-of-life crimes, while 61 percent of New Yorkers said they support "Broken Windows" policing. Even 56 percent of black voters support Broken Windows, according to the poll.
"Our numbers say 'Broken Windows' is a good thing," Maurice Carroll, the Quinnipiac poll's assistant director, told The New York Post. "In the Garner case, they think the arrest was unjustified and the cop should be prosecuted."
"That sounds inconsistent and it probably is," Carroll added, "but there's no law that says you have to be consistent."
Priscilla Gonzalez, of Communities United for Police Reform, took issue with how the poll was conducted.
"The issue isn't whether New Yorkers want their quality of life issues addressed –- everyone deserves that –- or whether the police should enforce the law, but it is in how certain communities are unreasonably targeted for low-level offenses," she said in a statement. She pointed to a NY Daily News analysis showing dramatic racial disparities in how low-level crimes were enforced. The paper reported that 81 percent of the 7.3 million New Yorkers who received summonses for petty violations between 2001 and 2013 were black and Hispanic.
"The discriminatory application of broken windows policing that only targets certain communities for enforcement of low-level infractions –- including the disproportionate use of arrests for summonsable offenses in certain communities –- is what must end in order to truly improve relationships between these same communities and the police," Gonzalez said.
Meanwhile, Staten Island district attorney Dan Donovan has said he'll impanel a grand jury next month to decide whether to bring charges against Pantaleo and other officers involved in Garner's death. Pantaleo has been stripped of his gun and badge, and is serving desk duty.
REAL LIFE. REAL NEWS. REAL VOICES.
Help us tell more of the stories that matter from voices that too often remain unheard.