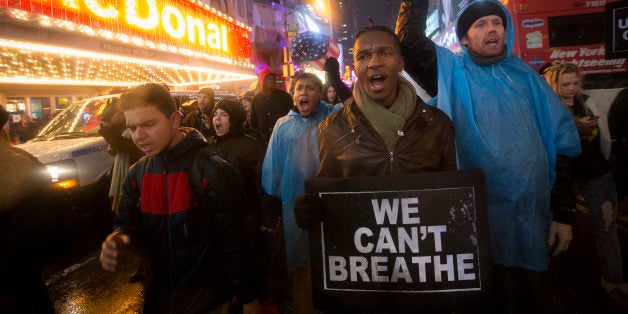 NEW YORK -- It's been more than a week since a Staten Island grand jury decided not to indict a New York City police officer in the death of Eric Garner, and protesters have taken to the streets each night since then, staging "die-ins" and marching over bridges, often bringing traffic to a standstill.
Now, a coalition of activist groups has issued a list of 11 specific demands to reform the NYPD -- one demand for each time Garner said "I can't breathe" before he died.
The demands include a call for New York Gov. Andrew Cuomo (D) to appoint a special prosecutor for all cases in which a civilian dies at the hands of police. Other demands include the passage of an NYPD reform bill called The Right To Know Act, which Mayor Bill de Blasio (D) has said he does not support, and an end to "broken windows" policing.
The 11 demands coincide with 11 days of action the coalition is organizing, beginning on Dec. 10, Human Rights Day, and ending on Dec. 20.
The coalition is organized under the hashtag #ThisStopsToday, as "This stops today" were also some of Garner's final words. Its first action took place Wednesday in Midtown Manhattan, with protesters chanting "Broken windows! Broken lives!" outside the headquarters of the Manhattan Institute, a conservative think tank often credited with developing what's called the "broken windows" theory of policing.
The theory holds that aggressively targeting low-level disorder deters people from committing more serious crimes. NYPD Commissioner William Bratton championed the theory during his first stint as commissioner in the 1990s.
"['Broken windows'] has allowed the NYPD to target people of color and the poor to violate their civil rights," William Burnett, co-chair of the board of directors of the advocacy group Picture The Homeless, told HuffPost Wednesday. "And of course we believe that it led to the death of Eric Garner."
Garner died after being put into a banned chokehold during an arrest for selling untaxed, "loosie" cigarettes -- a classic low-level, "broken windows" offense.
Picture The Homeless is one of many groups in the coalition, which also includes Communities United for Police Reform, The New York Civil Liberties Union, The Justice Committee, and about 15 other groups. The coalition website calls for action in light of a "national crisis of widespread police violence, law enforcement impunity and systemic lack of accountability for police misconduct."
Meanwhile Wednesday, another coalition of protesters held a rally outside City Hall in lower Manhattan. There, social activist and hip-hop producer Russell Simmons announced that Cuomo had confirmed to him that he will issue an executive order requiring special prosecutors to take cases involving police brutality.
The governor's office didn't immediately respond to a Huffington Post request for comment, but if Simmons' announcement is true, it would mark the first change to the criminal justice system announced in the wake of the grand jury decision in Staten Island.
According to Capital New York, Simmons was joined at City Hall Wednesday by members of the NYC Justice League, a social justice organization founded by Harry Belafonte. That group had its own set of 10 demands, which are similar mirror those of #ThisStopsToday but for a few exceptions.
"This whole list needs to be adhered to and I don't think anybody's going to stop protesting until such time that this whole list is achieved," Simmons said, according to Capital.
The full list of demands from #ThisStopsToday is:
-- Mayor de Blasio should insist on full accountability for all NYPD officers responsible for killing Eric Garner and Akai Gurley and all officers who brutalize New Yorkers.

-- Department of Justice should convene grand juries to federally indict officers responsible for the killing of Eric Garner, as well as other NYC cases such as Ramarley Graham.

-- Governor Cuomo should issue an executive order directing the Office of the Attorney General to serve as special prosecutor in cases involving civilians killed by police officers.

-- Governor Cuomo should veto legislation (S7801/A9853) that would allow New York police unions to make police disciplinary policies subject to contract negotiations.

-- New York City should end the NYPD Commissioner's exclusive authority over disciplinary decisions for officers in cases of abuse, misconduct, excessive and deadly force.

-- Mayor de Blasio should end broken windows, and other discriminatory and abusive policing practices. This includes enforcement of low-level offenses, discriminatory arrests for violations (non-criminal offenses) and enforcement of possession of small amounts of marijuana; blanket surveillance of Muslim communities; and political activists.

-- Mayor de Blasio should work with the City Council to pass the Right to Know Act to protect New Yorkers' rights and improve daily interactions between NYPD officers and New Yorkers.

-- Court-ordered stop-and-frisk Monitor Zimroth and Mayor de Blasio should give organizations led by and for communities impacted by discriminatory and abusive policing a formal role in NYPD reform.

-- The Department of Justice should launch an investigation into broken windows policing and the use of force policies and practices of the NYPD.

-- NYPD Inspector General Philip Eure should issue a report on use of deadly and other excessive force, to include review of disciplinary outcomes in these incidents.

-- The NYPD should publish quarterly and annual reports of summons and misdemeanor arrests, as well as use of force, based on race, gender, age, precinct, and other demographic data.
Correction: A previous version of this article incorrectly stated that Human Rights Day is on Dec. 20, not Dec. 10.