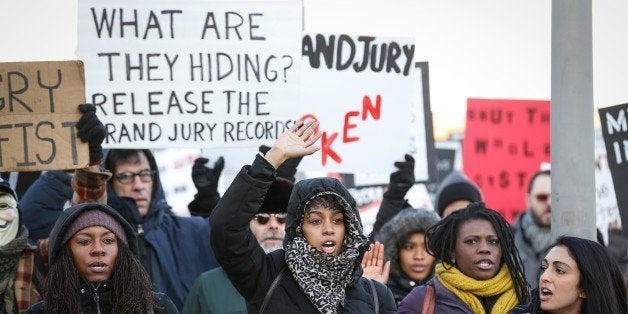 NEW YORK -- Eric Garner's mother and daughter stood outside the 120th Precinct in Staten Island on Thursday before a crowd of over 100 people.
Everyone held lit candles, and at exactly 4:38 p.m. -- the same time Eric Garner was put into a chokehold by NYPD Officer Daniel Pantaleo on July 17 -- they blew out the flames.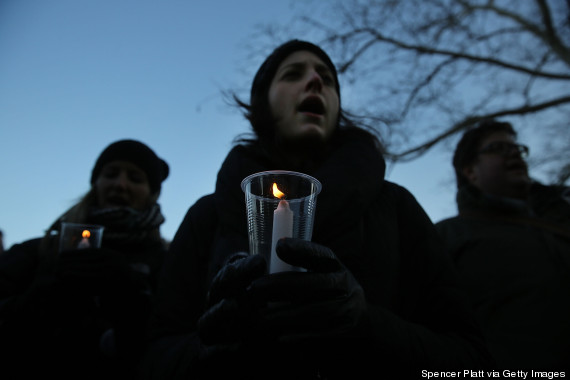 Seven minutes of silence followed -- which the Garner family said symbolized the amount of time Eric Garner lay on the sidewalk without medical attention before he died.
"I love you all and thank you for the support," Gwen Carr, Eric Garner's mother, told the crowd. "It's heartwarming. That's all I can say."
Eric Garner's daughter, Erica Garner, then led the crowd in a song.
"I can hear my father screaming 'I can't breathe!'" she sang. "Now I'm in the struggle and I can't leave. We're calling out the violence of the racist police. We ain't gonna stop, until the people are free. We ain't gonna stop, until the people are free."
"We've been doing this for almost 6 months now," she told the crowd. "This is a great turnout. Don't lose sight. We still fighting. Don't lose sight. Don't get discouraged. We still fighting, still fighting for justice."
Erica Garner then led the protesters on a march through the streets to Richmond County District Attorney Daniel Donovan's office.
The crowd Thursday was made up primarily of attorneys from the Legal Aid Society, which provides legal services to low-income New Yorkers. In a press release, the lawyers listed a series of demands, including an end to the "unconstitutional and disparate policing of communities of color."
They also called for the appointment of special prosecutors "when local police officers are charged with crimes," as well as "an end to the secrecy of grand juries and their proceedings against public officials, including an immediate unsealing of the grand jury minutes of Daniel Pantaleo's case."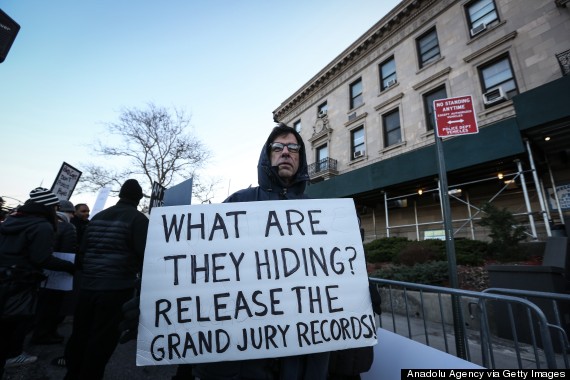 "What happened to the police officer who killed Mr. Garner is in stark contrast to what we see in court every day," Bina Ahmad, a Staten Island Legal Aid attorney, said in a statement.
In a video that eventually captured the world's attention, a white NYPD officer named Daniel Pantaleo can be seen putting Eric Garner, who is black, into a banned chokehold during an arrest for selling untaxed "loosie" cigarettes. Garner screams "I can't breathe!" 11 times, until his body goes still.
"NYPD officers accused of crimes receive immediate access to legal counsel, are barred from being questioned by police investigators, and ultimately gain the benefit of being prosecuted by their colleagues in the local DA's office – if they're prosecuted at all," Ahmad continued.
"My clients see none of that," she added. "For them, it is guilty until proven innocent."
"Release the minutes!" the lawyers chanted outside District Attorney Donovan's office on Thursday. "Release the minutes!"
On Thursday, Erica Garner had a special message for Donovan and others running for office in Staten Island.
"Expect a vote from our community," she said. "From now on, we pick our leaders. They pick our issues. Period. Never forget."
From the district attorney's office, the protesters marched further into the Tompkinsville section of Staten Island, waving signs and chanting "No justice, no peace!"
Thursday's march was one of the more robust demonstrations in the city since Dec. 20, when two NYPD officers -- Wenjian Liu and Rafael Ramos -- were killed by a lone, mentally unstable gunman in Brooklyn. After the shootings, Mayor Bill de Blasio called for demonstrators to take a break, and the Garner family announced that they were postponing any planned protests until after the officers' funerals.
On Thursday, demonstrators often took over the street, while a handful of NYPD community affairs officers followed along, doing their best to keep the demonstrators away from traffic.
One high-ranking officer kindly pleaded with Erica Garner to keep everyone on the sidewalk. She obliged, and when they arrived on the block where her father died, the protesters formed a single-file line.
Each protester then took a turn dropping white carnations at the spot where Eric Garner screamed "I can't breathe!"
This Saturday will mark six months since Eric Garner's death. Cynthia Davis, a National Action Network representative who works with the Garner family, told protesters that there will be a "celebration of Eric Garner's life" that day at 382 Jersey Street in Staten Island.
It's a celebration, Davis said, because "Eric Garner was more than a loosie and more than a chokehold."
Popular in the Community