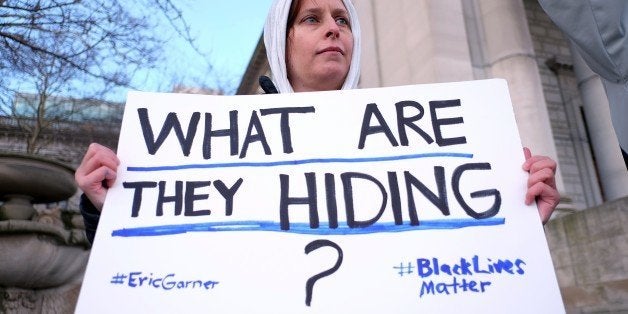 NEW YORK -- Nearly a year after Eric Garner died at the hands of police, an appeals court Tuesday heard oral arguments over whether to unseal records from the grand jury investigation into his death.
A panel of four justices with the Appellate Division of the state Supreme Court grilled lawyers from three civil rights groups, as well as a lawyer from the office of New York City Public Advocate Letitia James, over why there might be a "compelling and particularized" need to release the records.
Despite video evidence showing New York Police officer Daniel Pantaleo putting Garner into a prohibited chokehold during an arrest for selling untaxed cigarettes in Staten Island last July, a grand jury in December declined to indict Pantaleo. That decision set off massive protests across the city and the country.
Grand jury records are typically sealed, so it's largely unknown what evidence Daniel Donovan, Staten Island's district attorney at the time, presented to the jurors. Critics have long argued that local prosecutors like Donovan have an inherent conflict of interest when pursuing charges against police, with whom they often work closely on other cases.
Representing public advocate James, attorney Matthew Brinckerhoff argued in court Tuesday that there is a "perception of misconduct" in Donovan's handling of the case -- especially after a recent New York Times investigation found evidence that prosecutors didn't aggressively pursue charges against Pantaleo.
The Garner case, he continued, has been the "fulcrum and the catalyst" for a host of recent proposals to reform the grand jury system in New York State, particularly in cases involving the police. The only way those proposals can be adequately vetted, Brinckerhoff argued, is if public officials like James have the opportunity to see how misconduct may or may not have occurred.
Attorney James Meyerson, representing the NAACP in court Tuesday, told journalist Matt Taibbi that if Donovan "wanted an indictment, he could have gotten one in a New York minute."
Meyerson argued to the four justices Tuesday that his client, the NAACP, as one of the "oldest" and "most respected" civil rights groups in American history, has a great and "particularized" need to see the grand jury records.
After all, Meyerson said, the NAACP was "formed because of violence against African Americans" over 100 years ago. "Today the NAACP is still forced to confront that issue" with cases like Garner's, he added.
The four justices hearing arguments Tuesday repeatedly pointed to a similar case from the early 1990s as a precedent in the Garner matter.
Hynes wanted the records released to quell unrest in Brooklyn, and to show his office had conducted a fair grand jury investigation. A court, however, struck down his request, saying he failed to demonstrate the "compelling and particularized need" required to bypass the presumption of grand jury confidentiality.
But what makes the Garner case different, Meyerson argued in court Tuesday, is that it involves a "paid public official," namely NYPD officer Daniel Pantaleo.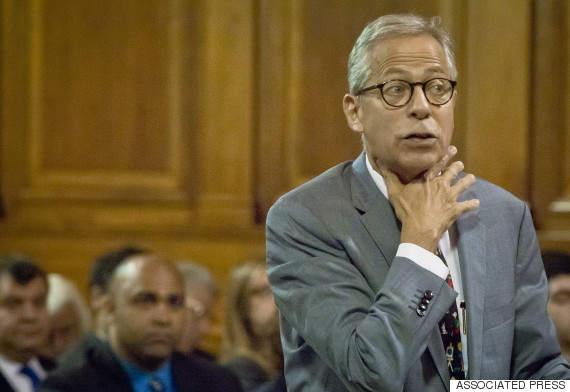 James Meyerson in court Tuesday. (Photo: AP/Bebeto Matthews)
Meyerson said it's been reported that Pantaleo, as well as many other police officers, testified during the grand jury investigation into Garner's death. Meyerson argued Tuesday that cops shouldn't be afforded secrecy protections when testifying about their jobs as public officials.
"Cops have a higher responsibility," he said, and "don't have the same rights of privacy interests."
Arguing against the release of the grand jury records Tuesday was Anne Grady, an assistant district attorney for the Richmond County District Attorney's office, which represents Staten Island.
Grady raised fears that releasing the records could mean witnesses being targeted for their testimony. Justice Leonard Austin shot back that all four petitioners seeking release of the records -- Public Advocate James, the NAACP, the New York Civil Liberties Union and the Legal Aid Society -- had requested that the names of witnesses be redacted.
Grady also warned that disclosure could have a "chilling effect" on witnesses in future cases, who are promised anonymity in exchange for their testimony. Disclosure, she added, could also hamper the ability of prosecutors in future cases to operate "free from political pressure."
After the grand jury decision not to indict officer Pantaleo in December, Donovan, the district attorney -- who has since been elected to Congress -- petitioned a judge to approve the release of an extremely limited set of details about the proceedings, citing widespread public interest in the case.
The judge allowed it, and the public learned only that the grand jury met for nine weeks, heard from a total of 50 witnesses, and saw 60 pieces of evidence.
Natalie Rea, who was representing the Legal Aid Society, said the DA's office "cherry picked" what to disclose. Such a limited disclosure, she said, only "fuels suspicion."
"I don't think secrecy of the grand jury means secrecy of the DA," she said.
Rea's arguments seemed to resonate with the four justices Tuesday. During Grady's oral argument, Austin interrupted and said it appeared the Staten Island's district attorney's office had "put a very pretty gloss" over the grand jury proceedings, and "swept everything else under the rug."
With the video of Garner's arrest having been seen around the world, Austin added, "the cat is pretty much out of the bag anyway."
"So why not release the records?" he asked.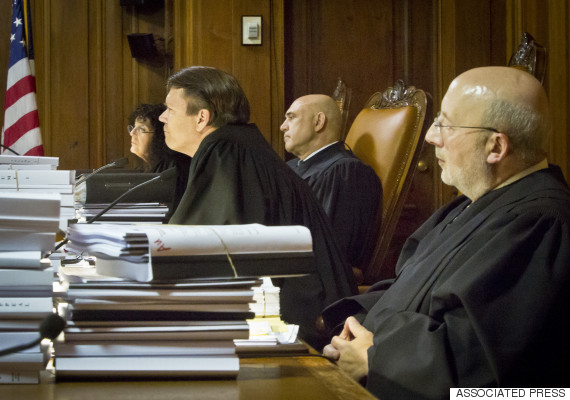 Appellate court judges, Sandra Sgroi, far left, Mark Dillon, second from left, John Leventhal, second from right, and Leonard Austin, far right. (Photo: AP/Bebeto Matthews.)
Grady disagreed that the cat was, in fact, out of the bag, and said "further disclosure will only raise more questions."
A lower court in March ruled that the four petitioners had failed to establish the "compelling and particularized need" to release the grand jury records. Tuesday's hearing was the result of an appeal to that decision.
It's unclear when the justices will decide on the appeal, but whatever the decision, it's likely that there will be another appeal to an even higher court.
"However we rule," said Justice John Leventhal near the end of the hearing, "I don't think this will be the final ruling."
Speaking to reporters outside the courthouse Tuesday, James said, "All that we are seeking to do is to reform a system which in my humble opinion is broken, and to let everyone know that what happened behind closed doors -- obviously there was a miscarriage of justice."
"And what we witnessed in the video is really that," she continued. "What we witnessed in the jury represents the fact that there needs to be some accountability in the system, and unfortunately there was no accountability. And lastly that our eyes do not lie, and that the video demonstrated clearly what happened on Staten Island was an aberration of justice. And I believe as someone mentioned earlier that the system of justice as it is applied to law enforcement officers is different from that of regular defendants and that's really the issue here today."
Calling all HuffPost superfans!
Sign up for membership to become a founding member and help shape HuffPost's next chapter