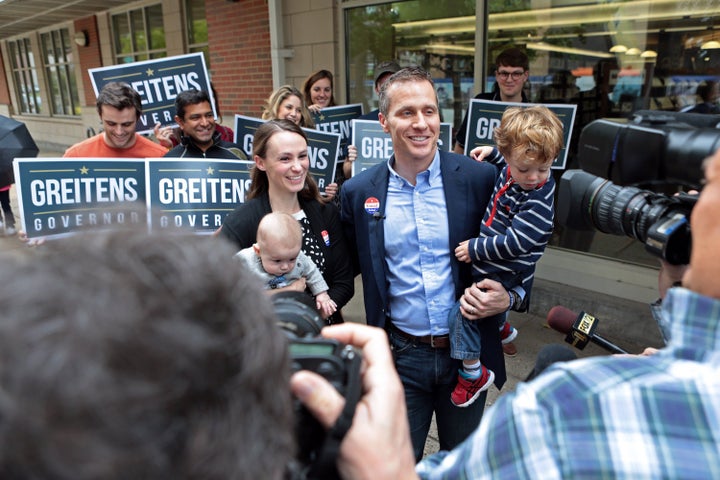 Missouri Gov. Eric Greitens was indicted by a grand jury Thursday on charges of felony invasion of privacy.
Greitens, a Republican, was embroiled in a scandal last month after a local news report alleged he had an affair with a woman and then took compromising photographs of her to use as blackmail. The details of the report were provided to a St. Louis CBS affiliate by the woman's ex-husband, who told the station that there was "no worse person" than Greitens.
The governor later admitted he had an affair in 2015 before he was elected to office, but he denied there was any blackmail and he didn't identify the woman.
A call to the governor's office Thursday was not immediately returned.
Thursday's indictment involved a March 21, 2015, incident that was not specified. Missouri law states that invasion of privacy laws include the taking of photos of a person without their consent while they're in a state of full or partial nudity. Individuals can be charged with a misdemeanor if such images aren't disseminated, but the charge is classified as a felony if the photos are distributed by any means.
Greiten's indictment lists his charge as a Class D felony, which is punishable by up to four years in prison. It has a three-year statute of limitations.
"The defendant knowingly photographed [the victim] in a state of full or partial nudity without the knowledge and consent of [the victim] and in a place where a person would have a reasonable expectation of privacy," the charge reads. "The defendant subsequently transmitted the image contained in the photograph in a manner that allowed access to that image via a computer."
"As I have stated before, it is essential for residents of the City of St. Louis and our state to have confidence in our leaders," St. Louis Circuit Attorney Kim Gardener said in a statement announcing the charges. "They must know that the Office of the Circuit Attorney will hold public officials accountable in the same manner as any other resident of our city."
Greitens has so far rebuffed calls that he resign, even though several members of his party have told him to step aside after the blackmail allegations first surfaced. Republican lawmakers quickly echoed such sentiment after the indictment, including Republican state Sen. Rob Schaaf, who told The New York Times the Missouri House would act to remove the governor if he didn't step down.
A reporter for the St. Louis Post-Dispatch said he saw Greitens being led away in custody at the Carnahan Courthouse in downtown St. Louis on Thursday. The newspaper confirmed that the governor was booked at the St. Louis Justice Center but was expected to be released on bond.
This article has been updated with details about the indictment and the blackmail allegations.