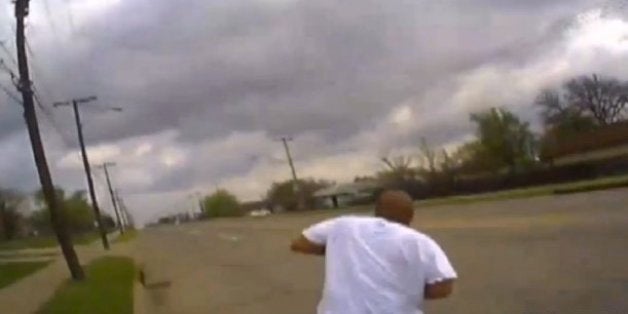 Tulsa police released a video on Friday of a sheriff's deputy fatally shooting a suspect he says he meant to taser.
Reserve Deputy Robert Bates, 73, who used to be a police officer, shouted "taser, taser," before firing his gun at Eric Harris, 44, on April 2nd.
"I shot him," Bates immediately exclaimed. "I'm sorry."
Harris had been targeted in a sting operation over illegal weapons sales. He allegedly sold a semi-automatic pistol and ammunition to undercover investigators.
In the one minute video, Harris, who is black, is seen running from police before gun shots are heard. He cries out, "He shot me, man. Oh, my god. I'm losing my breath."
"Fuck your breath. Shut the fuck up," an officer shouts back in response.
Authorities have confirmed that the shooting was unintentional. "The reserve deputy was attempting to use less lethal force, believing he was utilizing a Taser, when he inadvertently discharged his service weapon," the sheriff's office said in a statement released April 3.
Police have not announced an investigation into the shooting.
The video has come to light in the midst of protests in South Carolina over the death of another unarmed black man at the hands of a white police officer. Walter Scott was shot in the back several times while running from officer Michael Slager after a traffic stop. Slager has been fired and charged with murder.
CORRECTION: Language has been changed to reflect that the shooting of Harris occurred prior to the shooting of Walter Scott in South Carolina. Language has also been adjusted in the headline to reflect that the video was officially released by the sheriff's office.
Calling all HuffPost superfans!
Sign up for membership to become a founding member and help shape HuffPost's next chapter