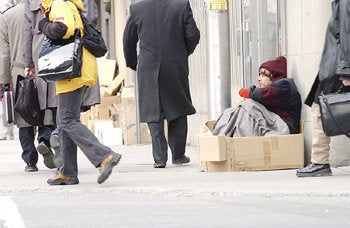 An appellate court has upheld a homeless man's right to panhandle.
In 2006, Eric Hoffstead was arrested after he asked a New Rochelle cop for change.
The court refused to overturn a lower court's decision, which sided with Hoffstead.
"It was all about free speech," said Hoffstead's attorney, Carl Birman. "If part of [homeless people's] survival requires asking a stranger for help, that conversation should be no different from the Salvation Army standing outside with a can."
Since Hoffstead was arrested, the state has repealed the law against panhandling.
"People have the right to ask for money and help, Birman said. "It's a very important victory for the rights of the homeless."

Popular in the Community