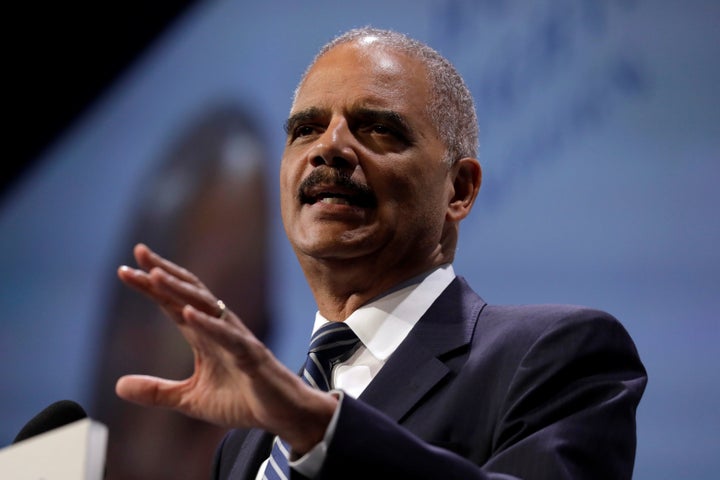 Eric Holder, the former U.S. attorney general who served in the Obama administration, doesn't agree with Michelle Obama on how to counteract Republican partisan attacks.
During a campaign event for Stacey Abrams, a Democrat in Georgia's gubernatorial race, Holder revised a famous quote by the former first lady as he urged Democrats to be as "tough," "dedicated" and "committed" as the Republicans are.
"Michelle Obama, I love her. ... Michelle always says, 'When they go low, we go high,'" Holder said as the audience chimed in to repeat the memorable phrase.
"No," Holder continued. "No, when they go low, we kick them. That's what this new Democratic Party is about. We're proud as hell to be Democrats. We're going to fight for the ideals of the Democratic Party."
"We're not in this just to make a statement. We're in this to win," he added.
Holder later clarified that he's not encouraging people to do anything violent.
"When I say we kick them, I don't mean we do anything inappropriate, we don't do anything illegal, but we have to be tough and we have to fight," he said.
Referencing Trump and his divisive and hateful campaign rhetoric, the first lady offered Democrats advice that she and President Barack Obama give to their children.
"When someone is cruel or acts like a bully, you don't stoop to their level," she said. "No, our motto is: 'When they go low, we go high.'"
Holder's new message is far from the civility preached by the Obamas and former Democratic presidential nominee Hillary Clinton in 2016, but it shows how desperate Democrats have become as Trump proves to be even more divisive in the Oval Office.
In response to the deadly white supremacist rally in Charlottesville, Virginia, last year, Trump said there were "very fine people on both sides" of the conflict. He's also peddled falsehoods during his ongoing campaign rallies, doubled down on his attacks on the media and Democrats in Congress, and openly doubted sexual assault survivors who were protesting Supreme Court Justice Brett Kavanaugh's confirmation.
Most recently, during a campaign rally in Iowa, Trump supporters energetically revived the "Lock her up" chant previously saved for Clinton in response to a false claim that Sen. Dianne Feinstein (D-Calif.) leaked a letter to the media from a woman who accused Kavanaugh of sexual assault when they were teens.
CORRECTION: An earlier version of this story misstated the name of Stacey Abrams, the Democrat running for governor in Georgia, as Stacy Adams.