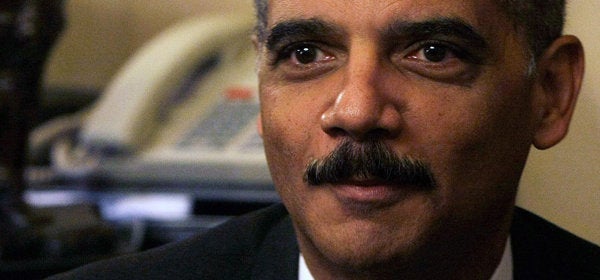 The fault lines over the confirmation battle for Attorney General nominee Eric Holder were drawn several weeks ago, when a series of Republican Senators on the Judiciary Committee aired their concerns on the Senate floor.
Over the past few days, however, the objections have grown a bit wider. On Tuesday, Arlen Specter, the ranking Republican on the committee, complained about not being consulted prior to the nomination and questioned whether Holder would be nothing more than a "yes" man for Barack Obama. He was subsequently brushed back by the Obama transition team and the committee's chair, Patrick Leahy, both of whom who touted Holder's integrity and independence.
So political fireworks are expected during the confirmation hearings, now scheduled for January 15. But what, exactly, will happen?
Democratic officials are preparing for a united Republican front and a healthy dose of drama. The obvious area of focus will be Holder's role in pardoning tax-cheat Marc Rich. But the former deputy AG is also expected to be asked about his positions on current hot-button topics, none more so than whether or not members of the Bush administration should face post-office prosecution.
GOP opposition could end up being more bark than bite. An aide on the Hill said it wasn't beyond the realm of reason to see Specter actually voting in favor of Holder's nomination. If he does, the rest of the Republicans may very well follow suit. "It would be tough to envision only a few Republican Senators sticking their neck out on this," the aide said.
If Specter isn't the one to change sides, there are others. Sen. Lindsey Graham has been very silent on the Holder matter, is known for an independent streak, and is a "law enforcement guy," as one person put it. Maybe more importantly, he will be traveling with incoming vice president Joe Biden to Southwest Asia for a week. Jeff Sessions, meanwhile, has objected to some of the information requests Republicans have made from Holder's records, saying they go beyond normal protocol.
There are other variables to consider. Right now, the breakdown of the committee is ten Democrats to nine Republicans. But that number includes Biden, who is still officially a member. In all likelihood, the Delaware Democrat will recuse himself from the hearings, meaning an even partisan split on the committee.
However, a vote on Holder isn't expected to come until after the new administration is sworn in. And according to Julian Zelizer, a congressional historian at Princeton University, Democratic leadership has the power to simply replace Biden when he leaves -- likely with his Senate replacement, Ted Kauffman -- thus preserving the one-vote majority. Holder's nomination already seemed likely to pass; the procedural makeup should not pose any obstacle.
REAL LIFE. REAL NEWS. REAL VOICES.
Help us tell more of the stories that matter from voices that too often remain unheard.