WASHINGTON -- House Republicans voted Thursday to hold Attorney General Eric Holder in contempt of Congress, an issue that has become so politicized that nearly all Democrats walked out during the vote.
The 255-to-67 vote marks the first time in history that a U.S. attorney general has been held in contempt of Congress. Nearly all Republicans voted to charge Holder with criminal contempt, along with 17 Democrats. The House also voted 258 to 95 on a civil contempt resolution.
Rep. Darrell Issa (R-Calif.), who has led the 18-month investigation into Holder's role in the Justice Department's botched Fast and Furious operation, said his long quest for documents tied to the operation has been "fair and fact-based," despite Democrats, the Justice Department and the White House regularly slamming him for being on a political witch hunt. Issa has been pressing Holder for documents, without any preconditions, that could shed light on why the administration initially denied that a risky "gun-walking" investigative tactic was used in the operation that allowed hundreds of guns to be smuggled from Arizona to Mexico.
"Today, a bipartisan majority of the House of Representatives voted to hold Attorney General Eric Holder in contempt for his continued refusal to produce relevant documents in the investigation of Operation Fast and Furious," Issa said after the vote. "This was not the outcome I had sought and it could have been avoided had Attorney General Holder actually produced the subpoenaed documents he said he could provide."
House Speaker John Boehner (R-Ohio) said he didn't want to hold a contempt vote, but that Holder left him with no choice but to carry on with the months-long ordeal. "I frankly hoped it would never come to this," he said on the floor. "The House's focus is on jobs and on the economy."
Holder later fired back that the House vote represented a "regrettable culmination of what became a misguided and politically motivated investigation" in the midst of a high-stakes election year.
"Today's vote may make for good political theater in the minds of some, but it is, at base, both a crass effort and a grave disservice to the American people," the attorney general said in a statement. "As a result of the action taken today by the House, an unnecessary court conflict will ensue. My efforts to resolve this matter short of such a battle were rebuffed by Congressman Issa and his supporters. It's clear that they were not interested in bringing an end to this dispute or obtaining the information they claimed to seek. Ultimately, their goal was the vote that, with the help of special interests, they now have engineered."
The White House also responded with charges of political gamesmanship.
"At the beginning of this year, Republicans announced one of their top priorities was to investigate the administration and to ensure that President Obama was a one-term president," White House communications director Dan Pfeiffer said in a statement. "Despite the major economic challenges facing the country, they talked openly about devoting taxpayer-funded, congressional oversight resources to political purposes."
In a testament to just how charged the vote became, nearly all Democrats who voted with Republicans were responding to pressure from the National Rifle Association, which announced it would score the vote. Conservative Democrats, including Reps. John Barrow (Ga.), Jim Matheson (Utah), Mike McIntyre (N.C.), Collin Peterson (Minn.) and Nick Rahall (W.Va.), currently have the backing of the powerful gun lobby and don't want to lose it in high-stakes election year.
For all the fireworks leading up to the vote, the resolutions aren't expected to have much effect -- at least, not anytime soon.
The criminal contempt charge refers the dispute to a U.S. attorney for the District of Columbia, who was appointed by Obama and who serves under Holder, meaning he's not likely to seek action. The civil contempt charge authorizes the House Oversight and Government Reform Committee to sue the Justice Department to try force Holder to turn over more documents, an effort that could get tied up in court for years.
But Thursday's vote was certainly a showcase for drama. Moments before the vote, the entire Congressional Black Caucus got up and walked out in protest, along with House Minority Leader Nancy Pelosi (D-Calif.), House Minority Whip Steny Hoyer (D-Md.) and others. A total of 108 Democrats and one Republican -- Rep. Jerry Lewis (R-Calif.) -- skipped the vote entirely.
Before walking out, Black Caucus members gathered around a microphone on the House floor and read from resolution they produced that slammed Issa for going after Holder. Issa has "politicized investigations by rolling back longstanding bipartisan precedents, including by authorizing subpoenas without the concurrence of the ranking member or a committee vote," Rep. Sheila Jackson Lee (D-Texas) read aloud. Issa has also "engaged in a witch hunt, through the use of repeated incorrect and uncorroborated statements" and has "chosen to call the attorney general of the United States a liar on national television without corroborating evidence."
Because of those points, the resolution concludes, "the House of Representatives disapproves of the behavior of the chair." The measure won't go anywhere, but Black Caucus members read it in full to make their point.
While Republicans voted, Democrats flooded onto the lawn outside the House chamber, where they held a press conference to trash the vote. Pelosi led a round of applause for Rep. Elijah Cummings (D-Md.), the ranking Democrat on Issa's committee, for his role in fighting the contempt charge over the past several months. Members chanted "shame on you" at Republicans in the House chamber. Congressional Black Caucus Chairman Emanuel Cleaver (D-Mo.) told the group they should be proud of their protest.
"By walking out, we are declaring we are not participating in this process," Cleaver said.
As the day's events were winding down, Rep. Charlie Rangel (D-N.Y.) told reporters that the Black Caucus took the lead on the walkout because of their concerns about Republicans actually targeting Holder to keep him sidelined from his other duties, which include combating voter suppression efforts in states with large minority populations. Pelosi introduced that allegation last week -- and was harshly criticized by some for making the suggestion.
"Our special interest in this is not one of color, but one of saying not enough is being done now in this country about what is happening in swing states," Rangel said. "You can see the connection."
Patrick Svitek contributed to this report.
Before You Go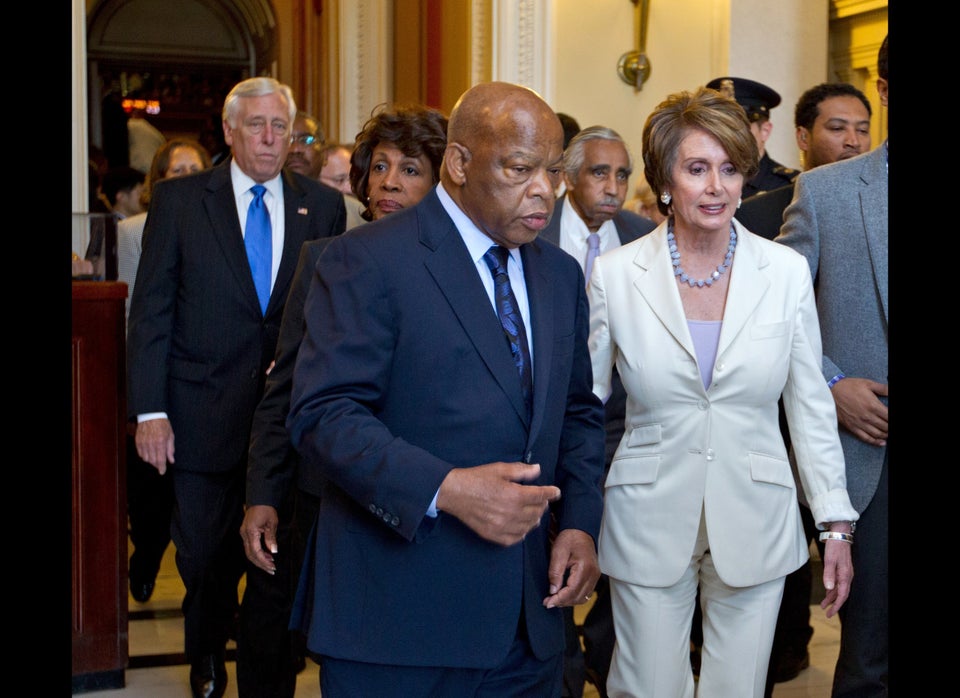 Photos From The Operation Fast And Furious Investigation
Popular in the Community