WASHINGTON -- The East Elmhurst neighborhood of Queens, near LaGuardia Airport, was mostly Italian immigrants after World War II. But in the years that followed, the New York neighborhood slowly gave way to a black majority as one of the first neighborhoods where African-Americans could buy homes.
Eric Himpton Holder, born in 1951, watched the neighborhood change. He went through New York public schools, seeing how more and more East Elmhurst residents were being locked up. Holder thinks he might have been one of them, if he had made a few different choices in those early years.
"Kids who I grew up with, who I played ball with, basketball, baseball, and went to parties with -- for whatever reason -- they ended up in a fundamentally different place than I did," Holder said in an interview with The Huffington Post. "I'm the attorney general of the United States and they are ex-felons. At some point, usually in high school or maybe a little later, they ran afoul of the law and had to serve time."
The path to prison has been worn by millions of black men since the 1960s, when race-baiting political rhetoric turned into tough-on-crime legislation that disproportionately impacted African Americans. With the second term of the Obama administration well underway, the first African-American to hold the job of America's top law enforcement official is planning to do something about it.
In a major speech before the American Bar Association in August, Holder called for "sweeping, systemic changes" to a "broken" judicial system. He's already taken several major steps on his own as part of the recently announced "Smart on Crime" initiative, including instituting a policy that allows certain drug offenders charged with federal crimes to avoid harsh mandatory minimum sentences. He announced that he would allow Colorado and Washington's pot legalization initiatives to be implemented free of federal interference. In November, he'll travel around the country to call attention to various programs that are helping reduce prison overcrowding and recidivism.
Twenty years ago, Holder gave up what could have been a lifelong position as a judge in D.C. Superior Court that Ronald Reagan had given him when Holder was just 37 years old. Having sentenced drug defendant after drug defendant to prison for long sentences -- many of them young African-American men -- Holder wanted to rejoin the Justice Department and make changes from the inside. Now he has his chance.
The 62-year-old Holder isn't just some political appointee trying to impose his agenda on the Justice Department, he's a former line prosecutor who joined DOJ just after law school and knows the Department as well as just about anyone.
"He is comfortable understanding the way cases get investigated and cases get prosecuted, and how the different equities weigh into any decision, so he will weigh-in in appropriate cases and make his views known," said James Garland, Holder's former deputy chief-of-staff. "That's one of the great things about his background, the U.S. attorneys offices respect him as a prosecutor. He's not somebody who just parachuted in from a political appointment."
But even with the respect that comes with his background, Holder's guidance has not always translated into change. In 2009, in what has come to be known as the Ogden memo, federal prosecutors were directed to de-emphasize investigating medical marijuana in states where it was legal, but resource-intensive investigations continued regardless.
"Change is not always an easy thing," Holder said when asked about the Ogden memo and the difficulties of adjusting the culture of an organization like DOJ. "People, bureaucracies, tend to want to stay with those things, those concepts, those activities that are known to them, and I think it's incumbent upon a person or people who lead these organizations to examine how we are doing things and ask, frankly, really tough questions."
Holder's efforts could easily be dismissed as a legacy play by an attorney general who has faced criticism from both the left and right. But a closer look at Holder's record shows he's long had an interest in reforming criminal justice, even if there's not much progress to show from the tough-on-crime 1990s. As U.S. attorney in D.C., where federal prosecutors handle both federal and local cases, he did manage to move many minor drug crimes from federal court into local courts, allowing defendants to avoid harsher sentences. When he was in private practice during the Bush administration, he was a member of a coalition that included Newt Gingrich and advocated for sentencing reform.
Pushing any major reforms through Congress is a long shot. And there are limits to what Holder can do on the executive level, given that so many drug crimes are prosecuted by state and local authorities. But looking over the past 20 years, when politicians were much more sensitive to soft-on-crime attacks, now appears to be as good a time as ever. Tea party-favorite Sen. Rand Paul (R-Ky.) has called for major sentencing reform, saying that sentencing guidelines disproportionately affect minorities and call to mind Jim Crow laws. Newly-elected Sen. Cory Booker (D-N.J.) has made criminal justice reform a top priority.
Holder met with Booker and other mayors earlier this year and the attorney general hopes to work with him on criminal justice reform, a DOJ official said.
"I have a lot of respect for him," Booker told HuffPost Tuesday, "and I look forward to working with him to every extent possible."
As Holder put it, "You have both the right and the left, conservatives, progressives, Republicans, Democrats, who generally think that, generally -- there might be disagreements on the edges -- this is the way to go. And I think that people are stepping back and really starting to question that which for too long we've accepted was just the way that things needed to be done."
The shift also comes amid a growing prison overcrowding problem and concern about what Holder called the "really inordinate amount of money" that the government spends on incarceration. About a quarter of DOJ's overall budget, $6.4 billion, goes to prison costs alone.
"All of these considerations about prosecutorial discretion happen in the context of massive prison overcrowding and the war on drugs, and I think part of what's informing these decisions is that," Garland said. "There's a huge prison overcrowding problem, a huge resource problem. To be clear, we're talking about non-violent drug offenders here, the idea that you lock away those people for 10, 20, 30 years, from a resource perspective, is unsustainable."
Holder's impact on legislative avenues of reform might be minimal: If there's anyone less popular with House Republicans than President Obama, it's his attorney general. But even before the formal Smart on Crime initiative began, Holder took several significant steps on a topic aides say was always high on his priority list.
Before his confirmation, Holder began talking with Sen. Jeff Sessions (R-Ala.), a former U.S. attorney, about lessening the sentencing disparity between crack and powder cocaine. President Barack Obama eventually signed a law to address the disparity in 2011. Holder also did away with the Ashcroft memo, a 2003 directive from Attorney General John Ashcroft which had required federal prosecutors to always pursue the most serious charges they could sustain against a criminal defendant. Holder testified before the sentencing commission, an unusual step for a sitting attorney general. He reversed a Bush administration policy that had defendants waive their right to DNA testing, even though that right was guaranteed under federal law. He advocated for reentry programs as a way to crack down on recidivism, and the Justice Department has sent millions of dollars in grants to such programs.
Occasionally, Holder told HuffPost, he's intervened in individual cases brought by federal prosecutors, though no specific examples came to mind. "There have been times when cases for whatever reason have come to my attention, either in a report of some kind where I have become involved in a case, you know, scribbled a note in the sidelines, the margins of a memo or something that I have received or asked a question in a briefing that I was getting about, 'Well, why are we doing this?' and then asked for information and then indicated that, well, I think we ought to take a different approach," Holder said. "I've got great respect for the men and women who are in the field and who are in the front lines, but every now and again there have been questions that I have had and raised, and modifications have been made in the approach that we have taken."
Now, as part of DOJ's Smart on Crime initiative, U.S. attorneys offices around the country are required to develop district-specific guidelines for when federal prosecutions should be brought. For certain low-level drug offenders, federal prosecutors won't list drug quantities, allowing them to avoid harsh mandatory minimums.
But another way Holder could pull back from the drug war is by reining in anti-drug Byrne grants, part of a program that can give state and local police incentives to prioritize drug enforcement, named for Edward Byrne, a New York City narcotics officer killed by a drug dealer. A 2009 review of data from the Byrne grant program found there wasn't enough evidence to prove that the work done on drug cases by local task forces given these federal funds was effective. Holder, while supportive of the federally-funded local task force concept in general, told HuffPost they may be getting a close look in an era of tight budgets.
"I think there have been legitimate questions raised about the effectiveness at least of some of the task forces that have been created," Holder said. "Going into these budget cycles, these resource-poor budget cycles, we're going to be asking questions about all of the task forces that we participate in, both conceptually and also looking specifically looking at the task forces that we support to make sure that we are funding those that are effective and funding those that are consistent with the policies that I have been announcing."
Laura Murphy of the American Civil Liberties Union says that looking at Byrne grants would be a good place for the AG to start.
"The militarization of law enforcement is an area I think the attorney general needs to look at," Murphy said. "He should look at federal funding in general of local police departments and attach more restrictions to the funding."
Another area ripe for review, advocates say, could be reforming the ways federal prosecutors can use 851 notices, a legal notification signaling that prosecutors will invoke prior convictions to lengthen mandatory minimum sentences. Often, federal prosecutors can verbally threaten to file 851 notices, pushing defendants into taking a guilty plea to avoid an even longer sentence.
Federal Judge John Gleeson, a former federal prosecutor himself, reiterated that the Justice Department uses such notices to bully defendants into pleading guilty instead of going to trial, calling them "unsound and brutally unfair" and saying they were "the sentencing equivalent of a two-by-four to the forehead." It's a tool at least partially responsible for the overall 97 percent guilty-plea rate for criminal convictions.
Holder's recent mandatory minimum guidance imposed some new requirements on the use of such notifications, but advocates -- Gleeson included -- say there's more to be done.
"I have great respect for Judge Gleeson, and I think some of the observations he's made are right on point, but I would disagree with him with regard to this whole question of the recidivist approach," Holder said. "I think what we have set out really is going to be effective. It gives discretion to prosecutors, but it gives them what I would call a managed discretion."
Holder says his new policy outlines how recidivist papers should be filed, how those recidivist powers should be applied "and also charged prosecutors with the responsibility of looking at each and every case and deciding, you know, what's justice in that matter."
"I would expect that over time, it won't happen overnight, but over time, you will see a different approach, you will see an approach, you will see an approach that is ultimately consistent with the changes we have announced," Holder said. "So I have great respect for Judge Gleeson, but I actually think this is an area in which he should have a little more faith in the pronouncements we have made.
"But if it turns out that the changes are not consistent or not happening and the activities of the Department are not consistent with the policy reformulations, then we'll rethink them and come up with ways in which we are more directive than perhaps we have been."
Ryan Grim contributed reporting.
CORRECTION: Holder's appointment to D.C. Superior Court was not technically lifelong, it was for 15 years and renewable at the discretion of the D.C. Judicial Nominations Commission.
Before You Go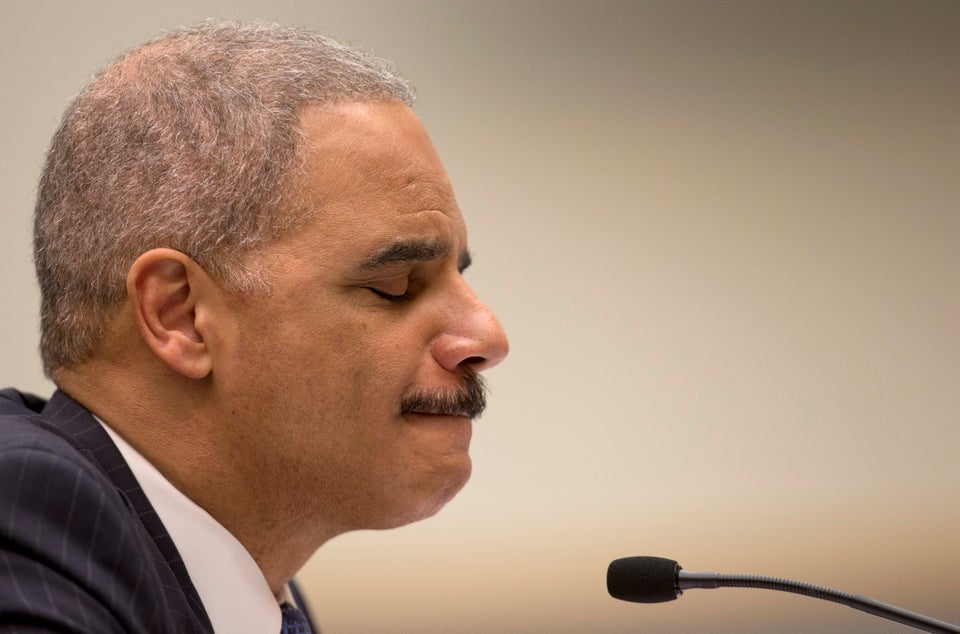 Eric Holder In The Hot Seat
Popular in the Community