PHILADELPHIA ― Former Attorney General Eric Holder made something very clear on Tuesday: He is with her.
"I've known Hillary Clinton for almost 25 years ― as a friend, a colleague and a leader of courage and conviction," he said in a speech at the Democratic National Convention in Philadelphia. "And today, I am proud to say 'I'm with her' ― because I've seen that she has the skills to serve as commander in chief and the strength to lead our already great nation in this hour of challenge and consequence."
Holder addressed the relationship between police and communities of color, saying Clinton would work to build trust between them.
"At a time when the bonds between law enforcement and communities of color have frayed ― when assassins target police in heinous attacks, and peaceful citizens have to question whether black lives truly matter (and they do) ― we need a president who understands the reality that I saw in my travels across the country as our nation's 82nd attorney general: that there should be no tension between protecting those who valiantly risk their lives to serve and ensuring that everyone is treated fairly by police," he said.
At least 151 black people have been killed by police this year, according to a tracker from The Guardian. Holder is also likely referencing the deaths of Philando Castile and Alton Sterling, two black men who were shot and killed by police earlier this month in Falcon Heights, Minnesota, and Baton Rouge, Louisiana. Graphic videos of both incidents began circulating on social media after the shootings, sparking outrage and protests nationwide.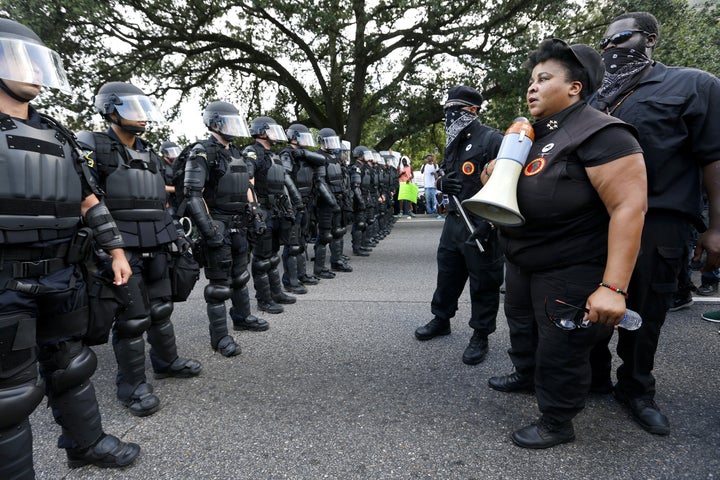 Holder also mentioned that his brother is a retired police officer and that "an attack on a police officer anywhere is an attack on our entire society."
Sean Bruno, a delegate from Louisiana, said the points Holder made must be taken into consideration as the push for criminal justice reform moves forward.
"It was a wonderful speech. In today's times, it's very relevant to talk about justice and being respectful to both the police as well as the police being respectful to the citizens," he said.
Holder said Clinton realizes that striking a balance between protecting officers and citizens is necessary, and he also noted how black people, especially men, are unjustly targeted by the criminal justice system.
"At a time when our justice system is out of balance, when 1 in 3 black men will be incarcerated in their lifetimes, and when black defendants in the federal system receive sentences 20 percent longer than their white peers, we need a president who will end this policy of over-incarceration," he said.
Holder added that the prison population ― and violent crime ― has dropped during President Barack Obama's term and that Clinton will push forward that legacy.
North Carolina state Rep. Pricey Harrison (D), a delegate from North Carolina, has been pushing criminal justice reform in the state's House and appreciated Holder's speech.
"There's a lot about our criminal justice system where we lock people up for life who haven't really done anything bad," she said. "What we need to do is more justice [and] reinvestment and less locking people up because you don't get good results."
Holder also said that Clinton will work to restore voting access in places where the 1965 Voting Rights Act has been rolled back.
"At a time when the right to vote is under siege ― when Republicans brazenly assault the most fundamental right of our democracy ― passing laws designed to stop people from voting, while closing locations in minority neighborhoods where people get the documents they need to vote ― we need a president sensitive to these echoes of Jim Crow," Holder said. "We need a president who holds the right to vote as sacred and stands firm against any kind of modern-day poll tax."
"These are the ideals for which Hillary Clinton has fought her entire life," Holder said at the end of his speech. "This is the fight that she will continue ― when we make history by electing her as the 45th president of the United States."
Popular in the Community