PHILADELPHIA -- When Attorney General Eric Holder set out to reform the Justice Department's approach to certain types of crime, he didn't have to reinvent the wheel. Instead, he's highlighting programs launched by top federal prosecutors around the country, including one that began under a now-Republican congressman who just last year voted to hold Holder in contempt of Congress.
That program, known as Supervision to Aid Reentry (STAR), initially launched in the U.S. District Court for the Eastern District of Pennsylvania. Chief Judge Harvey Bartle III, a President George H.W. Bush nominee, originally suggested establishing a program of reentry courts in mid-2006. The reentry courts would supervise and support people after they've served time in jail, in an effort to reduce recidivism. Working with the U.S. attorney's office -- which was run at the time by now-Rep. Patrick Meehan (R-Pa.) -- the STAR program was modeled off of others that had already launched in federal courts in Michigan, New York and Massachusetts. Years later, in 2012, Meehan voted to hold Holder in contempt of Congress in connection with an investigation into the botched gun-trafficking operation known as Fast and Furious. His office did not respond to a request for an interview.
"It's a really innovative approach that is going on here in the Philadelphia area, with the court system, the probation office, federal public defenders, the U.S. attorney's office, and it is something we think needs to be replicated," Holder said after witnessing the program firsthand in Philadelphia this week.
When Meehan was at the helm, the Eastern District received a $500,000 grant to support reentry. While the Bush administration certainly didn't put the same sort of emphasis on criminal justice reform as the Obama administration has, it did fund such programs in particular cases.
"I just think it's much more cost-effective and makes more sense to spend money on education, rehabilitation, alternative ways of dispensing justice, because it seems to me it's a smart way to go," former Bush administration Attorney General Alberto Gonzales told The Huffington Post. "I always believed that, and therefore was quite willing to take a chance and look at these types of programs."
Now under Holder, reentry is one of five components in the DOJ's new Smart on Crime strategy. Under the policy, U.S. attorneys are supposed to designate a reentry coordinator within their offices, and assistant U.S. attorneys are "encouraged to devote time to reentry issues in addition to casework."
In the Eastern District of Pennsylvania, current U.S. Attorney Zane David Memeger, an Obama nominee who was confirmed by the Senate in May 2010, says the federal prosecutors involved with reentry court don't even necessarily work on drug cases. One prosecutes racketeering cases, another focuses on national security, and yet another handles civil litigation.
"It's not as if we say, 'you're just going to be a reentry person, forget about your cases,'" Memeger said in an interview with The Huffington Post. "You're doing both. But they want to see if they can make an impact larger than themselves by participating in this, and they get credit for it from an office perspective because it's part of a crime-prevention approach to dealing with community safety issues."
Memeger became involved with reentry court during a stint in private practice before he became U.S. attorney. Having previously worked as a federal prosecutor in the office he now leads, he got involved at the request of a federal judge with ties to the program.
In Philadelphia, reentry court officials say the group dynamic has been very important for the success of the program. There's a collegial and supportive atmosphere, many of the ex-offenders are friendly and some have sought out job opportunities for other ex-offenders. Last year, there was even a wedding before a court session.
Memeger said the program has really worked. The stats back that up: Twenty percent of the program's participants reoffended last year, far lower than the 47 percent average revocation rate for the same category of offenders between 2007 and 2012, according to an annual report on the program. But Memeger also acknowledged the program could only help the "limited population" of federal offenders reentering society, missing the larger population of ex-offenders convicted on the state and local level.
"The next step is, one, to see federal reentry courts across the country," Memeger said. "But the real focus is going to have to be at the state and local level, because that's where the vast majority of people are arrested, incarcerated."
Memeger acknowledged that law enforcement officials have had to come around to the idea of working with, instead of against, ex-offenders.
"We're operating in an environment where it's really a change in mindset from a law enforcement perspective in terms of what we're traditionally used to doing, which is investigate, prosecute and lock them up," Memeger said. "But after doing it for so long you recognize that's not the way to go because there are so many other factors that you're dealing with that contribute to crime."
U.S. Attorney Bill Nettles, a former public defender and defense attorney who is now the top prosecutor for all of South Carolina, also faced skepticism from law enforcement officials when he launched a diversion program -- allowing certain low-level drug offenders to avert prison under specific conditions -- as part of a broader anti-drug initiative.
"They called it hug-a-thug," Nettles told The Huffington Post. "There were all these cute little names that they had."
While his confirmation was being held up by conservatives in the Senate concerned about his lack of a prosecutorial background, Nettles took the six-month downtime to do some reading. The result: a different approach to fighting drugs, called the Stop and Take A New Direction (STAND) program. STAND launched in North Charleston, S.C., in 2011. The program, Nettles said, represents "a fundamental shift in the way we go about addressing this issue of open-air drug dealing." It was modeled after a similar program run by police in High Point, N.C., one that had been studied under a Justice Department grant.
The North Charleston program was a joint effort between the feds and local authorities. After several months of undercover operations, law enforcement identified 31 drug dealers. Of that group, 23 were arrested and charged. But the other eight men were given letters and asked to come to City Hall. The men were told that authorities wouldn't bring charges if they turned their lives around.
As documented in a feature on the program by NBC's Dateline, several of the defendants returned to crime and were arrested. But the program was broadly considered a success, and the feedback from the community was very positive. Deputy Attorney General James Cole highlighted the program in a speech before the American Bar Association last month.
"I had seen the individual impact that the 'war on drugs' had had on sentences and on individuals: this nation writing people off, sending them off for 15, 20 years for drugs and the impact that had on the community," Nettles explains.
"In the past, we felt like we could just go in and arrest a large number of people and put them in prison for a really long period of time, declare victory and move on," Nettles said. "It helped, but the goal of those programs was to figure out how many people we could arrest and how long a sentence we could give them. Under that mindset, the goal is to give people a lot of time. When you approach the problem of open-air drug dealing the way that we did, the goal is to improve the quality of people's lives."
During his visit to Philadelphia, Holder said the "frustration" he felt as a judge in Washington, D.C., during the late 80's and early 90's was something he kept with him.
"I saw come before me as a judge waves and waves of young African-American men who should have been the future of that community who I was sending to jail," Holder said. "I didn't have the opportunity to engage in a program such as this."
"We're talking about doing things in a non-traditional way, and I think we have to do things in a non-traditional way, in a unique way," Holder told reporters after visiting with graduates of the reentry court in Philadelphia. "But we also have to get to a point where this is not seen as non-traditional, it is not seen as unique, it is seen simply as the way we do things."
Before You Go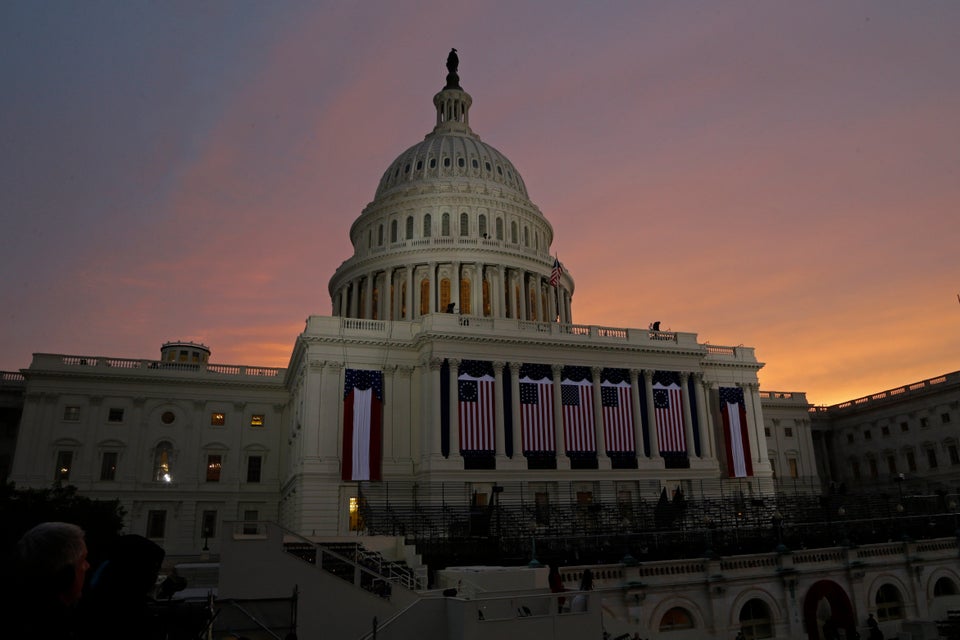 U.S. Capitol Photos
Popular in the Community