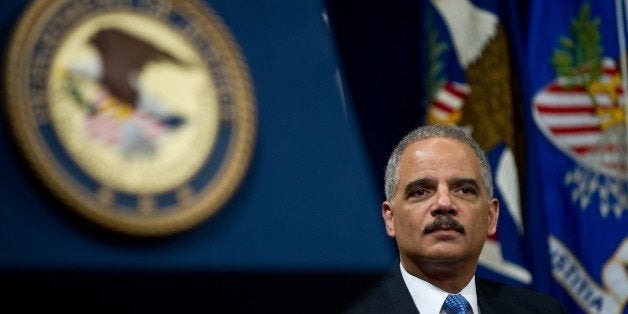 WASHINGTON -- On a warm evening four years ago this month, Attorney General Eric Holder stood at a podium before an auditorium of students from the University of the District of Columbia law school, ready to take questions. After fielding inquiries on D.C. voting rights and campaign finance, the moderator read a question asking why Holder's Justice Department was still defending the constitutionality of the Defense of Marriage Act, which defined marriage as between one man and one woman.
Holder was in an awkward spot. The Obama administration didn't like DOMA and wanted it repealed. But DOJ practice was to defend statutes passed by Congress, no matter which party occupied the executive branch.
"Whether we agree with them or not, the Justice Department by tradition is bound to do so," Holder answered. "Anybody who knows me knows that this is not a statute that I agree with, but there are times as lawyers when obligations that we have and the traditions of the Justice Department to defend an act with which we do not agree."
On Tuesday, Holder stood in the Great Hall of the Robert F. Kennedy Justice Building accepting an award from an organization of gay, lesbian, bisexual and transgendered Justice Department employees, essentially for changing his mind.
Holder was given DOJ Pride's Gerald B. Roemer Award, named for a former Justice Department employee who died of AIDS, for his work on LGBT issues, most prominently his decision to abandon the government's legal defense of DOMA on the grounds that it was unconstitutional.
Holder didn't mention DOMA in 2010 when he spoke at the DOJ Pride event. The lawsuit that would ultimately bring the law down -- United States v. Windsor -- hadn't yet been filed.
This year, at the first major DOJ Pride event since the Supreme Court struck down DOMA's major provision in 2013, discussion of the court ruling dominated. Roberta Kaplan, who represented Edie Windsor in challenging DOMA, gave a presentation of the case to the DOJ employees gathered in the Great Hall. Pam Karlan, who also represented Windsor, is now deputy assistant attorney general in the Civil Rights Division, and praised Holder as "one of the most powerful allies we have ever had."
Since the Justice Department's decision to drop its defense of DOMA, Holder has encouraged state attorneys general not to defend state bans on same-sex marriage. He has told DOJ lawyers to recognize same-sex marriages "as broadly as possible." As he noted during his speech on Tuesday, Justice Department employees helped the government move quickly to expand rights to citizens in same-sex marriages following the Windsor decision.
"These changes will positively impact the lives of many across the country," Holder said. "Every single one of them is worth celebrating. But this is no time to rest on our laurels."
After Kaplan spoke at the DOJ Pride ceremony, Holder noted how unusual it was for a private attorney to give a presentation to Justice Department lawyers in the Great Hall. Having listened again to audio recordings of some of the questions posed by conservative Supreme Court justices during oral arguments in the DOMA case, Holder turned to history.
"I really wonder if you play back this thing 100 years from now, what will people think of some of the questions that you had to deal with?" Holder asked.
REAL LIFE. REAL NEWS. REAL VOICES.
Help us tell more of the stories that matter from voices that too often remain unheard.
BEFORE YOU GO
PHOTO GALLERY
Supreme Court Proposition 8 Case