SAN FRANCISCO -- Attorney General Eric Holder called for "sweeping, systemic changes" to the American judicial system on Monday, urging "a frank and constructive dialogue about the need to reform a broken system."
As part of that effort, the Justice Department will no longer list drug quantities in indictments of certain low-level drug offenders, allowing defendants who lack ties to gangs, violence and large-scale drug trafficking organizations to avoid harsh mandatory minimums, Holder announced during the Monday speech before the American Bar Association.
"We must ensure that our most severe mandatory minimum penalties are reserved for serious, high-level, or violent drug traffickers," Holder wrote in a three-page memo released Monday, outlining the changes for federal prosecutors. "In some cases, mandatory minimum and recidivist enhancement statutes have resulted in unduly harsh sentences and perceived or actual disparities that do not reflect our Principles of Federal prosecution. Long sentences for low-level, non-violent drug offenses do not promote public safety, deterrence, and rehabilitation."
Holder was even more direct in his ABA speech, calling mandatory minimums "draconian" and asking Congress to reform a system which can "breed disrespect" for itself.
"When applied indiscriminately, they do not serve public safety. They –- and some of the enforcement priorities we have set –- have had a destabilizing effect on particular communities, largely poor and of color. And, applied inappropriately, they are ultimately counterproductive," Holder said.
Federal prosecutors "cannot –- and should not –- bring every case or charge every defendant who stands accused of violating federal law," Holder said in a speech, drawing applause from the crowd. He referred to the U.S. prison population as "outsized and unnecessarily large."
Holder outlined other reforms as part of his new "Smart on Crime" plan during the speech, including allowing for the early release of non-violent elderly federal defendants who had served significant portions of their sentences, thereby helping to reduce the overall federal prison population. He also called for greater use of incarceration alternatives and renewed focus on prevention, pointing out reforms in typically conservative states that have steered funding towards treatment and supervision, rather than funneling more money into prisons.
"The bottom line is that, while the aggressive enforcement of federal criminal statutes remains necessary, we cannot simply prosecute or incarcerate our way to becoming a safer nation," Holder said. "To be effective, federal efforts must also focus on prevention and reentry. We must never stop being tough on crime. But we must also be smart and efficient when battling crime and the conditions and the individual choices that breed it."
He also noted that sentences are often racially disproportionate, referencing a February report indicating that, in recent years, black male offenders have received sentences nearly 20 percent longer than white offenders convicted of similar crimes.
"This is not just unacceptable," Holder said. "It's shameful."
He further called attention to the plight of federal public defenders, saying that "America's indigent defense systems continue to exist in a state of crisis." The promise of guaranteed legal representation is not being met, he said. "To address this crisis, Congress must not only end the forced budget cuts that have decimated public defenders nationwide –- they must expand existing indigent defense programs, provide access to counsel for more juvenile defendants, and increase funding for federal public defender offices," Holder said.
He cautioned that the changes he announced and broader reforms that will be explored "will not take hold overnight," warning that there would "be setbacks and false starts."
But a number of outside organizations that support criminal justice reform were not cautious in their praise of the speech.
Wade Henderson of the Leadership Conference on Civil and Human Rights called it "the most significant proposal ever put forth by the Justice Department to reform our nation's disastrous criminal justice system."
Laura W. Murphy, director of American Civil Liberties Union's Washington legislative office, said Holder was "taking crucial steps to tackle our bloated federal mass incarceration crisis, and we are thrilled by these long-awaited developments."
"Over the last year, in one of the few areas of bipartisanship, members of Congress have come together to call for smart criminal justice reform," she said. "While today's announcement is an important step toward a fairer justice system, Congress must change the laws that lock up hundreds of thousands of Americans unfairly and unnecessarily."
Sen. Patrick Leahy (D-Vt.) responded to the speech later Monday, saying he had come to believe "that our reliance on mandatory minimums has been a great mistake."
"I am encouraged that Attorney General Holder and the Department of Justice have joined the growing chorus from across the political spectrum that question this one-size-fits-all approach," he said. "It does not make us safer."
Nicole Austin-Hillery, director of the Brennan Center's Washington, D.C. office, said in a statement that the Justice Department is leading by example in its efforts to end "over-criminalization."
"These directives should empower local and federal legislators to rethink 'tough on crime' laws as the only option available to protect communities," she said.
Before You Go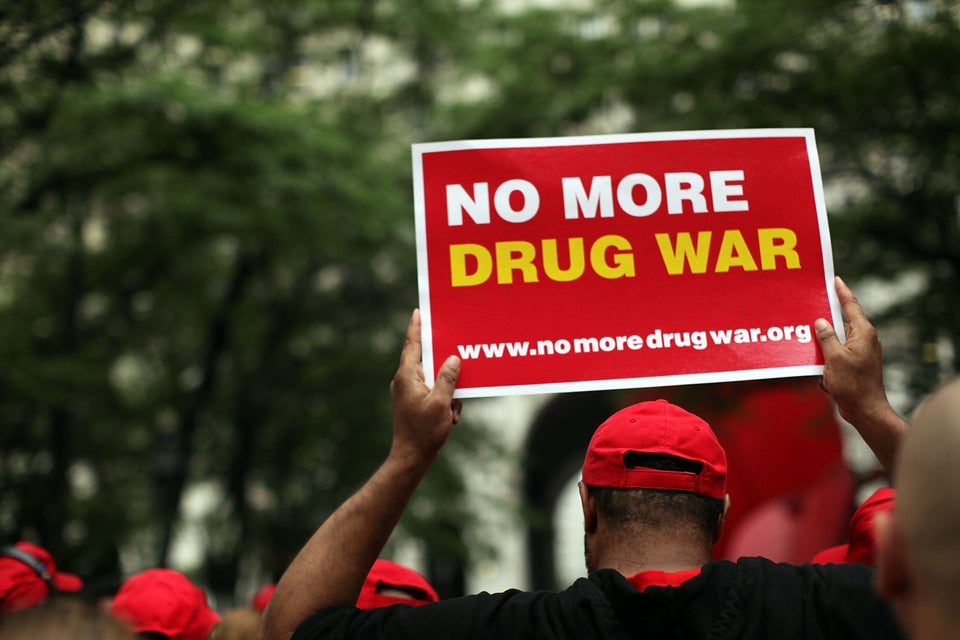 27 Reasons Why The U.S. Shouldn't Lead The War On Drugs
Popular in the Community