 On June 7, Eric Holder testified before the House Judiciary Committee that his Justice Department will only undertake enforcement action against medical marijuana organizations operating "out of conformity with state law." I didn't believe his statement at the time, but recent events made clear the enormous gap between his words, and the reality facing qualified patients in medical marijuana states.
Just four days after Holder's testimony, armed federal agents raided El Camino Wellness, a respected -- and fully permitted -- medical cannabis dispensary in Sacramento, California. In the raid, the federal Drug Enforcement Administration (DEA) took money, medical marijuana, computers, and other personal property. The IRS then seized El Camino's bank accounts, the same ones used to pay state sales tax.
El Camino Wellness was a non-profit cooperative that served 27,000 patients in the Sacramento area. It was nowhere near a school, and met all state and local guidelines for operation. El Camino Wellness had the support of City Council members, one of whom even wrote to U.S. Attorney Benjamin Wagner, questioning the need to target them and other city-sanctioned facilities.
Because of this federal raid -- in direct opposition to the Holder's recent statement -- tens of thousands of patients have lost access to their medicine. El Camino Wellness's executive director, Suneet Agarwal, and his family are under the threat of federal prosecution, and even his lawyer's retainer was seized. Other employees have lost not only their livelihoods but their family vehicles, impounded immediately by the DEA. Denied safe and reliable access to cannabis, patients will be forced to resort to the illicit market, putting themselves at risk -- or go without needed therapies.
Seventeen states and the District of Columbia allow patients to seek alternative cannabis therapy with a doctor's recommendation. Most of those states explicitly permit non-profit organizations to grow and distribute cannabis to patients who cannot reliably grow or prepare it themselves.
I say to Eric Holder: patients, caregivers and compassionate Americans need more from you than double-talk. If you stand behind the president's policy of tolerance and your own words, then call off the DEA raids and call in your aggressive U.S. Attorneys who are undermining state laws.
Isn't Eric Holder in enough hot water over his Congressional testimony? Let's get some clarity on this important issue. Join the struggle for patient access, and sign a petition at the Courage Campaign to demand accountability from Eric Holder and his Justice Department.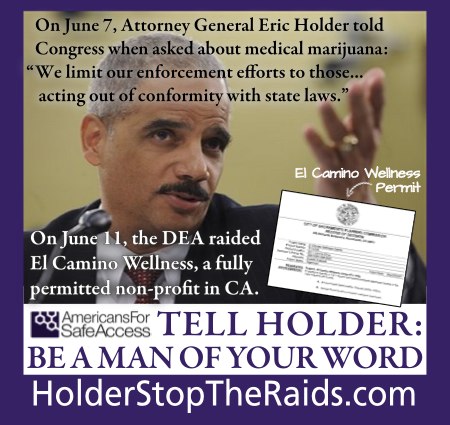 Calling all HuffPost superfans!
Sign up for membership to become a founding member and help shape HuffPost's next chapter