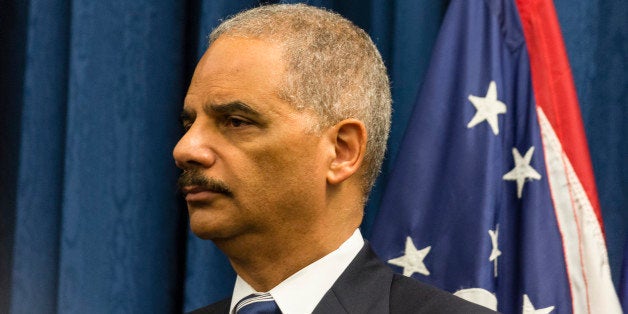 In a taped segment that will air on "The Reid Report" Thursday afternoon, Holder and Reid met at the National Civil Rights Museum in Memphis, Tennessee, to discuss the fraught relationship between American law enforcement and many people and communities of color -- an issue that has received national attention this year with the police killings of Eric Garner and Michael Brown, among other unarmed black males.
"I certainly think that we have to build up a better relationship between young people, people of color and people in law enforcement," Holder told Reid. "There is distrust that exists on both sides. There's misunderstanding that exists on both sides."
Reid cited the case of Amadou Diallo, a 23-year-old West African immigrant shot and killed by four NYPD officers in 1999. Diallo was unarmed when he died.
Diallo's death touched off a national uproar, and on Thursday, Reid and Holder noted that things hardly seem to have progressed in the 15 years since.
"What does it say that we essentially are in the same exact place now, so many years later?" asked Reid.
"It means that we, as a nation, have failed," Holder replied. "It's as simple as that. We have failed."
Holder acknowledged that proper training is required among law enforcement officers, and added that there are many other areas in need of improvement.
"One of the things I think we need to do is do a better job of just collecting statistics," Holder said. "We don't necessarily have the basis now to look at this country as a whole and understand how big the problem is. It's one of the things our Bureau of Justice Statistics is trying to come up with, a way in which we start to gather this kind of information. And that'll give us a much better way in which we can get a handle on this problem."
Thursday's segment is the first part of a three-part "Reid Report" interview with Holder, according to a press release from MSNBC.

Calling all HuffPost superfans!
Sign up for membership to become a founding member and help shape HuffPost's next chapter