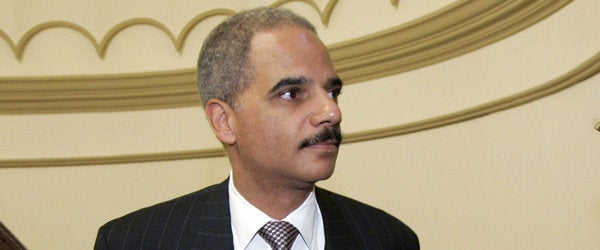 [W]ith the FBI closing in on another top Chicago politician, Holder may face questions about a potential conflict of interest.

Four-and-a-half years ago, he held a news conference in Chicago at the Thompson Center. He had accepted a $300,000 assignment from Rod Blagojevich: Should a company whose chairman had been fined for violating gambling rules in Illinois be allowed to build a half-billion dollar casino in Rosemont?

In the end, it didn't happen. Holder got into a jurisdictional dispute with Illinois Attorney General Lisa Madigan, and he did not get the free and total access to all the documents he wanted.

CBS 2 reported this fall that sources told us federal agents believe they've already gathered enough evidence to warrant an indictment of Gov. Blagojevich. They add that a grand jury could act before the end of the year.

Should he become U.S. Attorney General, Holder could potentially be asked to sign off on key decisions regarding any prosecution of Blagojevich. Holder now appears to regret getting involved at all with Blagojevich in the ill-fated casino investigation.
Holder was instrumental in the indictment of powerful North Side Congressman Dan Rostenkowski on a series of corruption charges, which the Sun-Times' Mark Brown says might never have been brought in Chicago:
[T]he indictment was not brought here, nor likely would it ever have been. In fact, one of the key elements of the case, ghost payrolling, wasn't typically even treated as a crime in this jurisdiction at the time, just more fun and games from those naughty boys in the Democratic Machine.

Instead, the Rostenkowski case was made out of Washington by an impressive young prosecutor who picked up the investigation in midstream -- amid much fretting over whether the change from a Republican to a Democratic appointee would cause the case to disappear -- and carried it forcefully over the goal line until he got a guilty plea.
[...]
ou can be sure there were people in high places who wanted that case to go away and who made their feelings known.

But it didn't go away, and Holder, then the U.S. attorney for the District of Columbia, never eased up until Rostenkowski agreed to go to prison.

Related
Popular in the Community