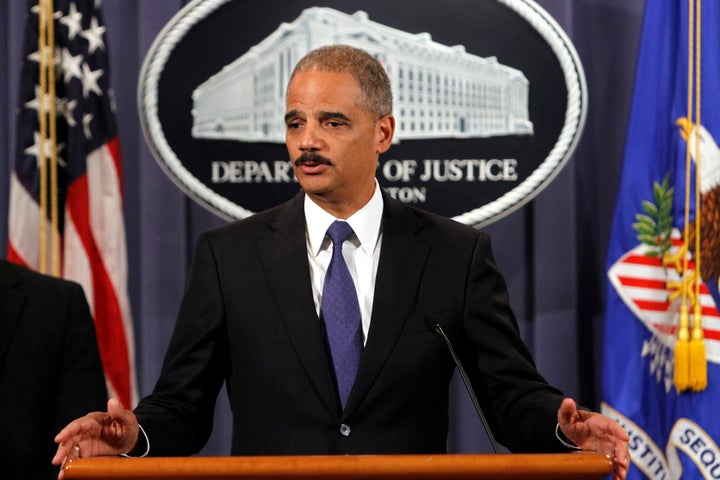 WASHINGTON -- In an aggressive bit of pushback to an oversight process that's tripped up his tenure, Attorney General Eric Holder lashed out at lawmakers on Friday in a letter to leadership on the House Oversight Committee and the Senate Judiciary Committee.
Addressing investigations into the Department of Justice's Fast and Furious program –- which allowed illegal guns to be sent into Mexico to track where they ended up -– Holder both defended the role he and his colleagues played in overseeing the program and criticized Republican lawmakers for using hyperbole. In particular, he admonished Rep. Paul Gosar (R-Ariz.) for insinuating that the Obama administration was somehow an accessory to murder for allowing the gunrunning program to occur.
I have not spoken at length on this subject out of deference to the review being conducted, at my request, by our Department's Inspector General. However, in the past few days, the public discourse concerning these issues has become so base and so harmful to interests that I hope we all share that I must now address these issues notwithstanding the Inspector General's ongoing review.

[...]

I simply cannot sit idly by as a Majority Member of the House Committee on Oversight and Government Reform suggests, as happened this week, that law enforcement and government employees who devote their lives to protecting our citizens be considered "accessories to murder." Such irresponsible and inflammatory rhetoric must be repudiated in the strongest possible terms. Those who serve in the ranks of law enforcement are our Nation's heroes and deserve our Nation's thanks, not the disrespect that is being heaped on them by those who seek political advantage. I trust you feel similarly and I call on you to denounce these statements.
Holder's letter was rare for its aggressive tone. The Attorney General's office has, to this point, attempted to beat back allegations of wrongdoing in the Fast and Furious program by dismissing them outright. Most recently, that's involved pointing out that a similar program, Operation Wide Receiver, was conducted during the Bush years and sparked no outcry from Republican lawmakers.
But Gosar's remarks changed the tone and increased the severity of the allegations. "When you facilitate that and a murder or a felony occurs, you're called an accessory. That means that there's criminal activity," Gosar said to the Daily Caller in a phone interview.
Justice Department officials did not take the accusation lightly, and, as Holder's letter demonstrates, saw it as an opportunity to call out the GOP for overreach.
In the past few days, some have pointed to documents that we provided to Congress as evidence that I was familiar with Fast and Furious earlier than I have testified. That simply is not the case and those suggestions mischaracterize the process by which I receive information concerning the activities of the Department's many components. On a weekly basis, my office typically receives over a hundred pages of so-called "weekly reports" that, while addressed to me, actually are provided to and reviewed by members of my staff and the staff of the Office of the Deputy Attorney General. The weekly reports contain short summaries of matters that the agencies deem of interest that week. Sometimes, the summaries are simply a sentence-long and other times they consist of a paragraph. In some cases, the summaries are of policy-related issues or upcoming events. In other cases, the summaries are brief, high-level reviews of pending matters or investigations. It is important to look at the documents supposedly at issue here and, for that reason, I have attached them to this letter and am making them public in the form they previously were provided by us to Congress. Please note that none of these summaries say anything about the unacceptable tactics employed by ATF.
REAL LIFE. REAL NEWS. REAL VOICES.
Help us tell more of the stories that matter from voices that too often remain unheard.