WASHINGTON -- Republicans in Congress are investigating whether U.S. Attorney General Eric Holder committed perjury when he said he had nothing to do with the "potential prosecution" of a journalist even though Holder himself reportedly approved of a search warrant in the case.
House Judiciary Committee Chairman Rep. Bob Goodlatte (R-Va.) said on "Fox News Sunday" that Republicans are waiting for Holder's response to a letter about the apparent discrepancy between his sworn testimony and reports about his involvement in the near prosecution of Fox News reporter James Rosen.
"It is fair to say we're investigating the conflict in his remarks, those remarks were made under oath, but we also think it's very important that the attorney general be afforded the opportunity to respond, so we will wait to pass judgment on that until we receive his response," Goodlatte said.
The Justice Department accused Rosen of being a criminal co-conspirator in the prosecution of a former administration official who had provided Rosen information about North Korea. Rep. Chris Van Hollen (D-Md.) said on "Fox News Sunday" there was no contradiction between Holder's testimony and his involvement in the case because Holder said he was not involved in the "near prosecution" of journalists and Rosen had not been prosecuted.
"It is often the practice in cases where you have investigations that you target somebody for the purpose of gathering information with never having any intention of prosecuting them," Van Hollen said.
Sen. John McCain (R-Ariz.) suggested on CBS' "Face the Nation" that Holder should consider resigning. "The attorney general has to ask himself the question, is he really able to serve the president of the United States and the American people under the present circumstances?"
"The attorney general has definitely lost the trust of the American people," Rep. Marsha Blackburn (R-Tenn.) said on NBC's "Meet the Press." "I think it will take a generation to rebuild trust in the federal government at this point."
But Sen. Chuck Schumer (D-N.Y.), also appearing on "Meet the Press," said there's been no perjury and that Holder should stay, despite the mounting calls for his resignation.
"There have been all kinds of accusations, but I haven't seen anything that would prevent him from continuing to do his job," Schumer said. "Let's not forget for two years, many of our hard right colleagues spent a lot of their time on Fast and Furious and I'm sure there were calls for Holder to step down. He continued to do his job well and then the IG exonerated him on Fast and Furious."
Support HuffPost
The Stakes Have Never Been Higher
Before You Go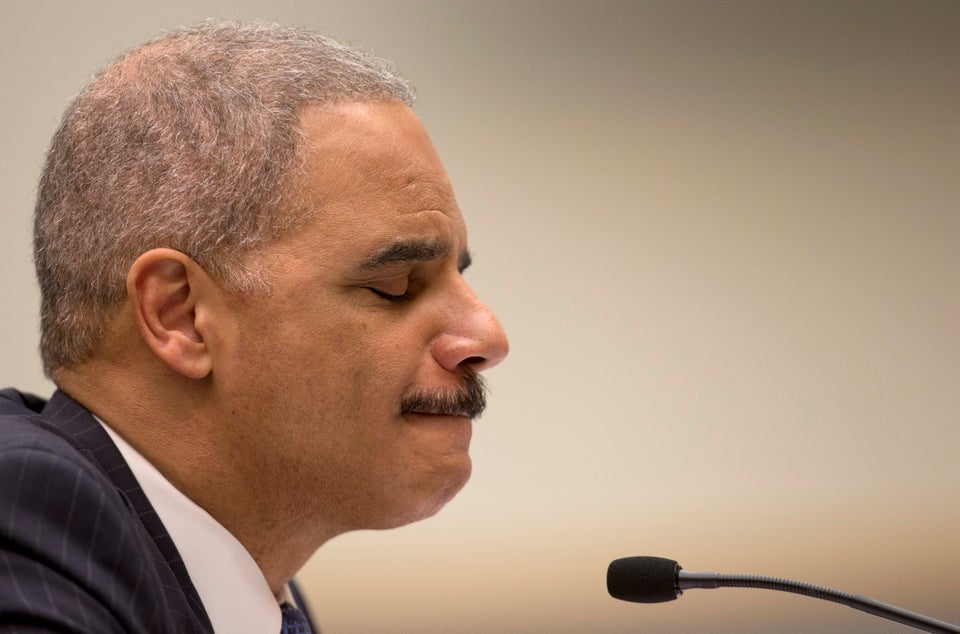 Eric Holder In The Hot Seat
Popular in the Community