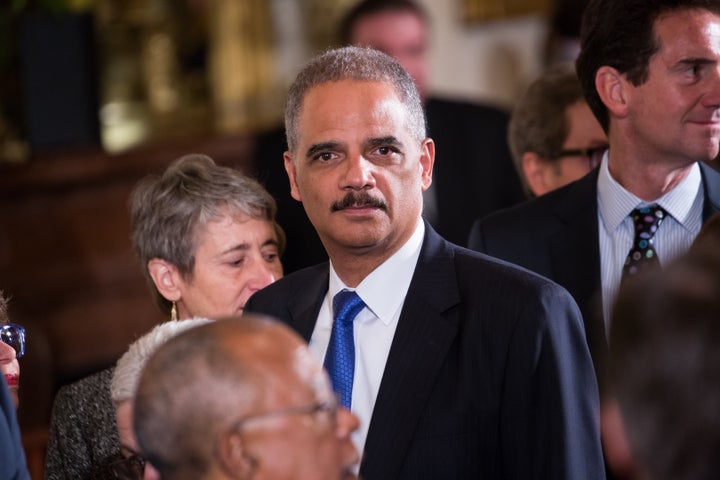 WASHINGTON ― Former Attorney General Eric Holder announced Monday that he will be the chairman of the National Democratic Redistricting Committee, a new organization meant to act as a hub for Democratic Party efforts to gain control of the next redistricting process.
Calling it an "unprecedented new effort," Holder said that the organization "will set priorities for investing in races for governor, state legislative and other key down-ballot races."
The group plans to help craft legal strategies to ensure more equitable maps while also opposing gerrymandering. Holder hinted at a likely future partner in these activities.
"It's also a cause that President Obama hopes to embrace when he leaves office," Holder said.
The announcement was made at the annual State Innovation Exchange conference in Washington, D.C. The conference brings together Democratic state legislators and other party interest groups for panels and discussions about policy and the direction of the party.
The news met with applause from the Democratic state legislators and local elected officials in attendance. Before the 2010 elections, there were only 14 states where Republicans controlled both legislative chambers. After a well-organized and well-funded push to win those chambers back, Republicans ended up with full legislative control in 25 states ― just in time for the last redistricting process, which began in 2011.
After the 2016 elections, Republicans now control both chambers in 32 states. It is the largest state legislative majority held by the Republican Party since the 1920s.
As state legislators will begin drawing new maps come 2021, Holder says that Democratic redistricting efforts cannot simply be "about drawing the lines, but winning back the offices."
Following their defeat in November, the next phase for the Democrats, he emphasized, must start from the bottom up. He called the Democratic Party's earlier focus on the federal level "a mistake."
"We need a comprehensive approach that looks up and down the ballot," Holder said. "Our school boards, our city and council members, our justices of the peace. Our state and local leaders are our leaders whom we interact with. Let's move the conversation to the states and the localities."
Calling all HuffPost superfans!
Sign up for membership to become a founding member and help shape HuffPost's next chapter
BEFORE YOU GO