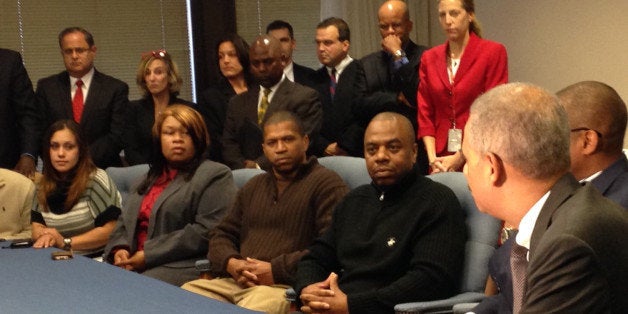 PHILADELPHIA -- It's Juan Sanchez's first day in reentry court. Indicted when President Bill Clinton was still in office, he was sentenced to 15 years in prison for possession of a weapon by a convicted felon. He got out in March. He's wearing a sweatshirt over a black T-shirt emblazoned with the text of a Miranda warning: "You have the right to remain silent," it reads, listing the well-known refrain. Sanchez tells U.S. District Judge Felipe Restrepo, an Obama appointee who previously served as a public defender, that he's working two jobs. One is at a bakery from 7 p.m. until 3 a.m., and the other is at a grocery store from 7:30 a.m. until noon.
Juan is tired. But he's pretty excited about a few things. For one, his 17-year-old daughter is about to move in with him. He's also pretty psyched about his artwork: ceramics, airbrushing and origami. He's got pictures, and he hands them to Judge Restrepo, who seems pretty impressed. Restrepo calls over a tall man who's sitting and observing from the side of the third-floor courtroom at the federal courthouse. The man walks over to take a look, taking the photos into his hand.
"Wow," says Eric Holder, admiring the photos of Sanchez's origami. The attorney general is impressed.
Holder watches as 17 ex-offenders appear before the judge, all of them ditching suits for jeans, T-shirts and hoodies, or uniforms. Nearly all the men are African-American, but there are a few Hispanics and one white man. There are two classes in the program, and Restrepo splits them with another judge. Ex-offenders appear every other Tuesday.
Reentry courts aim to reduce recidivism by supervising and supporting people after they've served time in jail. If they cooperate with the 52-week program in Philadelphia, ex-offenders can have a year shaved off their parole. They're required to submit to drug testing, hunt for jobs, go to parenting and life-skills classes, and continue their education and job training. According to an annual report on the program, 20 percent of the participants are expected to offend again -- far lower than the 47 percent average revocation rate for the same category of offenders between 2007 and 2012, the report notes.
Tuesday's court session was a fairly informal process, conversational even. One ex-convict, Rashaan Bates, explains that he missed an appointment with a probation officer because he was "boo-lovin." The courtroom laughs. "I was hugged up," he further explains. He says he'll do better. "I ain't a bad guy, dog," Bates tells the judge.
Restrepo sympathizes with an ex-offender who took his kids to Chuck E. Cheese's, saying it sounded like a nightmare. He congratulates several who obtained fork-lift certifications. There are jobs at barber shops, grocery stories, cleaning companies, hotels, an Aztec BBQ, and a furniture supplier. One man works at an inventory company, which might have a few other openings. "I can vouch for some of them," says Shante Hall, 37, when asked if he could help other offenders get a gig at his company. But he's not going to do anything to jeopardize his position, he notes. "I busted my butt to get where I am."
Another ex-offender just got married, and was tired for a different reason. "It's like Sleepless Nights In Seattle right now," he jokes, referring to the film.
Unlike the others, Joseph Young, 34, had a speech prepared. Proudly wearing his EMT uniform, with his boss sitting in the courtroom, Young is emotional as he explains how the program has turned around his life.
"Mr. Holder," he says, turning to the Attorney General, "that's a super-team." Young points to officials from an array of public services participating in the Philadelphia STAR, or Supervision to Aid Reentry, program.
"Don't think that just because we've got records, we can't do anything," Young added. "I love my job. I love helping people. Now I have the chance to help people. My kids respect me. This program is really a savior."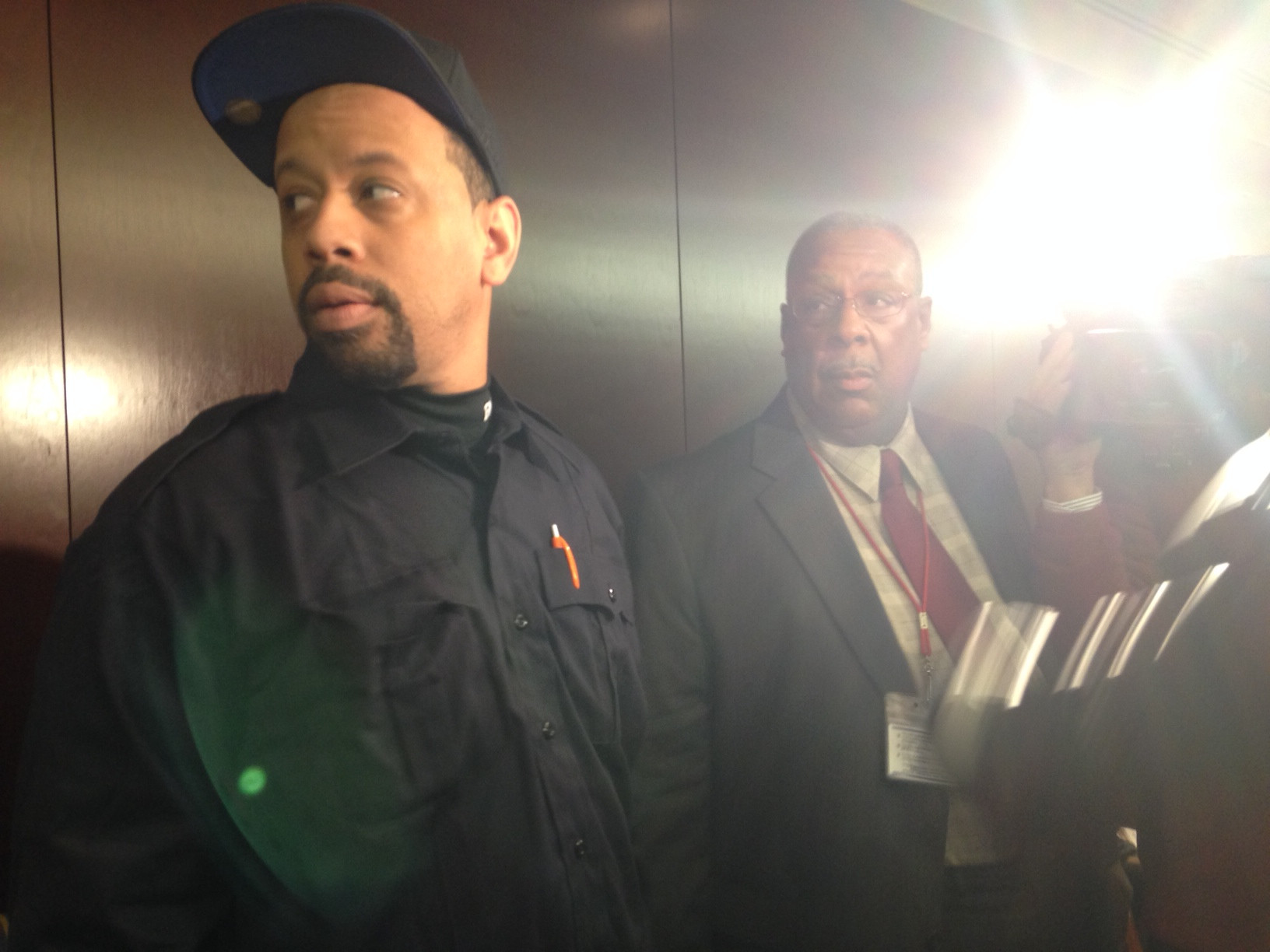 Joseph Young
As the court session wraps up, it's Holder's turn to talk. An aide rotates the podium to face the the courtroom, and Holder apologizes for putting his back to Restrepo.
Holder tells the ex-offenders how impressed he is with the program, calling it "heartwarming" to see how hard they are working to reintegrate themselves into the community. Holder, who grew up in the East Elmhurst neighborhood of Queens, in New York, says he's "not fundamentally different" from the ex-offenders in the room with him.
"Guys like you would've been my boys," Holder tells them, saying they remind him of "good guys" he grew up with. Life isn't always fair, he tells them, but the key is to never give up. "If you look at my four and a half years as attorney general, you can see that there are detours," he jokes.
He also implores them to set a good example for the kids in their lives, saying they have much more influence than he does. "They learn more from you than me," he says. "They just see me with a suit and tie, on TV every once in a while, getting hammered in a congressional hearing or whatever."
Holder wraps up his remarks, then heads over to another room to meet with some of the graduates of the program. But before he does, he asks for a little help with his street lingo. "What was that expression I heard, 'boo-lovin?'" Holder asks. Someone is going to have to explain that one, the attorney general says.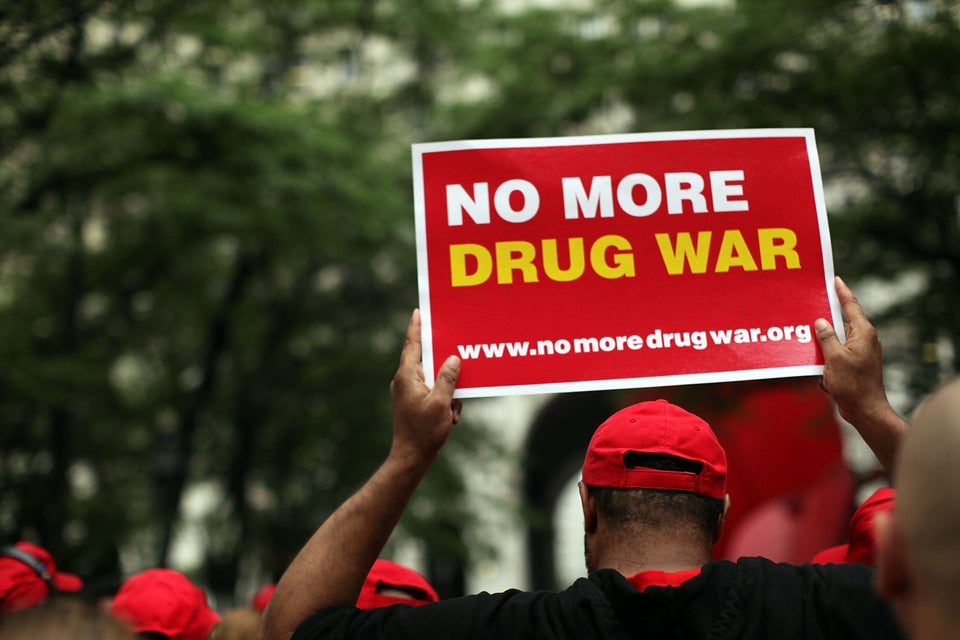 27 Reasons Why The U.S. Shouldn't Lead The War On Drugs
Popular in the Community