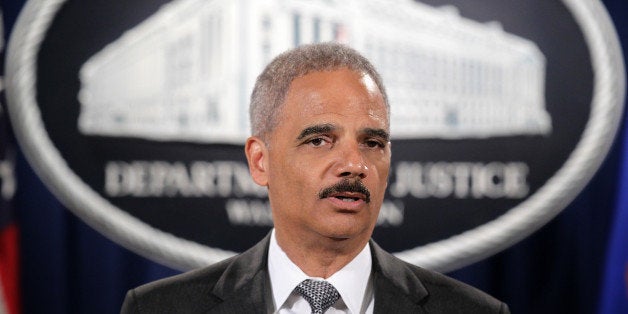 When it comes to criminal justice reform, Attorney General Eric Holder -- who announced today he will soon resign -- waged a revolution from within. Taken individually some of his work seems incremental. Seen as a whole it's quite bold.
In a pivotal 2013 speech to the American Bar Association, Holder said that "too many Americans go to too many prisons for far too long, and for no truly good law enforcement reason." He boldly worked to change that and could very well go down in history as the Attorney General who began unwinding the war on drugs and steering our country away from mass incarceration.
From rolling back punitive sentencing laws to permitting state-level marijuana reforms to move forward, Holder shifted the U.S. away from some of the failed criminal justice policies of the past generation. I can only hope that this momentum continues to translate into new policies - and that President Obama replaces Holder with someone who is going to carry on his legacy of reform.
Of course, there's no good reason why Holder's Justice Department couldn't have done more during Obama's first term, as tens, perhaps hundreds, of thousands of Americans have suffered unjustly as a result of their delay. Though the Obama administration's shift can be criticized as too little and too late, its historic significance cannot be denied.
Holder's accomplishments include:
-- Calling on policymakers at all levels to find ways to reduce the number of people behind bars.
-- Supporting efforts in Congress and the U.S. Sentencing Commission to reduce punitive sentencing.
-- Supporting policies that made the sentences of thousands of prisoners shorter and fairer
-- Changing how the Justice Department charges people to reduce the application of draconian mandatory minimum sentencing.
-- Establishing guidance allowing states to legalize and regulate marijuana with less federal interference.
-- Establishing guidance to make it easier for banks to deal with state-legalized marijuana businesses.
-- Promoting efforts to re-integrate formerly incarcerated individuals into society and eliminate barriers to successful re-entry.
-- Working to end the "school-to-prison pipeline", including working with the Departments of Education to scale back "zero tolerance" school discipline policies.
-- Advocating for the restoration of voting rights for the formerly incarcerated.
-- Urging federal law enforcement agencies to identify, train and equip personnel who may interact with a victim of a heroin overdose with the overdose-reversal drug naloxone.
The U.S. is at a pivotal moment right now where fundamental change to our bloated, racially-biased criminal justice system is possible. But change isn't inevitable. It will take significant leadership by President Obama, Holder's successor, and Congress to actually reduce mass incarceration instead of just tinkering around the edges.
Now is the time for President Obama to double-down on this legacy by replacing Attorney General with someone who will be as bold or bolder.